Two things I'm not good at are singing and cake decorating. There's no hope for the singing, but after making my second Hidden Flag Cake with Whipped Cream Cheese Icing, there is a glimmer. I made the cake in the first picture over 10 years, then never again until yesterday. There's been progress, just slow progress. If you'd like to try the cake, there's more info below. If you'd rather just make the Whipped Cream Cheese Icing and use it for something else, jump to the recipe!
Jump to Recipe
New Flag Cake Photo
Here's the new cake. I originally found it on a blog called 17 and Baking, which Elissa kindly left up for the past decade. She hasn't updated in a while, so I've typed up a rundown on how to put it together along with some things I've learned along the way. I'll bet if you check You Tube or any other blog with Hidden Flag Cake, you can find better instructions. But here's how I did it.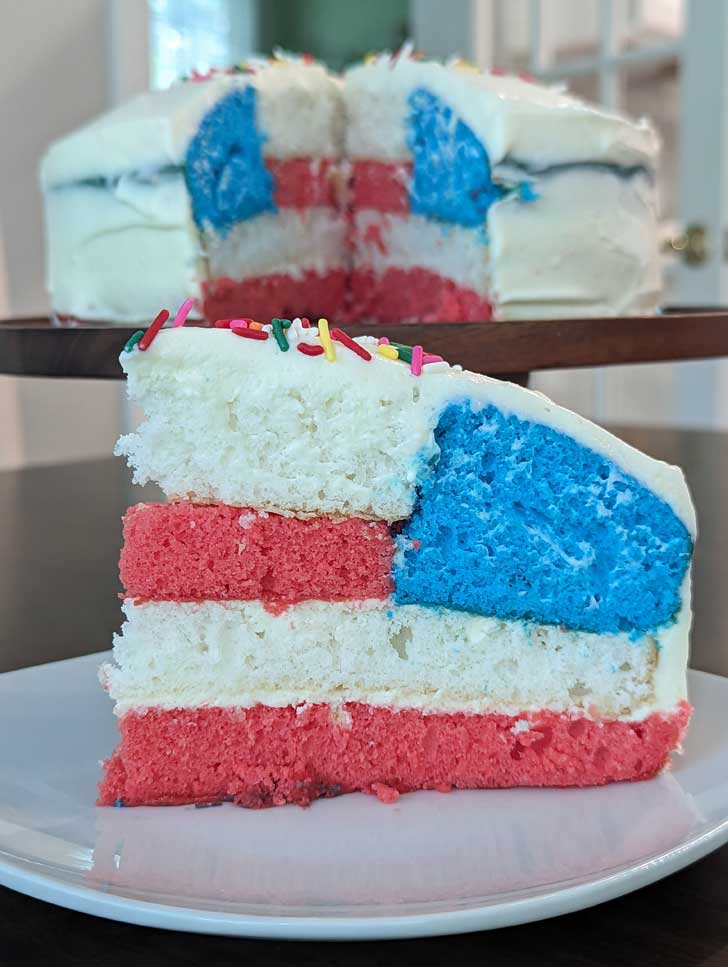 What You'll Need
2 or 3 boxes of white cake mix plus enough ingredients to make it (egg whites, oil and water). Wal*Mart's white cake is is only 98 cents a box.
3 9-inch round pans, preferably ones that are 3-inches deep, but there are ways you can do this with 2-inch deep pans if that's all you have.
Good quality food color such as Wilton Royal Blue get (or Americolor) and Christmas Red. Regrettably, these were not what were used for the photos. More on that later.
The recipe for Whipped Cream Cheese Icing in the card
Step One
Using 2 boxes of white cake mix and doubling all ingredients, make 3 9-inch round cakes using pans that are 3 inches deep. Dye one layer blue, one red and leave one white. Bake the cakes at 325 degrees F. rather than 350 degrees F. for a slightly longer time to help them bake more evenly.
The pros of using cake mix cake are you will not have wasted much time if things go wrong. The cons are the cake mix cakes are softer and more difficult to carve. Freezing can help. I used Walmart White Cake Mix for this cake and needed 3 boxes because I messed up my carving. Ideally, you can make this with just 2 boxes.
More ideally, scratch! This recipe would be a great one, but you'd need to make it at least twice for enough batter. Two boxes of cake mix make about 64 oz of batter.
With the 3-inch high cake pans you can make each layer fairly tall. Also, the higher sided cake pans will help keep the layers from doming quite as much, as does baking at a slightly lower temperature than suggested on the box.
Due to losing one of my layers to sloppy carving, I ended up making the white layers again using a third box of cake mix, dividing it between two 9-inch pans and just trimming the tops. This was much easier than trying to split evenly.
If you are not good at carving, you may want to use 3 boxes of cake mix. Make the blue layer in one deep pan, red layer divided into two and white layer divided into two, then trim tops to make even cakes (stripes). This method will also give you a taller cake. You'll still need to use the deep cake pan for the blue, so you really do need the 3 inch deep pans.
Step Two
Set aside the blue layer. Using a serrated knife, slice both the red layer and white layer in half so that you have two white layers and two red layers. Again, this is the tricky step. They need to be even. If using cake mix, freeze the cakes until partially frozen and carve while partially frozen.
For the colors, I used Betty Crocker Color Gel and the blue was too light (as pictured). I didn't feel like going to Michael's to find Wilton Royal Blue, which is what I should have used. Wilton will give you deeper, richer, color. Americolor would be a good option too, but unless you have a cake decorating store nearby you'll have to order it.
It would also be fun to make this with white cake and red velvet, but you'd need to use a really vivid red velvet recipe such as this one and I'm not sure how it would look with the blue. Again, you'd need a really dark blue, unless you wanted to just have fun and do something like blueberry, in which case the cake would hide a pretty wacky looking flag. I may do this. Strawberry cake mix would also be good. Or why not just do white, strawberry and use chocolate in place of blue?
Step Three
Set aside one white layer and one red layer. Stack remaining white and red layers and put blue layer on top. Cut a big circle (somewhere around 4 inches) in the middle so that you end up with red, white and blue rings and red, white and blue circles. You will only use the blue ring and the red and white circles.
This is a problem with the cake. Your scraps are two full rings of red and white cake and a blue circle. What you can do is stack the leftover white and red rings around the blue circle scrap, wrap, freeze and make another wacky colored red, white and blue cake.
Step Four
Assemble! Set the uncut bottom white layer on a plate and frost with a very thin layer of frosting.  Stack the uncut red layer on top and frost. Set the blue ring on the red layer, then stack the circle scrapes, white and then red, in the center. Frost the cake.
Note: The original directions said to put a thin layer of icing on the inside of the blue ring to help it stick, but it looks better without it and the cake should still stick.
The Whipped Cream Cheese Icing is light and easy to spread. Yay!
Whipped Cream Cheese Icing
If you read all of this and don't want to attempt the carving, you can just make three layers of white cake, dye one red, one blue and leave one white. That's also kind of a hidden flag, right? Then you can frost it with this reliably good icing.
Recipe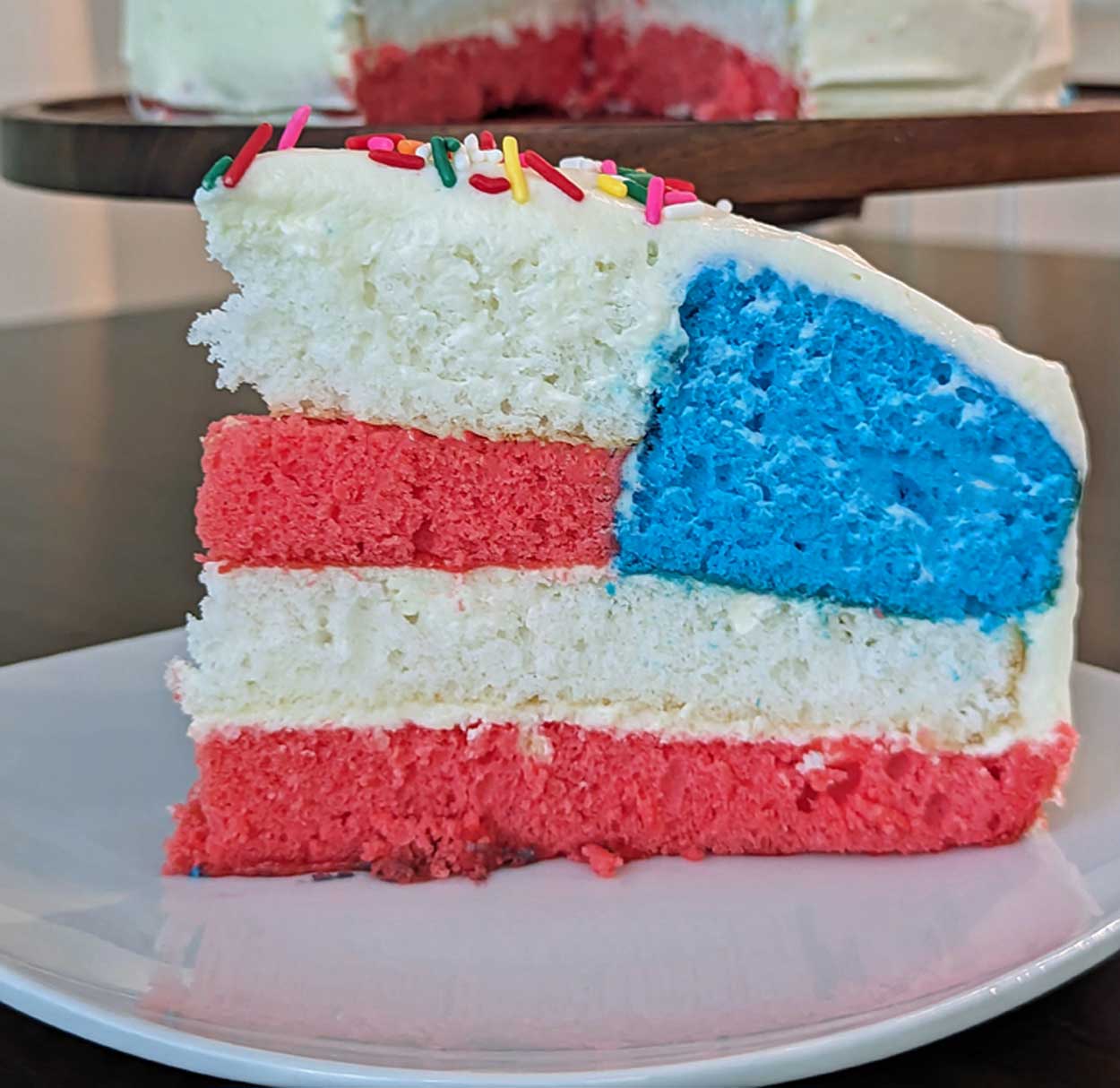 Whipped Cream Cheese Icing
Whipped Cream Cheese Icing
Ingredients 
½

cup

heavy cream

cold

8

oz

cream cheese

softened

2

oz

unsalted or salted butter

softened

2

cups

confectioners' sugar

1

teaspoon

vanilla

1

teaspoon

lemon juice

fresh
Instructions 
In a mixing bowl, beat the whipping cream until stiff peaks form and set aside.

In a second bowl, beat the cream cheese, butter, confectioners' sugar, vanilla and lemon juice until creamy.

Stir the whipped cream into the cream cheese mixture.
Notes
You should get about 2 ½ cups of icing or enough for 1 standard size cake.