Whole Wheat and Barley Ranger Cookies are Ranger Cookies made with a combination of whole wheat pastry flour and barley. The barley flour adds just the right amount of flavor and the whole wheat flour adds nutrition without making the cookies taste too "wheat-y". The texture was crispy on the outside and kind of chewy in the middle and the cookies had a nice shape to them – at least the ones I baked later. The first batch spread a little, but the second batch made with dough that I'd shaped and let sit on the counter for about 20 minutes baked up more circular.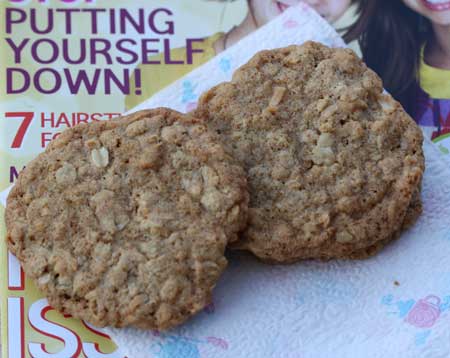 Fuzz and I both love the flavor barley adds to cookies, plus I appreciate the fact it adds a little more nutritional value. My problem is I can't always find the barley flour at my grocery store which means I have to either a) go to a health food store for it or b) grind it myself. Long story short, I ground a bunch of barley flour this weekend and one of the recipes I used it in was these rangers.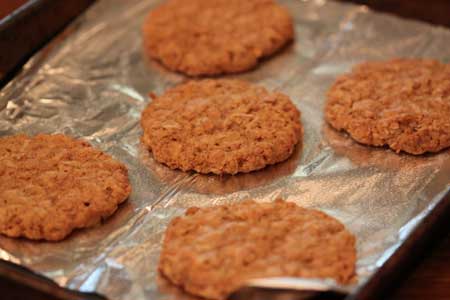 One last note, the reason I put the brand name by the pastry flour was because I've been using Hodgson Mill and I notice it's heavier than some other whole wheat pastry flours3/4 cup weighed 3 oz, where some brands of pastry flour weigh only 3 oz. If you're using a different brand, just make sure to weigh out 3.5 oz and you should be fine. Also, if you have a scale it's a good idea to weigh the barley flour.

Whole Wheat and Barley Rangers
Whole Wheat Barley Ranger cookies made better with a little barley flour and whole wheat flour.
Ingredients
3/4 cups Hodgson Millwhole wheat pastry flour (3.5 oz)
1/2 cup barley flour (1 oz)
1/4 teaspoon baking powder
1/2 teaspoon baking soda
1/4 teaspoon salt plus an extra tiny pinch
1 stick (4 oz) unsalted butter, cool room temperature
1/2 cup firmly packed light brown sugar
1/2 cup granulated sugar
1/2 teaspoon vanilla extract
1 large egg
1 cup old fashion oatmeal
1/2 cup flaked coconut
1 cup Rice Krispies
Instructions
Preheat oven to 350ºF. Have ready two ungreased baking sheets.
Mix the whole wheat pastry flour, barley flour, baking powder, baking soda and salt together in a medium size bowl.
In a mixing bowl using an electric mixer, beat the cool butter until it is creamy. Add the sugar and beat until creamy. Add the vanilla, then add the egg and beat just until it is blended in. By hand or using lowest speed of the mixer, add the flour and stir until blended. Add the oats, coconut and Rice Krispies and stir until blended.
Using a heaping tablespoon (which is actually about 2 level tablespoons and weighed a little over an ounce), scoop up the dough and shape into balls. Press the balls slightly to make circles and arrange about 2 ½ inches apart on the ungreased baking sheets. Alternatively, you can just shape the dough, flatten it into circles, then chill until ready to use or freeze and bake as needed.
Bake the cookies one sheet at a time for 13-15 minutes (watch closely after 12 minutes). Let cool on baking sheet for about 2 minutes, then transfer to a wire rack to cool completely.
Related posts: