Last week I posted Vanilla Bean Magic Cake, so this week I'll follow up with some more "magic". These are the famous 5-Minute Magic Cookies. They're supposed to be like Magic Cookie Bars without the crust, but to me they are just macaroons with crushed graham crackers. They're also a great way to use up partial cans of condensed milk.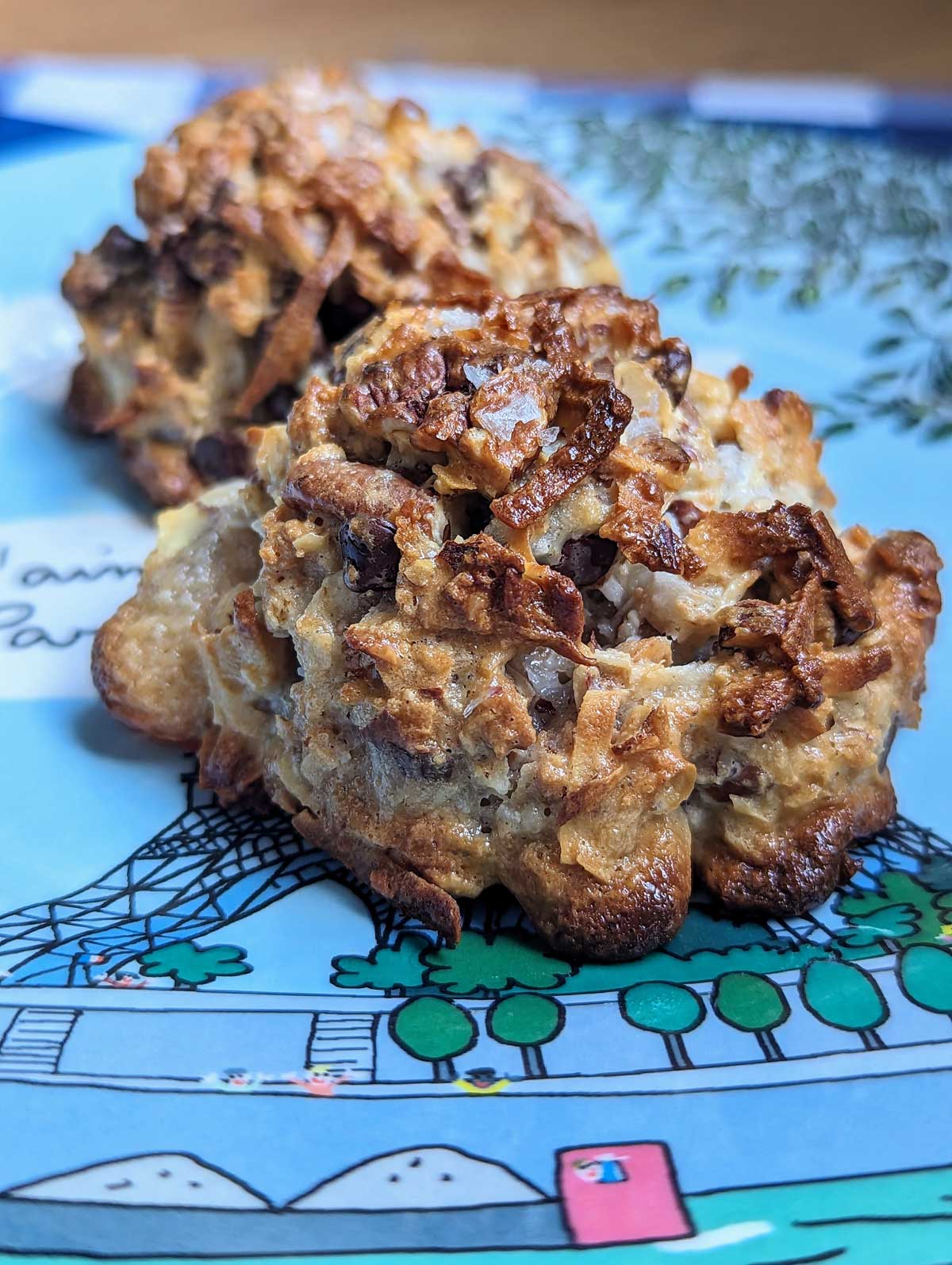 Squeeze Pack of Eagle Brand
Now I did not use leftover condensed milk, but rather squeezed just how much I needed out of an Eagle Brand squeeze pack. These are so convenient. I bought this pack on clearance and hope it isn't a sign they are discontinuing the squeeze packs. If so, I hope they start selling the condensed milk in 7-once cans or some in some other form of tube. It's a handy ingredient and there's no reason people should feel like they have to use a 14-oz can every time.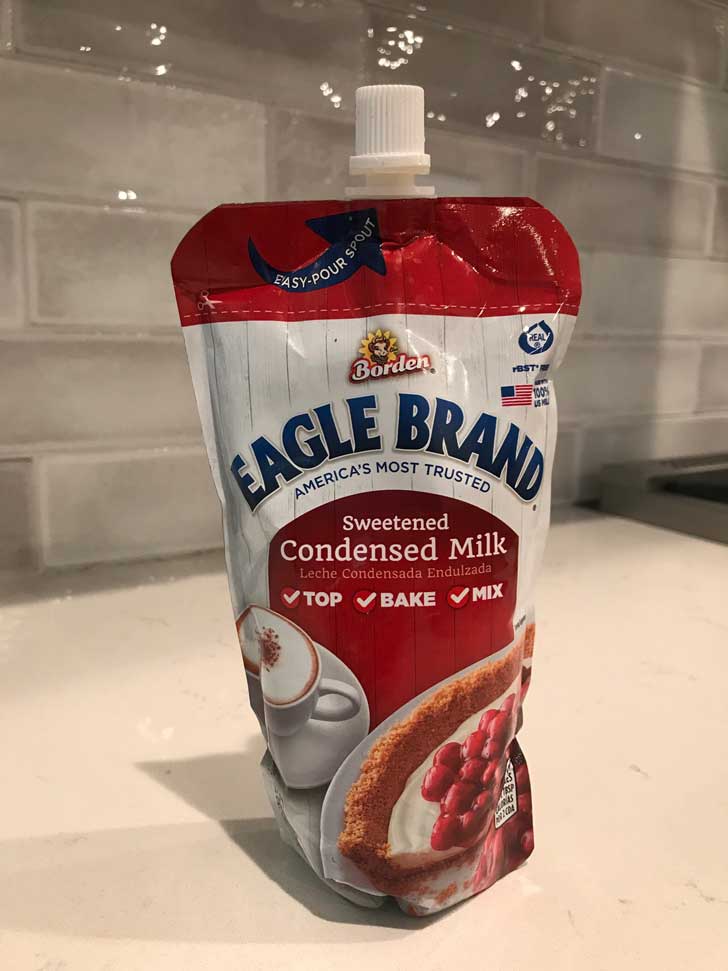 5-Minute Magic Cookies That Are Not Keto
Anyhow, this recipe evolved from the Keto community, so people who don't eat sugar make their own sugar-free condensed milk. There are tons of recipes for it using various alternative sweeteners, so if you want to make these Keto it's pretty easy. I've also seen dairy-free versions made with condensed coconut milk, which is something that sounds good, but I have yet to try. These 5-Minute Magic Cookies are definitely not Keto.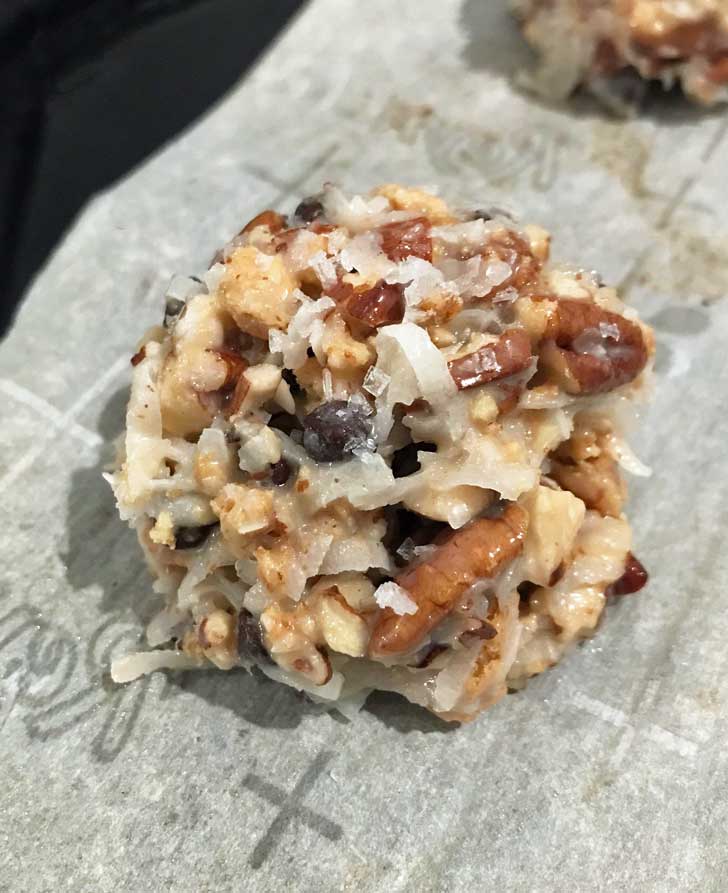 Some Final Notes
My big concern before making these was that the coconut mixture wouldn't hold together. It held together just fine, and packing it tightly in the scoop helped. I also thought the cookies might end up really sweet, but they were not. The nuts balance the sweetened coconut and condensed milk. Bake time is kind of subjective. I overbaked mine on purpose because I love the flavor of browned condensed milk, but you can bake them at a lower temperature if you wish.
Recipe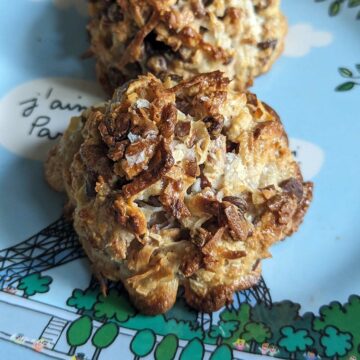 5-Minute Magic Cookies
Magic Cookie Bars in drop cookie form.
Ingredients 
½

can

condensed milk

(7 oz weight)

1

cup

lightly toasted pecan halves or pecans mixed with whole almonds or you can use cashews

(3.5 oz)

1

cup

flaked sweetened coconut nuts

(2.5 oz/70 grams)

½

cup

mini chocolate chips

4

squares

graham crackers, crushed

(1 oz/28 grams)

Maldon sea salt (optional)
Instructions 
Preheat oven to 350 degrees F. Line a baking sheet with parchment paper.

Chop the nuts and put them in a mixing bowl. Stir in the crushed graham crackers, coconut and chocolate chips.

Add the condensed milk and stir until evenly blended.

Using a medium or large cookie scoop, scoop out tight scoops of coconut mixture and arrange a few inches apart on parchment lined baking sheet.

Sprinkle with sea salt (optional) and bake for about 15 minutes. Let cool completely.