This week I've been obsessed with Vanilla Bean Magic Cake, a type of custard cake that "magically" forms a dense crust, pudding filling and cake topping. It's similar to Impossible Pie, but with three layers rather than two. And it's so easy to make because all of the magic happens with just one batter.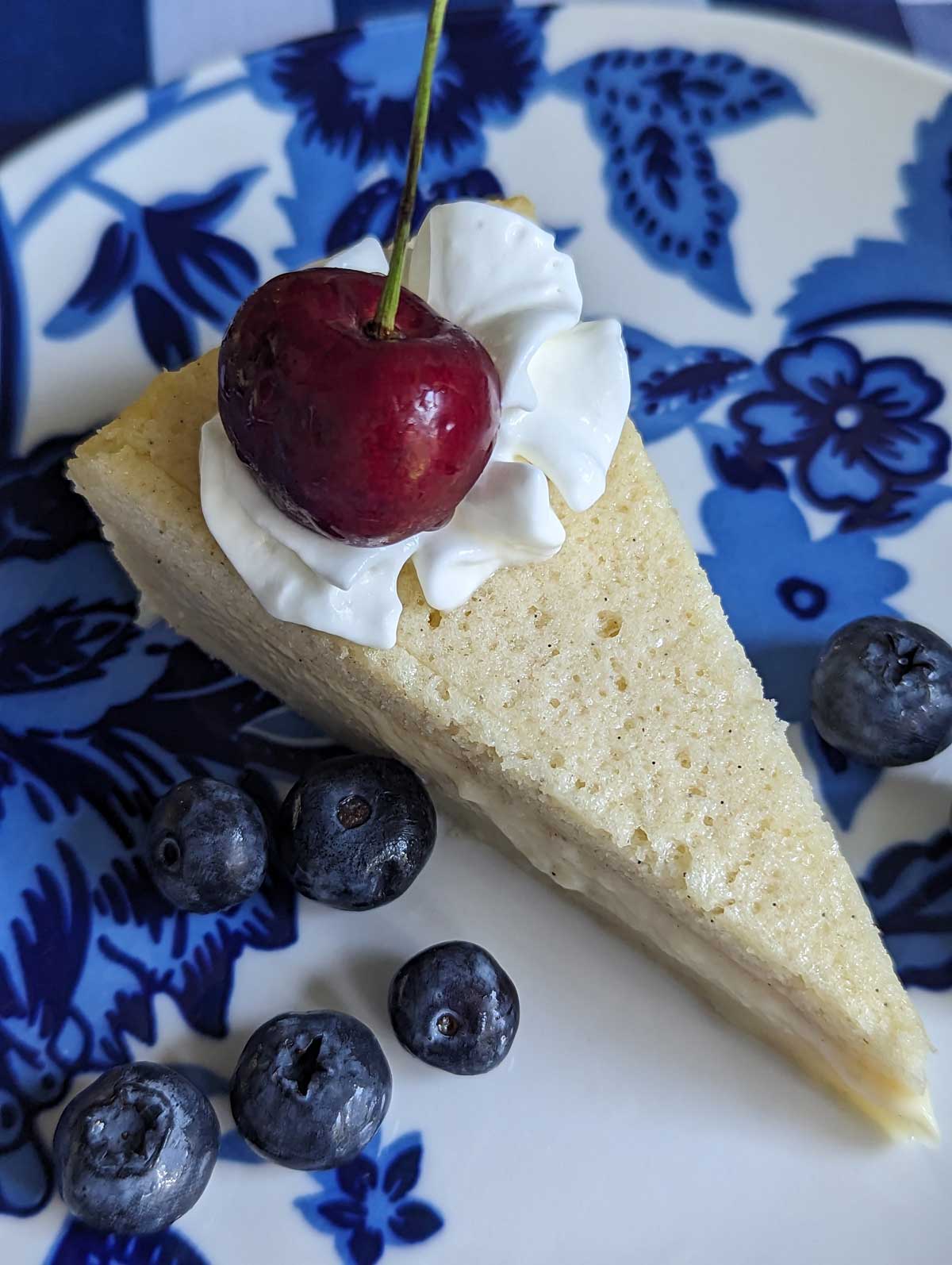 How Does The Magic Happen?
It's definitely magic and not chemistry, but if it were chemistry, it probably has to do with the amylase in the egg yolks breaking down the starchy bond in the very liquid-y custard. Because it's baked at such a low temperature, the amylase is not destroyed by heat, the batter splits, dense ingredients sink, light ingredients rise and everything bakes in its place causing layers. But that's just a guess. More likely it's supernatural. Whatever the case, there are other recipes that do the same thing such as Lemon Pudding Cake and this famous Pillsbury Pie.
Vanilla Flavoring
The only drawback to Vanilla Magic Cake is that it bakes up into a very monotone color. So while the color isn't that impressive, the dairy and vanilla flavors really are. Since vanilla is the main flavor, it's important to use good vanilla. You can go with two vanilla beans, in which case you infuse the milk, or you can use vanilla bean paste. I rarely have vanilla beans these days, so I use vanilla bean paste.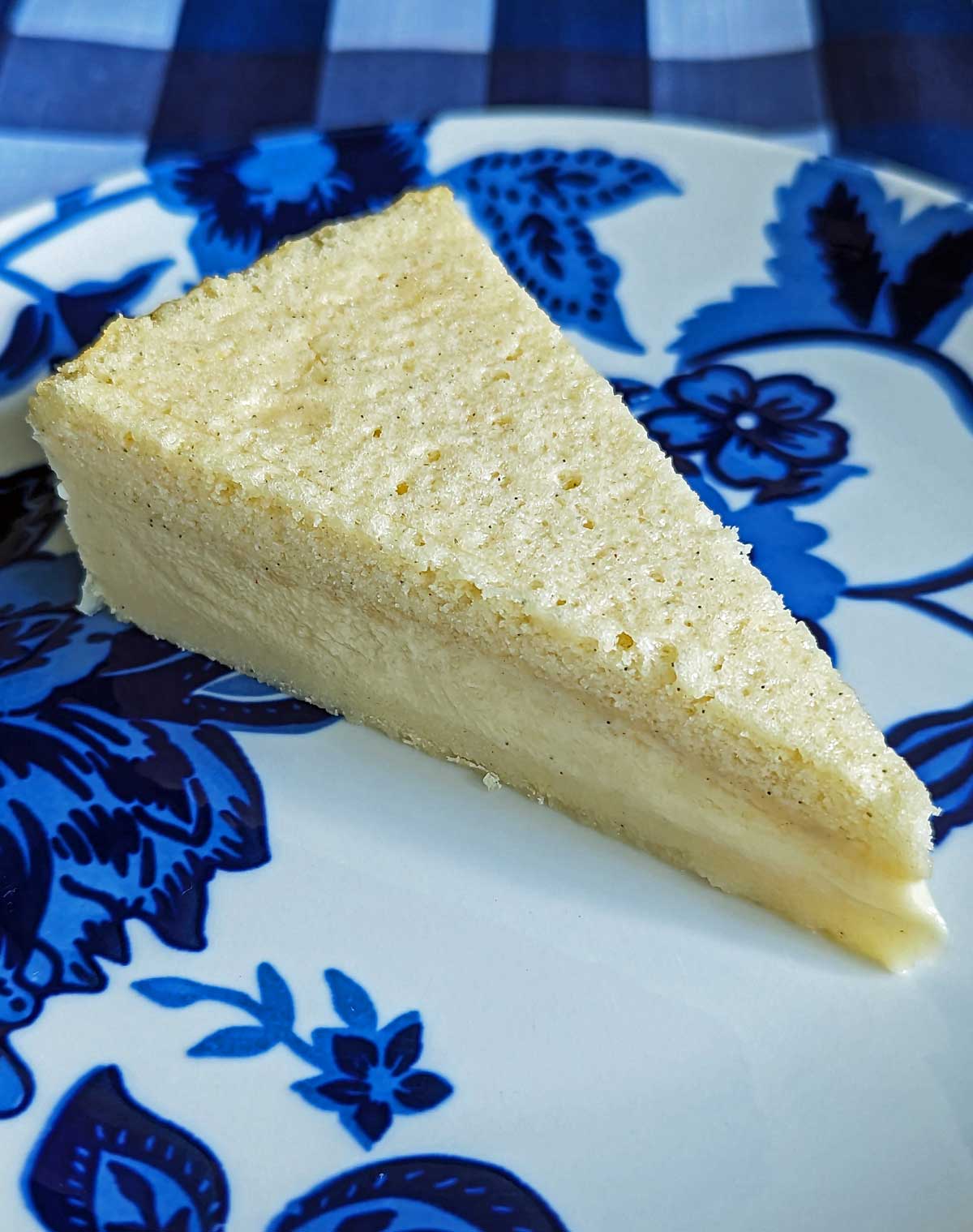 Magic Vanilla Cake Pan Size
I've been making this cake in a 9x2-inch round cake pan. If using a 9-inch round pan, be sure it's at least 2 inches deep and can hold all the batter. I am pretty sure an 8-inch square pan would work, though it's been a while since I've tested that. And I'm thinking a 6-inch pan might work for a half batch Magic Cake. I'll update when I test that, but for now I can say a 9x2 inch pan works.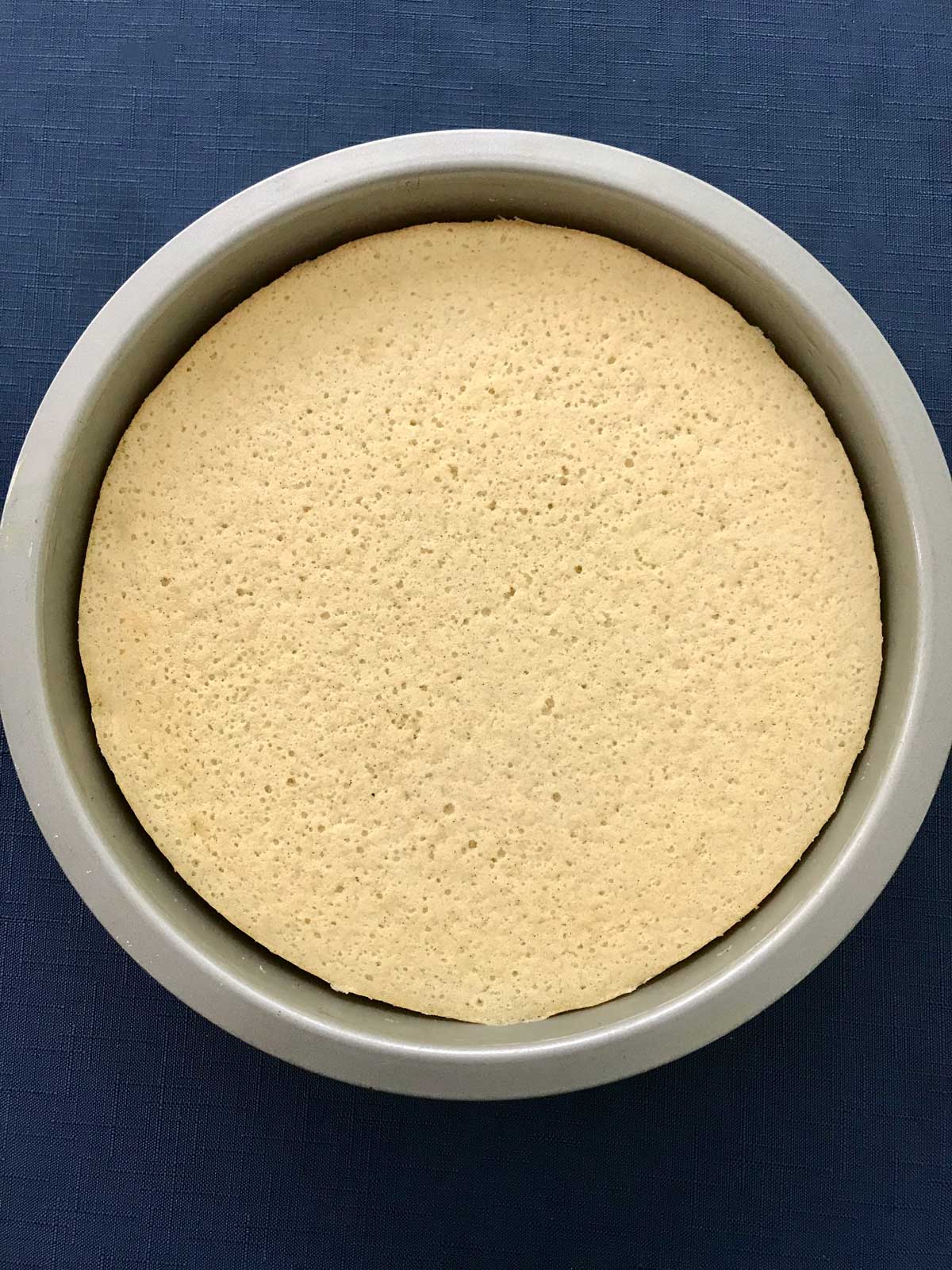 Freezing Magic Cake
Magic Cake is at its best after a full night in the refrigerator, but if you let it cool at room temperature and chill for 2 hours, you should get good results. If you don't finish your cake, you can freeze the leftovers and let thaw in the refrigerator. While the filling is a tiny bit less smooth, it seems to freeze okay.
Tips
Be sure all of your ingredients are at room temperature.
Use large eggs, not extra-large or jumbo size.
When beating the yolks, you can use a handheld mixer or whisk, but you need to beat them pretty well so a handheld is recommended.
The cake is sweet. I don't recommend cutting the sugar unless you are experimenting and open to potential failure. But I wouldn't say the cake is overly sweet. If you do find it sweet, serve with unsweetened whipped cream and sea salt to balance.
I have been making my cakes in the lower third of the oven. The tops don't brown much. If you bake on a higher rack you may get a little more browning of the top. I'm going to test the next cake in my Breville toaster oven.
The cake in the recipe card photo and featured image was good, but just slightly overbaked. You can see that it has a little less filling. I would lean toward underbaking then overbaking because even if the middle is a little runny, it will taste better than a stiff and overbaked cake.
You can get away with using good quality vanilla, but the paste is so good here!
For the butter, I've been testing with unsalted butter and using extra salt. Salted butter should work.
Have some colorful garnishes on hand.
If you like this cake and want to make more, there's a great little book called Magic Cakes from which this one was adapted. The book has all kinds of different Magic Cakes and flavors.
Recipe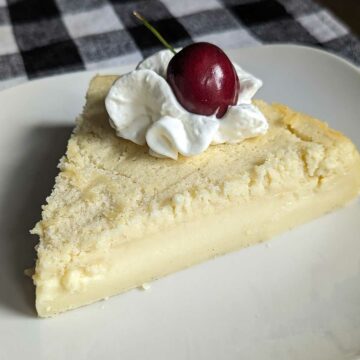 Vanilla Bean Magic Cake
A cake that magically separates into three parts.
Ingredients 
4

large

eggs

separated and room temp

¾

cup

sugar, scant

(140 grams)

½

tablespoon

water

1

tablespoon

vanilla bean paste

8 ½

tablespoons

unsalted butter, melted (salted okay too)

(120 grams)

¼

teaspoon

salt plus a pinch, reduce to only a pinch if using salted butter

¾

cup

all-purpose flour, sifted

(105 grams)

2

cups

plus 2 tablespoons whole milk at room temperature

(17 oz/476 grams)
Instructions 
Preheat the oven to 300 degrees F.

Grease a 9x2 inch round cake pan. Line with a round of parchment paper and grease again.

With an electric mixer, beat the egg yolks with the sugar, water and vanilla bean paste for about a minute, then whisk in the melted butter and salt. Fold in the flour. Pour in the milk little by little, whisking until fully blended.

Also, make sure the milk is warm room temperature. That is, don't use it straight out of the refrigerator without bringing it down to room temperature in the microwave or over the stove.

Beat the egg whites until stiff peaks just start to form -- not so much that they are dry. Stir them into the batter with a balloon whisk or just a whisk if you don't have a fat balloon. The whites should incorporate fairly easily and make the batter frothy. Don't overbeat the whites even if you have lumps here and there. If you do have patches of white, smooth them with a knife after you pour into the pan.

Pour the batter into the greased pan, set pan on a rimmed baking sheet and bake for 50 minutes. When the cake comes out of the oven it should still be wobbly. Let cool at room temperature for an hour, then chill thoroughly (at least 2 hours) before serving.

Garnish with whipped cream and berries before serving.