I love making Poke Cakes. My two favorites are a doctored cake mix Boston Cream Poke and a Strawberry Poke Cake that starts with a Sara Lee Pound Cake. And now I have a third favorite - Neapolitan Poke Cake. I've only made this once, but I wanted to share it in time for Memorial Day, because it's perfect for barbecues and potlucks.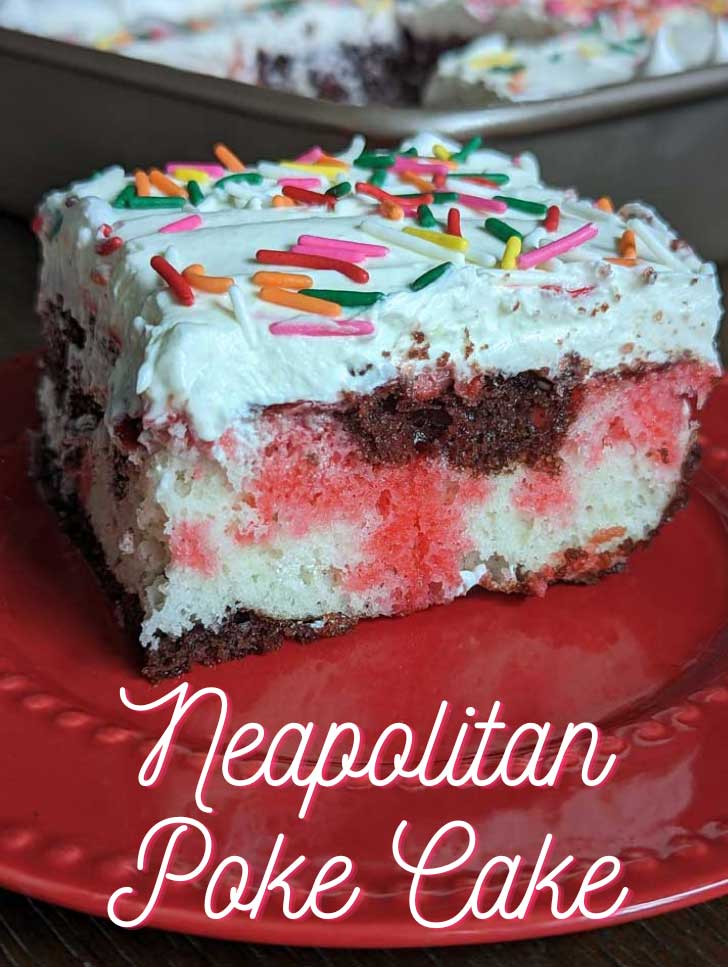 So What Exactly is Neapolitan Poke Cake
Neapolitan Poke Cake is a strawberry, vanilla and chocolate flavored 9x13 inch cake. To make it, you bake a marbled chocolate and vanilla cake, let it cool, then pour strawberry gelatin over the top and chill. For the topping, you mx pudding mix and milk until thickened, then lighten with sweetened whipped cream or Cool Whip. The cake requires zero skilll and is relatively inexpensive because you don't have to buy any butter.
Marble Cake Mix or Buy Two Boxes
The old recipe calls for one box of marble cake mix, milk and pudding mix. Because I'm a weirdo who happened to have half a box of white and half a box of chocolate cake mix in the pantry, I just used half a box of each (plus half ingredients called for on the box) and combined the batters. I'd probably do that again because I always have uses for half boxes of cake mix and liked the bright white of the white cake mix. Another option for those of you who have lots of friends and family is to use a full box of chocolate and white cake mix and make two 9x13 inch cakes.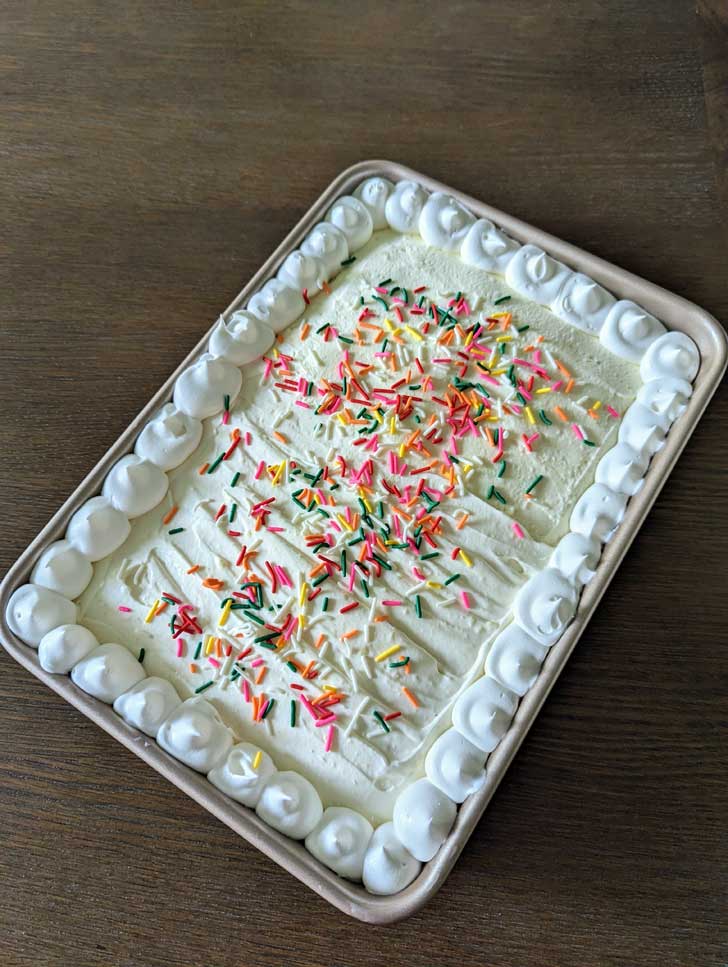 Pudding Mix Frosting
The pudding mix frosting is a lot of fun. It is light and fluffy and you can use any pudding mix flavor you like. I've been using Jell-O white chocolate flavored, but cheesecake, vanilla or even coconut will work if your store doesn't have the white chocolate flavor. I've noticed most stores only carry Jell-O white chocolate flavored pudding in the sugar free variety, but one store near me has it in regular. This particular topping is also great for ice cream cakes of any flavor.
Gelatin Flavors
Neapolitan Poke Cake calls for strawberry flavored gelatin, but feel free to use raspberry or any other flavor. It won't be Neapolitan (because in Naples, they only use strawberry flavored Jell-O for their poke cakes ha ha), but other flavors like raspberry and cherry would go well with the chocolate and look just as pretty.
No-Sugar Version
I have never tried this, but if you need to use sugar substitutes, this might work with "zero sugar" or sugar-free cake mix. I don't think there's a sugar-free marble cake mix, but you could combine a sugar-free yellow and chocolate cake mix along with sugar free pudding mix, whipped topping and Jell-O. It might end up a soggy mess or it might be great.
Other Poke Cakes and a Scratch Marble
Below are links to some other flavor poke cakes including the Boston Cream and Strawberry I mentioned earlier. If you want to try making a poke cake from scratch, I put a link to my scratch 9x13 inch marble cake. You might even want to try that one without the poke! It's completely from scratch and you can make your own chocolate frosting.
Recipe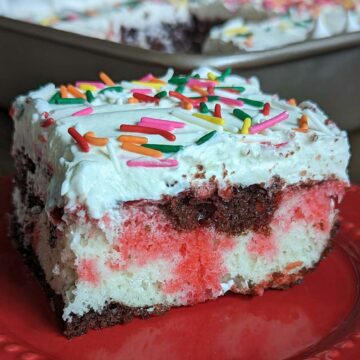 Neapolitan Poke Cake
A fun serve-out-of-the-pan potluck dessert.
Ingredients 
1

box

marble cake mix plus ingredients on back

(eggs, oil and water)

3 oz

box

strawberry gelatin

1 ¼

cups

water, divided use

1

package

vanilla or white chocolate pudding mix (3.3 or 3.4 oz)

cup

milk, I use whole milk but 2% should work

1

tub

(8 oz tub) whipped topping or 8 oz whipping cream whipped and sweetened
Instructions 
Prepare the cake as directed on the box and bake in the 9x13 inch pan.

Allow the cake to cool. While the cake is cooling (or you can start this process right when you put the cake in the oven), mix the gelatin with ¾ cup boiling water and stir to dissolve. Add ½ cup cold water. Let the gelatin stand at room temperature for about an hour while the cake is baking and cooling.

When the cake has cooled (and the gelatin has thickened ever so slightly, but shouldn't be completely gelled), poke several holes in the cake with a skewer.

Gradually (not all at once) pour or spoon the gelatin over the cake allowing it to sink into the holes.
Pudding Mix Frosting
In a mixing bowl, whisk together the cake mix and milk. It should thicken a bit as you whisk. Fold in the whipped topping. Spread over the cake.