Last week Sara Moulton posted a veggie burger recipe and speculated on how much time she might have saved without mise en place, a French phrase applied by chefs to the act of measuring and prepping ingredients before cooking. As someone who has to make a conscious effort to lay out ingredients and not rush, I enjoyed reading Sara's thoughts on the subject. But what was really funny (to me, at least) was that before seeing her blog post, I had just used one of her older veggie burger recipes to demonstrate mise en place to my daughter. The recipe Sara made on her blog is for her "Det Burgers", but the veggie burgers I made and which my daughter now loves are her Veggie Burgers with Chickpeas and Walnuts.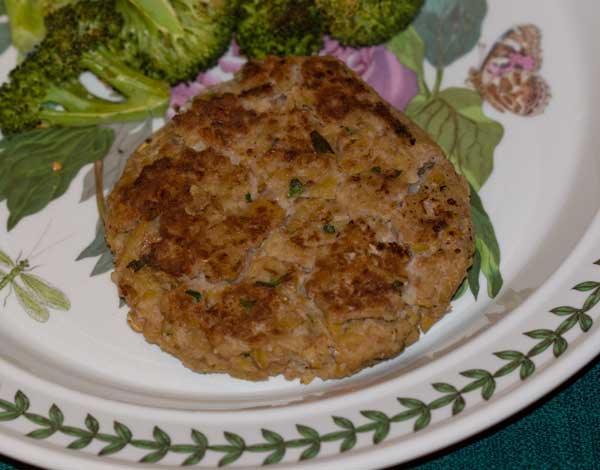 Having veggie burgers on hand is important at our house. Reason one is that my daughter has developed an aversion to grilled chicken, which Todd and I love.  And reason two is that Fuzz's vegetarian friend spends a lot of time here, so when we grill meat, we need quick protein alternatives.  Given that the flavors in these burgers are a nice change from our usual Copy Cat Veggie Burgers, I wanted to show the girls what was in the mix and let them help form the patties. After carefully rinsing the chickpeas, smashing the garlic, and processing an English muffin to make fresh bread crumbs, I laid everything out on a tray and called the girls to the kitchen. It took them about 5 minutes from start to finish to mix the ingredients and shape the burgers, then they went back to playing Minecraft or Pixie Hollow or whatever it was they were doing to kill time before dinner. Still, I think their brief role in the veggie burger making process may have helped them enjoy the burgers a little more. They each asked for another, which means these will become a staple.
BTW, I apologize for the photo.  I wasn't sure whether to post the recipe, but it was such a huge hit that I had to and the only photo I had was a quick shot before serving.

Veggie Burgers Made With Chickpeas and Walnuts
An easy veggie recipe using chickpeas and walnuts.
Ingredients
2 garlic cloves
1/2 medium onion
1 tablespoon fresh rosemary leaves or a pinch or two of powdered rosemary
1 (19-ounce) can chickpeas, drained and rinsed
1/4 cup chopped fresh flat-leafed parsley
1/2 cup fine fresh bread crumbs (I chopped an English Muffin in the food processor)
3/4 cup walnuts, toasted and chopped
1 large egg
A pinch of salt and a few turns of the pepper mill
Instructions
Prep all the ingredients and lay them out.
In a food processor pulse garlic, onion, and rosemary until chopped. Add chickpeas, parsley, and bread crumbs and pulse until just combined. Transfer mixture to a bowl and stir in walnuts, egg, and salt and pepper, to taste, until well combined. Form mixture into four 3-inch patties. Chill patties, covered, at least 1 hour and up to 1 day.
In a large skillet (cast iron helps form a nice crust, but nonstick works too) heat oil over moderate heat until hot but not smoking. Cook patties until golden brown, about 4 minutes on each side.
Arrange burgers on a foil lined baking sheet and heat in a 350 degree oven for about 5 to 10 minutes or until ready to serve. You can skip this last step if you want, but it makes the burgers a little hotter, plus it gives you time to finish prepping all the other components of the meal.
Notes
These are great with roasted broccoli.
Related posts: