Lost Shepherd's Pie is a savory pie from a cookbook that has become an unexpected favorite --  The Waitress Pie Book.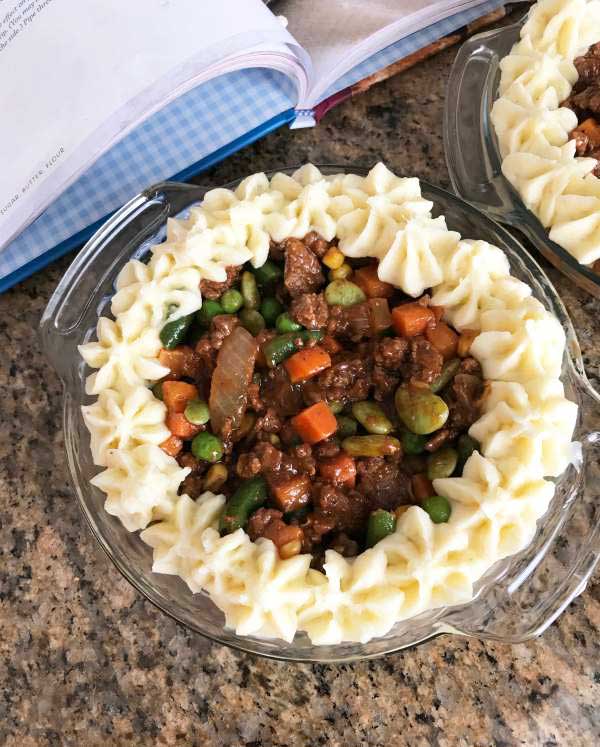 Based on the indie film turned musical, it's written from the point of view of of Jenna Hunterson, the pregnant-and-trapped-in-a bad-marriage-waitress who creates pies inspired by people and events in her life.  The author is listed as Jenna Hunterson, but since she's a fictional character I had to find out who the real author was.  Turns out it's Sheri Castle, a recipe writing pro whose work appears in many top food publications.  The recipes in this book just flow so nicely, almost like they do in the movie, which I watched shortly after discovering the book. I may see the musical someday, but I liked Kerri Russell as Jenna and am not sure I could imagine the waitress as anyone else.
Lost Shepherd's Pie
If I could I'd make this type of pie once a week, but my husband doesn't like ground beef or lamb, so I only make it when my daughter's around. For her it is a special treat, especially when I make it as a true Shepherd's Pie using lamb. When made with ground beef, it is really a Cottage Pie.
Recipe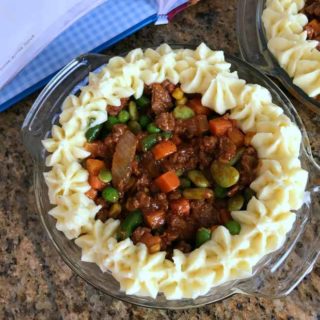 Lost Shepherd's Pie
Lost Shepherd's Pie makes one 9 ½ inch pie, but you can also divide it among 4 6 inch pie plates or cut the recipe in half and make 2 6 inch pies.
Ingredients 
Potato Topping
1 ¼

pounds

russett potatoes

peeled and cut into cubes

2

oz

cream cheese

softened

2

tablespoons

unsalted butter

1

large egg yolk

¼

cup

warm milk

¾

cup

shredded cheddar or Colby Jack cheese
Lamb or Beef Filling
1

tablespoon

olive oil

1

pound

ground lamb

1

tablespoon

butter

1

cup

chopped onion

1

clove

garlic

chopped

1

tablespoon

tomato paste

2

tablespoons

flour

½ to ¾

cup

red wine

2

tablespoons

Worcestershire sauce

¾

cup

beef stock

1

cup

frozen mixed vegetables

1

tablespoon

of A-1

optional

2

teaspoons

fresh thyme or a sprinkling of dried thyme

black pepper
Instructions 
Boil the potatoes in salted water until tender (about 20 minutes), then drain well. Let sit for 5 minutes so that all steam escapes, then mash with a potato masher or put through a rice mill. Mix with the cream cheese, yolk, butter, warm milk and cheese to make cheddar mashed potatoes. Put them all in a large piping bag or just set aside until ready to use.

Heat the olive oil in a large skillet. Add the ground lamb and saute until brown, then drain it and set aside.

Melt the butter in the same skillet, then saute the onions until soft and tender.

Add the garlic and cooked lamb and raise heat if needed until sizzling. Add the tomato paste and stir well, then reduce heat again and add the flour, stirring to coat the meat. Pour in the wine and Worcestershire sauce and stir everything up from the bottom of the pan, then gradually add the beef stock. Cook for 3 minutes.

Add vegetables and cook until they are thawed and warm, then add the A-1 (I forgot it!) and pepper to taste. At this point you can adjust the seasonings to taste if you are not happy with the level of saltiness. Sprinkle in some thyme.

Spoon this mixture into a greased 9 ½ inch deep dish pie dish.

Pipe or spread the mashed potatoes over the top.

Preheat the oven to 400 degrees F.. Set the pie dish on a rimmed baking sheet (to catch drips!) and bake at 400 for about 45 minutes or until potatoes are browned and everything is hot and bubbly.
Notes
This is a good make-ahead pie. Assemble a few hours ahead of time, then bake at 400 as directed. It also freezes well. If you freeze it before baking, expect the bake-time to be little longer (or just thaw it before baking).