This week I needed cookies big enough to wrap individually and give as gifts.  Rather than use one of my old favorites, I tried a new one.  It's definitely going on my "Favorites" list.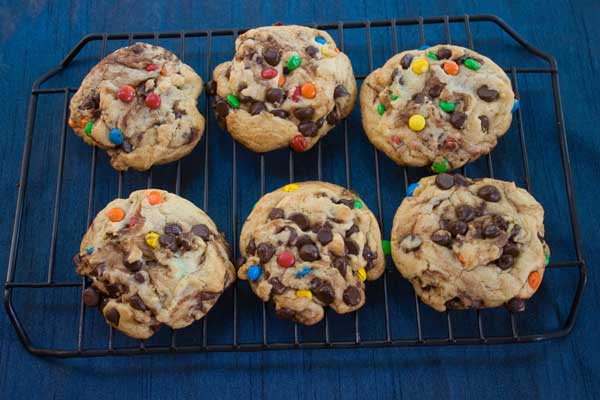 Originally from The Weekend Baker: Irresistible Recipes, Simple Techniques, and Stress-Free Strategies for Busy People
, this recipe is special because it's made in one pan and doesn't require an electric mixer.  Using melted butter lets you skip the creaming step altogether.
The original recipe (aka One Pot Chocolate Chip Cookies) called for chocolate chips and nuts.  I increased the chocolate chips a bit, cut out the nuts entirely, and added some mini M&Ms for a little extra color. I also increased the salt because 1/4 teaspoon just wasn't quite enough to counteract all the extra chocolate and candy I used.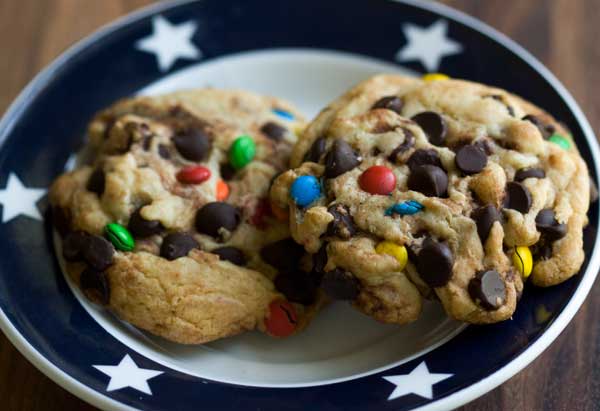 My friends loved these. The book warns not to overbake them if you want your cookies chewy, so keep an eye on them as they bake. I knew mine were done when the edges were brown.
Saucepan M&M Cookies
Large chocolate chip and M&M cookies made in a saucepan.
Ingredients
8 tablespoons unsalted butter, cut into 4 pieces
1/2 cup firmly packed light brown sugar (100 grams)
1/3 cup granulated sugar (70 grams)
1 1/2 cups all purpose flour (190 grams)
1 teaspoon baking powder
3/8 teaspoon salt
1 large egg
1 teaspoon pure vanilla extract
1 1/2 cups extra dark chocolate chips
1/3 cup mini M&Ms or white chocolate chips
Instructions
Preheat the oven to 350 degrees F. Line 2 cookie sheets with parchment paper or nonstick foil
Melt the butter in a 3 quart saucepan set over medium heat. Remove from heat and add the brown sugar and granulated sugar; whisk or stir until smooth. Let cool for 5 minutes.
While sugar cools, combine the flour, baking powder, and salt in a medium bowl and stir well.
Once the butter mixture has cooled (it can still be a little warm), add the egg and vanilla and stir until blended. Add the flour mixture and stir blended. Let the dough cool slightly if it is still warm (about 10 more minutes), then stir in the chips and candy.
Using a little less than 1/4 cup measure, drop scoops of dough on a baking sheet (6 to a sheet) spacing at least 3 inches apart.
Bake on center rack for 12 to 15 minute or until edges are lightly browned.
Let cool on the baking sheet for about 10 minutes. Using a spatula, lift the cookies from the sheet onto a rack and let cool completely.
Related posts: