When it comes to chocolate chunk cookies, I tend to not stray too far from traditional flavorings. Well, except for Hal's Chocolate Chip Cookies. And Miso Chocolate Chip Cookies. Oh, and Orange Chocolate Chip Cookies. And then there was the time I made Soy Sauce Chocolate Chip. Okay, so sometimes I do go a little out of the box with chocolate chunk/chocolate chip. All of the cookies mentioned are actually really good, but I have one that is now maybe the BEST of all -- Chocolate Chile Cookies.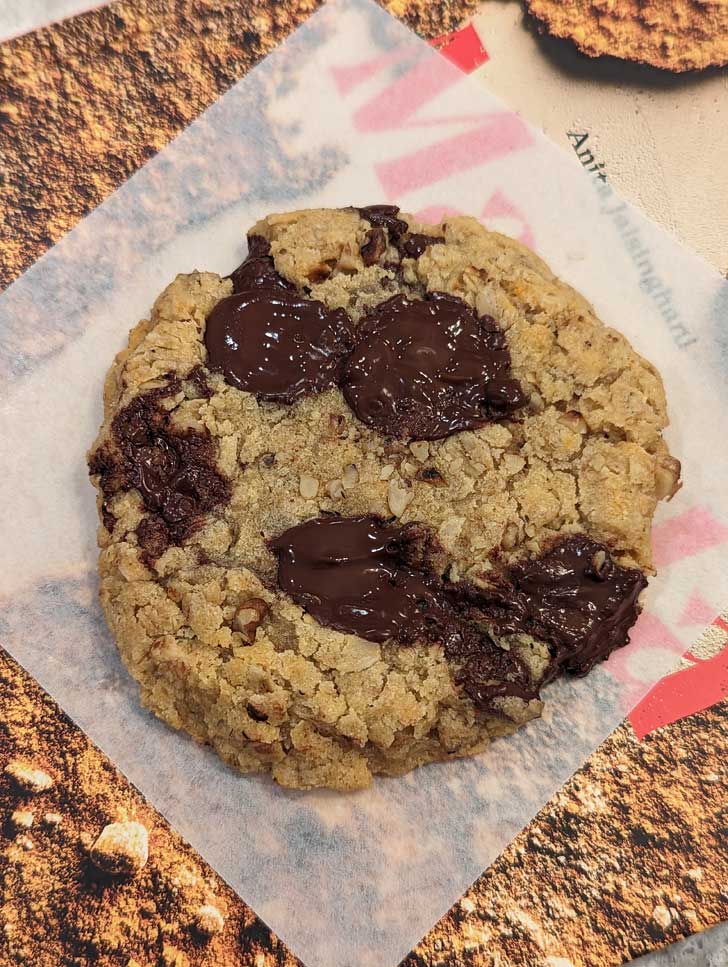 Pondicheri
This recipe is adapted from one by chef Anita Jaisinghani of Houston's Pondicheri. In Masala: Recipes from India, the Land of Spices, her cookbook, she tells the story of how her Chocolate Chile Cookies came to be. The pastry chef was making cookies for brunch, but ran out of toasted walnuts and had to use chile spiced walnuts meant for the evening's appetizer. Everyone loved the chile spiced cookies, and for the next 10 years they stayed the number one seller at Bake Lab, the bakeshop connected to Pondicheri. When you make these, it will be completely obvious why. They are SO good. They're big, slightly crumbly, chewy and deliver a cascade of warming flavors thanks to two key ingredients, red chile powder and ground green cardamom.
Chile Powder
Chile powder can be a little confusing. There's chili powder (spelled with an i) that is often a blend containing chile, salt, oregano and other spices and there's chile powder, which is just ground chile pepper like cayenne or ancho or paprika or any number of other red chiles. And then there's the brand of Indian chile powder I have been using, Swad, which spells it the British way "chilli" with two "l"s. For this recipe all you need is a very bright chile powder from the Indian grocer. If you want to make these right away and only have cayenne, you could try that. However, I encourage you to use these cookies as an excuse to buy some very good red chile powder. It's interesting how different chile peppers hit the senses. For instance, I don't like mouth burning pepper, but some of the chile powders seem to bypass that and go straight to the sinuses and create warmth.
Green Cardamom Seeds
The other key ingredient is ground green cardamom which is a surprisingly wonderful partner to the chocolate. To make the best cookies, buy green cardamom pods, bust them open, and grind the seeds with a mortar and pestle. The challenge is actually acquiring the green cardamom if you're used to buying pre-ground. I haven't tested these with pre-ground cardamon. Go for the fresh if you can. Once you have the cardamom, you can also use it in this carrot soup.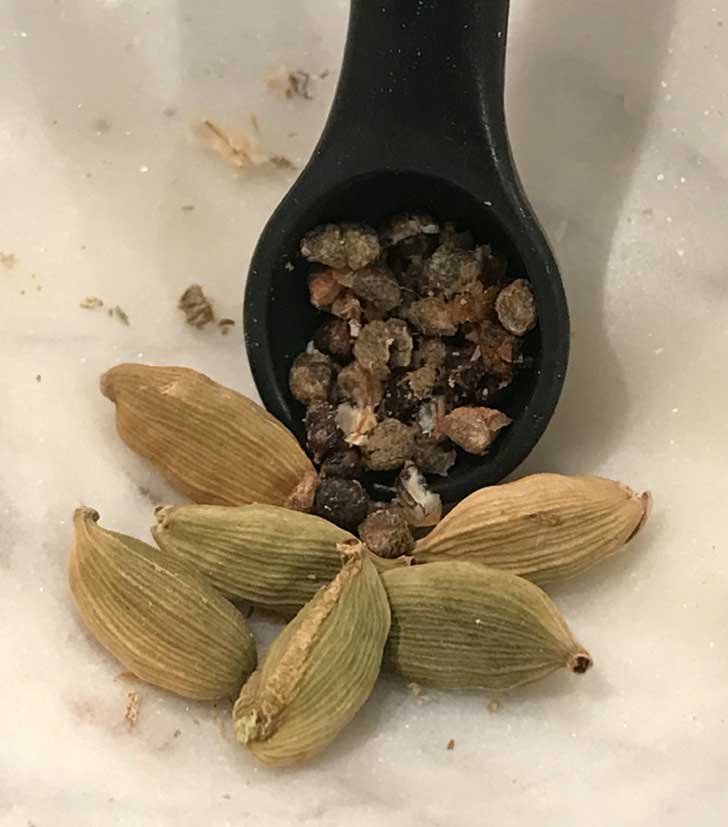 Egg and Dairy Free Masala Chocolate Chile Cookies
Since many Indians who do not eat eggs, I tested an egg and dairy free version using 80 grams of whipped aquafaba in place of eggs and 170 grams of Earth Balance in place of butter. The vegan cookies spread quite a bit and didn't need punching down, but were still delicious. I put more on that in the notes. Another interesting thing I noticed with the vegan version is they spread more on the second day, but that could have been a fluke.
Chocolate Chile Cookies Ingredients
All Purpose Flour -- The usual AP flour. I haven't tested yet with a gluten-free blend, but I'm sure I will.
Oats -- Recipe calls for "rolled quick oats" so I believe you are supposed to use quick oats rather than old fashioned. I used old fashioned for my first batch and slighly ground sold fashioned (a substitute for quick) in the vegetarian version. For the third batch I used actual quick cooking oats. They were all very similar.
Ground Green Cardamom Seeds -- Remove the seeds from their husk, grind with a mortar and pestle and measure out ½ teaspon.
Chile Powder -- Red chile powder from an Indian grocer or you can substitute cayenne and expect more heat.
Salt -- Original recipe only calls for ¼ teaspoon for the whole batch, but I used ¾ teaspoon. Even when I substituted the aquafaba and Earth Balance, the cookies weren't overly salty.
Natural Cane Sugar -- There's no brown sugar, but rather the tan colored pure cane sugar. It's everywhere now. Even Target has it under their Good & Gather brand.
Butter -- Unsalted
Small Eggs -- Don't just use 2 large eggs. Small eggs weigh only about 40 grams each, so crack two eggs, beat them and weigh out 80 grams.
Dark Chocolate -- Use the best you have. For my first batch I used Guittard bittersweet wafers, which is probably why the cookies were so good. Ghirardelli Bittersweet Chips work well too.
Walnuts -- The original recipe only calls for ¼ cup, but I think the cookies need more. Also, the cookies are very sweet. If you reduce the sugar you'll mess up the texture, so nuts help cut the sweetness somewhat.
Recipe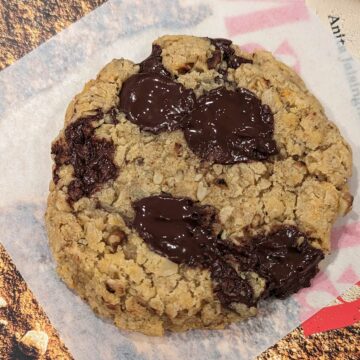 Masala Chocolate Chile Cookies
Chocolate chunk cookies with oats, walnuts and a hint of chile & cardamom.
Ingredients 
1 ½

cups

all-purpose flour

(200 grams)

1 ¾

cups

quick cooking oats

(140 grams)

1

teaspoon

baking powder

½

teaspoon

baking soda

¼

teaspoon

plus an extra pinch salt OR up to ¾ teaspoon (which is what I use)

½

teaspoon

ground green cardamom seeds

1

teaspoon

red chile powder

1 ½

cups

cane sugar, the unrefined tan colored type

(290 grams)

¾

cup

unsalted butter

2

small

eggs (abut 80 grams total, so beat 2 eggs and weigh out 80 grams). You'll have about 20 grams left to discard or use for something else.

10

oz

dark chocolate

cut into chunks

¼ to ½

cup

coarsely chopped walnuts
Instructions 
Weigh your flour and mix with the oats, baking powder, baking soda, salt and spices

In a mixing bowl, beat the softened butter and sugar until creamy. Do not beat until fluffy because beating too much air into the cookies will make them less chewy. Stir in the eggs one by one if you happen to have small eggs or gradually add your 80 grams of beaten egg.

Add the flour mixture and stir until blended, then stir in the chocolate chunks and toasted walnuts.

Divide dough into 12 mounds (about 3 oz each). I recommend burying the chocolate somewhat so that when you smash the cookies down with the spatula, the chocolate won't smash. Cover and chill overnight (or for at least 3 hours).

Preheat oven to 325 degrees F.

Arrange dough balls 3 ½ inches apart on a baking sheet lined with parchment paper, about 6 to a sheet depending on size of your oven and baking sheet.

Bake one sheet at a time for 12 minutes. After 12 minutes, press each cookie down with the back of a ladle or a measuring cup or spatula. Bake for another 2 minutes or until cooked on the outside but still a little gooey on the inside. Let rest on the baking sheet for 30 minutes. The sitting time is important.
Notes
For vegan cookies, whip about ⅓ cup of aquafaba and weigh to make sure it's around 80 grams. Use the whipped aquafaba in place of eggs and a non-dairy butter (I used Earth Balance) in place of the butter.