Sriracha-Glazed Chicken and Onions is an old standby at our house. It originally appeared in Cooking Light many years ago, and the only reason I have it here is so I can reference it quickly when I forget the proportions of hoisin to ketchup.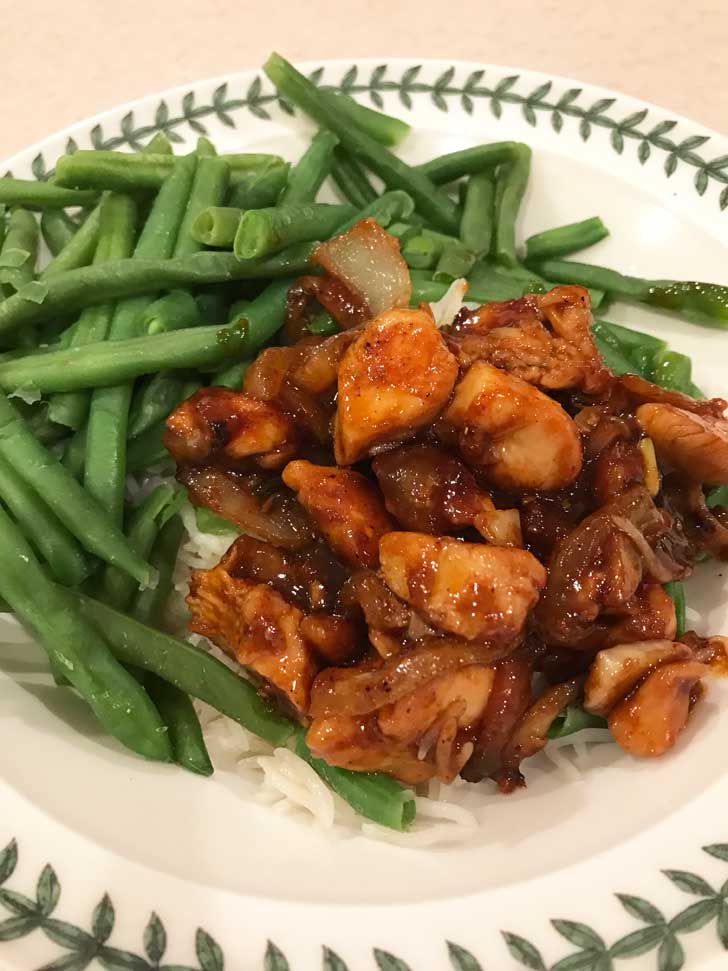 The original recipe calls for boil-in-bag rice, but these days I almost always make this when I have leftover rice from another meal or when I'm in the mood to make rice in the Instant Pot.
The original recipe was also supposed to be super fast and used jarred ginger and garlic. Those are great if you are in a real hurry, but it's probably just as easy to quickly chop some ginger and garlic.
Sriracha-Glazed Chicken and Onions
3 tablespoons hoisin sauce
1 tablespoon ketchup
¾ to 1 ¼ teaspoons Sriracha (hot chile sauce -- such as Huy Fong)
1 ½ tablespoons canola oil
About 1 ½ cups sliced onions
1 tablespoon bottled minced fresh ginger or 1 tablespoon fresh
1 tablespoon bottled minced garlic or fresh
¾ teaspoon curry powder
1 pound skinless, boneless chicken breast -- cut into 1-inch-thick slices (I velvet it sometimes, but it's not absolutely necessary).
Sriracha-Glazed Chicken Directions
Combine hoisin, ketchup, and Sriracha in a small bowl.
Heat oil in a large nonstick skillet over medium-high heat. Add onions; sauté 3 minutes or until tender. Add ginger, chicken and garlic; sauté 6 minutes or until chicken is just cooked through. Stir in hoisin mixture; cook for about a 1 minute, tossing to coat.
Serve over over your favorite type of cooked rice.