This is an old recipe I originally made for one of Fuzzy's birthday parties. It's a good thing I made it, because I dropped her other birthday cake on the floor.
I really loved this recipe at one point, but I stopped making it for some reason. I think the issue might be I changed ovens and the 12 minutes at 475F, 35 minutes at 300F and 30 minutes "off" wasn't working for me. But I'm not sure. Maybe it was just that Fluffy Cheesecake came along?
Looking at this picture (strange cheesecake floating in mid air) makes me want to try this one again.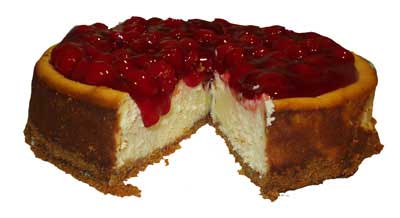 Recipe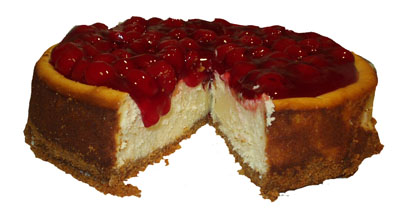 The Best Cheesecake Ever
A very good basic cheesecake recipe
Ingredients 
Crust
1 3/4

cup

graham cracker crumbs

3

tablespoons

sugar

6

tablespoons

butter, melted
Filling
4

8 oz

packages cream cheese, softened

1 1/3

cups

plus 1 tablespoon sugar

3/4

teaspoon

lemon extract

1

teaspoon

vanilla extract

2

teaspoons

fresh orange juice

3

tablespoons

heavy cream

2 1/2

tablespoons

flour

2

large

egg yolks, room temperature

4

large

eggs, room temperature
Instructions 
Preheat oven to 475 degrees F.

Prepare crust. Mix crumbs, sugar, and butter and press into bottom of a 9 inch springform pan.

If you haven't already, bring all filling ingredients to room temperature. This is important.

In large bowl, with mixer at medium speed, beat cream cheese just until smooth; slowly beat in sugar, scraping bowl often with rubber spatula. Add extracts, orange juice, cream, flour, egg yolks, and eggs; Stir until smooth. Do not beat the eggs, just stir them and try not to whip any extra air into the batter.

Pour filling over crust and bake cheesecake for 12 minutes.

Reduce oven heat to 300-degrees; bake 35 minutes longer. Turn off oven; let cheesecake remain in oven 30 minutes.

Remove cheesecake from oven; cool completely in pan on wire rack. Cover and refrigerate at least 4 hours or until well chilled.

When cheesecake is firm, with spatula, loosen pan side from cheesecake and remove cake from pan bottom; slide onto serving plate. Pour topping over center.

If you used parchment, you can gently pull the cake onto a beautiful serving platter. Otherwise, just serve it off the pan bottom.