For Fuzz's second birthday, I decided to make a Hello Kitty cake. So being the combination neurotic mother/obsessive baker that I am, I auditioned various cake recipes, tested out icings, and of course, practiced carving the cake into shapes. Each new and improved Hello Kitty cake would go to Todd's office, where he'd place it in the break room for his co-workers to enjoy. At first, they were hesitant to cut into such a cute cat cake, but by the third cake, they had lost all reticence and had even begun a savage little game of keeping the cake knife lodged in Hello Kitty's forehead.
On the day of the party, we gathered in the party room of "The Little Gym" which had been lovingly decorated by Little Gym employees. My energy had gone into the final Hello Kitty Cake. Then tragedy. Ten minute before the guests were due, I dropped the Hello Kitty cake face down on the floor of the Little Gym party room. I remember the moment of silence that ensued, and Todd tells me now that he and most likely, the Little Gym employees were waiting for a crazy-mother meltdown. Little did they know, when the cake hit the floor, I felt a wave of calm. I asked Todd for the keys, drove next door to the grocery store, and bought a bakery cake.
In the end, the party was fun, the grocery store cake was great, but the real star of the party (besides Fuzz) was the sidekick cake I'd made for the adults – a cheesecake. In hindsight, maybe it was good that Hello Kitty wasn't there to detract from this cheesecake which all the adults said was the best cheesecake ever.
I made this again today and as usual, it turned out perfect, despite the massive crack I get every time I make this cheesecake. I do have some no-crack cheesecake recipes, but this particular recipe is tastier than the others and the crack just becomes a non-issue. At least if you top it with something, which is what I did today.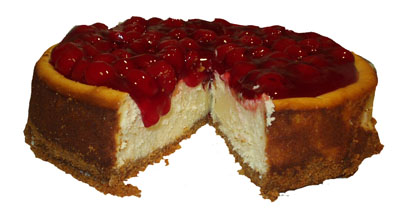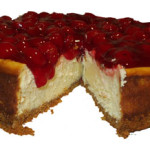 Print Recipe
The Best Cheesecake Ever
A very good basic cheesecake recipe
Ingredients
The Best Cheesecake Ever

Crust:

1 3/4

cup

graham cracker crumbs

3

tablespoons

sugar

6

tablespoons

melted butter

Filling:

4

8 oz packages cream cheese, softened

1 1/3

cups

plus 1 tablespoon sugar

3/4

teaspoon

lemon extract

1

teaspoon

vanilla extract

2

teaspoons

fresh orange juice

3

tablespoons

heavy cream

2 1/2

tablespoons

flour

2

egg yolks

4

eggs

Topping: Whatever you want to use to cover the crack.
Instructions
Preheat oven to 475 degrees F.

Prepare crust. Mix crumbs, sugar, and butter and press into bottom of a 9 inch springform pan. (I like to line my pan with a 9 inch round of parchment).

In large bowl, with mixer at medium speed, beat cream cheese just until smooth; slowly beat in sugar, scraping bowl often with rubber spatula. Add extracts, orange juice, cream, flour, egg yolks, and eggs; Stir until smooth. Do not beat the eggs, just stir them and try not to whip any extra air into the batter.

Pour filling over crust.

Bake cheesecake 12 minutes. Reduce oven heat to 300-degrees; bake 35 minutes longer. Turn off oven; let cheesecake remain in oven 30 minutes.

Remove cheesecake from oven; cool completely in pan on wire rack. Cover and refrigerate at least 4 hours or until well chilled.

When cheesecake is firm, with spatula, loosen pan side from cheesecake and remove cake from pan bottom; slide onto serving plate. Pour topping over center.

If you used parchment, you can gently pull the cake onto a beautiful serving platter. Otherwise, just serve it off the pan bottom.