I wish I had an interesting story to go with this cheesecake, but the truth is I made it because cream cheese was on sale for $1.50 a block at Mariano's.  That, plus I'd been reading about fluffy cheesecake vs. dense and creamy cheesecake and felt like making a fluffy cheesecake with stiffly beaten egg whites.
This cheesecake was the result. With only 2 packs of cream cheese (16 oz total), it's as tall and stately as my favorite New York style cheesecake which calls for 5 packs.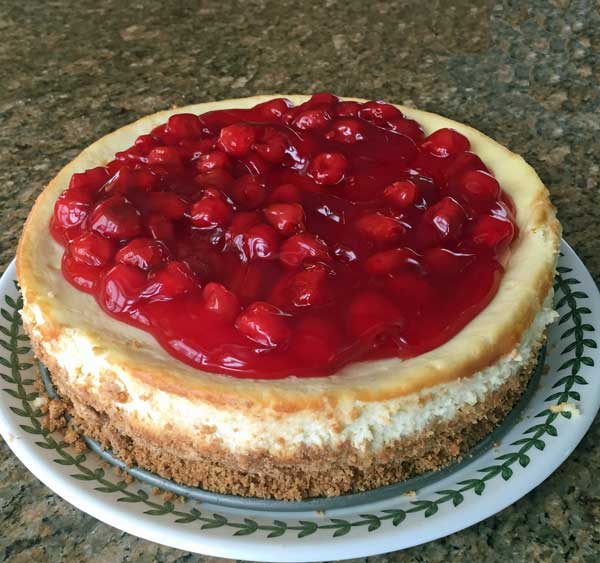 Alas, this cheesecake did have a massive crack despite the slow cooling process, but I wasn't too concerned with cracking since I'd planned on adding a topping. The overall fluffy texture and height of the cake made up for the crack.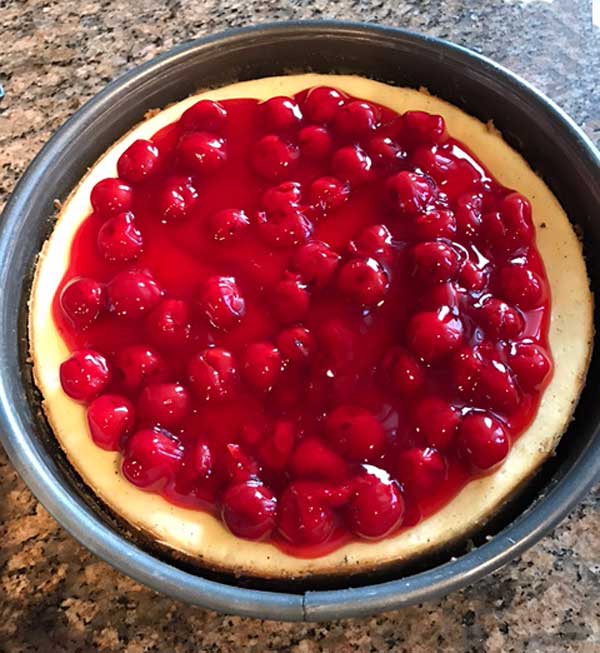 Update:  This is a delicious cheesecake, but after baking it at 300 for an hour and letting it sit in the "off" oven for an hour, it developed a crack — and not just for me, but for everyone who has tried it.  I baked it again using 300 for only 30 minutes, then turning the oven down to 250 for the next 30 minutes.  This time the cake had a much smaller crack, therefore I am changing the directions slightly .  I've also changed the crust to a baked crust.  The old version was unbaked, but I think I like the texture and flavor of a baked crust a little better.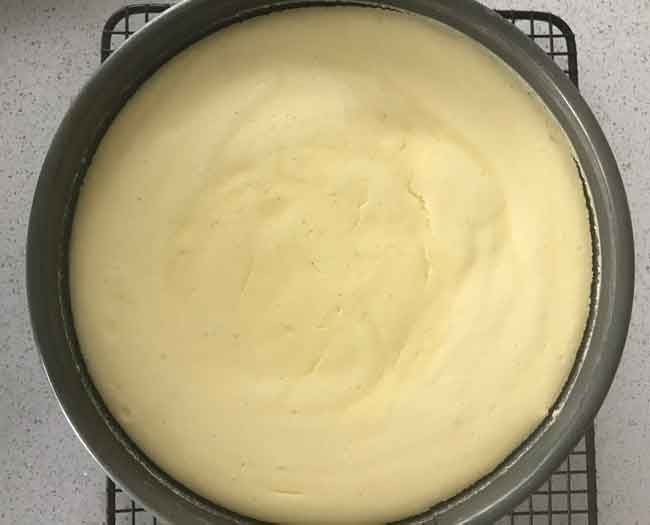 Update 2: This is pretty much my go-to cheesecake recipe these days, and maybe it's a coincidence but I no longer get even smaller cracks (last photo above) when I bake it in an electric oven at 300 for 30 minutes, 250 for 30 minutes, oven off with door closed for 1 hour and slightly ajar for a final 30 minutes.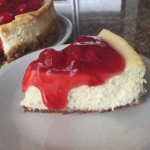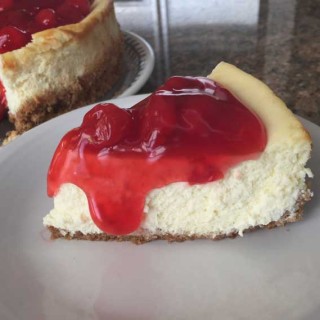 Print Recipe
Fluffy Cheesecake
Fluffy Cheesecake made with stiffly beaten egg whites.
Ingredients
Crust:
1 3/4

cups

graham cracker crumbs

3

tablespoons

sugar

4

tablespoons

unsalted butter

melted

1/8

teaspoon

salt
Filling:
2

packages

8 oz each of cream cheese (softened)

1

cup

granulated sugar

5

large egg yolks

2

cups

16 oz sour cream, room temperature

1 1/2

teaspoon

vanilla extract

1 1/2

teaspoons

lemon juice

5

large egg whites

Topping is optional -- We like canned cherry pie filling so I usually just throw that on. Plain sweetened whipped cream would be good

too.
Instructions
Preheat oven to 350 degrees F. Rub a 9 inch springform pan all over with butter.

Mix together crust ingredients and press into the bottom and halfway up the sides of the pan. Set it on a baking sheet and bake for 8 minutes. Let cool.

Reduce oven heat to 300 degrees F.

With an electric mixer on medium speed, beat the cream cheese and sugar until smooth.

Add yolks, sour cream, vanilla, and lemon juice; mix until smooth.

Beat egg whites until stiff but not dry, and fold into mixture. Pour over crust and smooth the top.

Set on a baking sheet and bake for 30 minutes at 300 degrees F.

Reduce heat to 250 degrees F. and continue baking for another 30 minutes.

Turn off heat, and let cake remain 1 hr longer with door closed. Open door and let cake remain at least 1/2 hour longer.

Let cool at room temperature, then chill overnight or for at least 8 hours. Top with pie filling if desired.
Notes
This recipe is adapted from one I found on a bulletin board. It was posted by Adam and endorsed by two other people. I changed the crust, but stayed true to the rest of the recipe. Adam said the slow cooling was supposed to prevent cracking. My cheesecake had a huge crack, but I'd planned on covering it with cherry topping anyway so I wasn't concerned. Update: Using 300 and 250 resulted in a much smaller crack.