Fluffy Cheesecake started as an excuse to use up some cream cheese. Plus, I was curious to see what would happen when folding whipped egg whites into a cheesecake. Little did I know this would become one of our favorite cheesecake recipes. It's only a fluffy cheesecake in comparison to dense, thick, New York style, but fluffy is the word people sometimes use to describe this texture so I'm sticking with it for now.
Jump to Recipe
Only 2 packages of Cream Cheese vs 5!
Along with the light yet rich texture, what I love about this recipe is it only calls for 2 packs of cream cheese. Classic New York Style Cheesecake usually has 5 packs of cream cheese, but in Fluffy Cheesecake a good amount of sour cream along with the beaten egg whites makes up for the missing cream cheese. This makes the cheesecake slightly less expensive -- or at least when cream cheese is not on sale!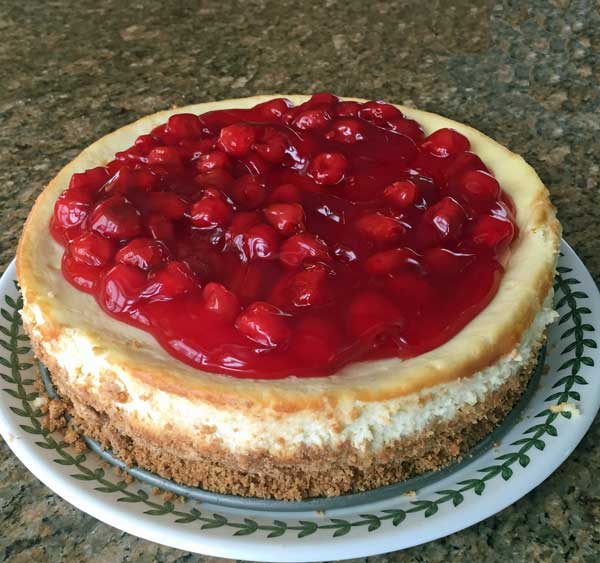 Fluffy Cheesecake Baking Time
The first time I made this cheesecake, I baked it at 300 for an hour then let it sit in the "off" oven for an hour.  It did have a big crack which I had to cover with fruit topping.  Even though it was delicious, I started experimenting with different bake times and came up with one that was practically crack-free.  The new cheesecake bake time is 300 for 30 minutes, 250 for 30 minutes, 1 hour in the "off" oven with the door closed and 30 minutes in the oven with the door ajar.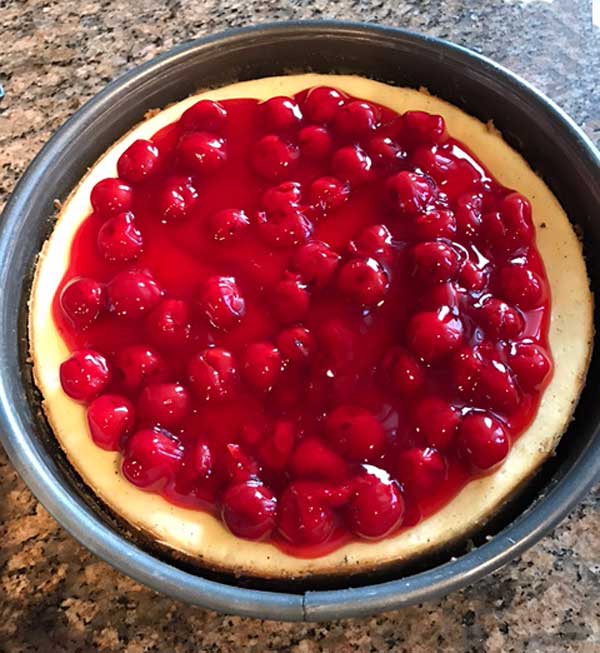 Here's what the cheesecake should look like with the new bake times.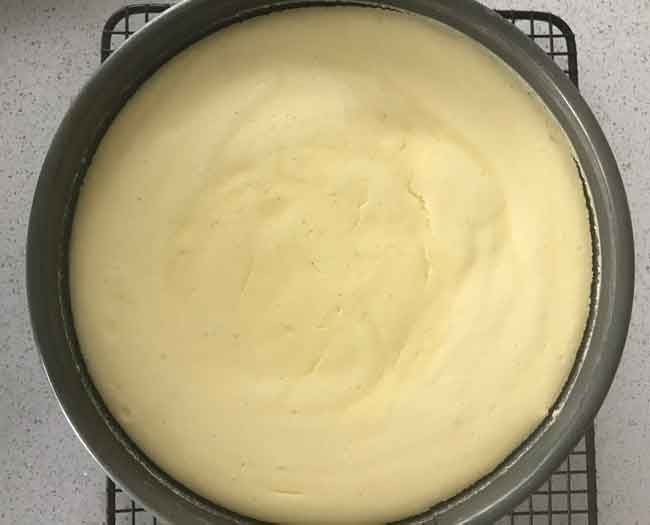 Fluffy Cheesecake Cherry Topping
While covering cracks shouldn't be a huge issue here, you may want a delicious cherry topping. My family likes canned cherry topping so I sometimes spoon a little of that over the top, but when I'm feeling more ambitious I make homemade cherry topping using Trader Joe's (or Aldi brand) Dark Morello Cherries. Update: I just posted an easy strawberry topping recipe as well.
More Recipe Notes
A reader notified me that her cheesecake did not cook through using the temps and times in the recipe. That is, 300 for 30 minutes, 250 for 30 minutes, door closed (oven off) for an hour and a final 30 minutes in the off-oven with the door open. I tested the cheesecake again in yet a new oven using those same times and temps and the cheesecake was fluffy and fully cooked. If this recipe doesn't work for you using 300 and 250 for the first hour, you could try using 300 for the first hour, as it may just have to do with different ovens and how they hold their heat.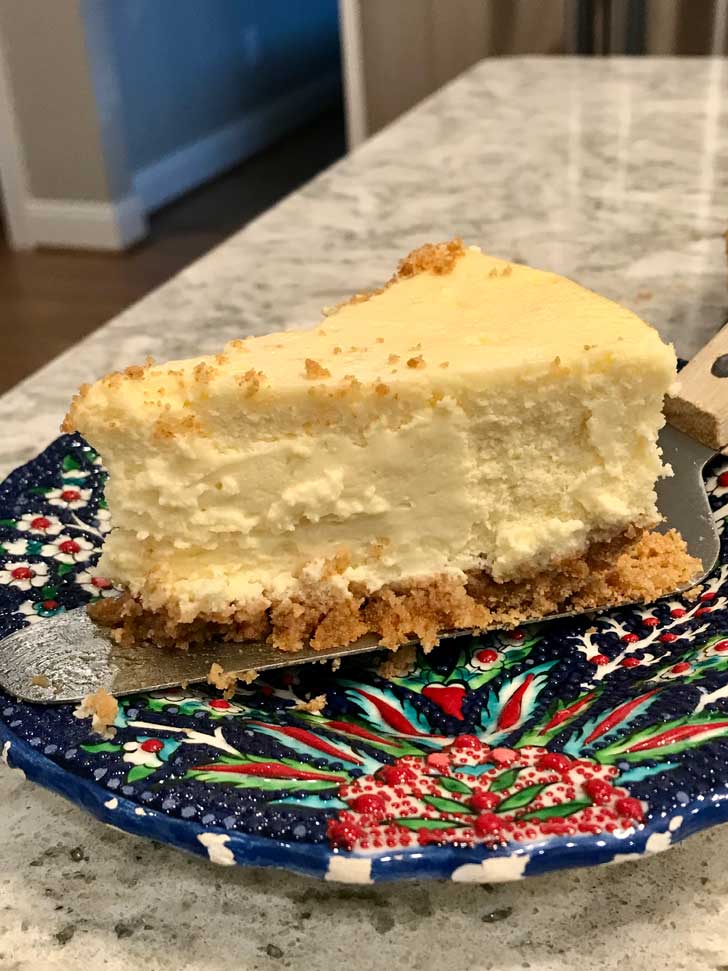 Fluffy Cheesecake in Blue Star Oven Test 12/2022
We have a new oven (Blue Star gas), so I tested the recipe in it to make sure the times and temps were accurate.  The cheesecake came out great. Pictured above. This was also a reminder of just how important it is to keep the door shut at all times.  Do not peek or open the door to check progress.  The only way to observe it is through the window with the oven light on (unless you have a fancy oven camera). Also, an oven thermometer like this one I purchased at Publix is helpful.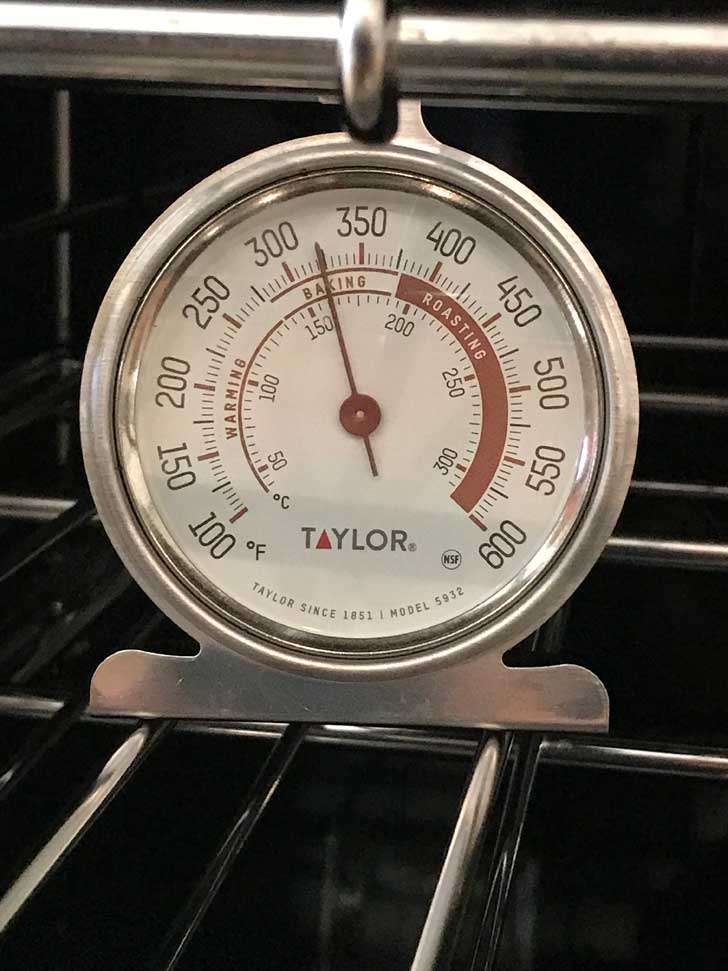 Recipe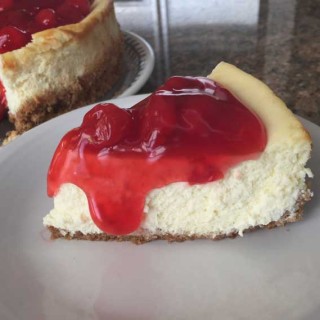 Fluffy Cheesecake
Fluffy Cheesecake made with stiffly beaten egg whites.
Ingredients 
Crust:
1 ¾

cups

graham cracker crumbs

3

tablespoons

sugar

4

tablespoons

unsalted butter

melted

⅛

teaspoon

salt
Filling:
2

8 oz

packages cream cheese, softened

(228 grams)

1

cup

granulated sugar

(200 grams)

5

large

egg yolks

2

cups

sour cream, room temperature

(16 oz volume package)

1 ½

teaspoon

vanilla extract

1 ½

teaspoons

lemon juice

5

large

egg whites

Topping is optional -- We like canned cherry pie filling so I usually just throw that on. Plain sweetened whipped cream would be good

too.
Instructions 
Preheat oven to 350 degrees F. Rub a 9 inch springform pan all over with butter.

Mix together crust ingredients and press into the bottom and halfway up the sides of the pan. Set it on a baking sheet and bake for 8 minutes. Let cool.

Reduce oven heat to 300 degrees F.

With an electric mixer on medium speed, beat the cream cheese and sugar until smooth.

Add yolks, sour cream, vanilla, and lemon juice; mix until smooth.

Beat egg whites until stiff but not dry, and fold into mixture. Pour over crust and smooth the top.

Set on a baking sheet and bake for 30 minutes at 300 degrees F. Do not open the door!

Reduce heat to 250 degrees F. and continue baking for another 30 minutes. Again, do not open the door.

Turn off heat, and let cake remain 1 hr longer with door closed. Open door and let cake remain at least ½ hour longer. Alternatively, if you don't see any cracks and want to err on the side of it being more baked than keep the door closed for that last half hour.

Let cool at room temperature, then chill overnight or for at least 8 hours. Top with pie filling if desired.
Notes
This recipe is adapted from one I found on a bulletin board. It was posted by Adam and endorsed by two other people. I changed the crust, but stayed true to the rest of the recipe. Adam said the slow cooling was supposed to prevent cracking. My cheesecake had a huge crack, but I'd planned on covering it with cherry topping anyway so I wasn't concerned. Update: Using 300 and 250 resulted in a much smaller crack.  The old bake time and temp was 300 degrees for one full hour, one hour in the off-oven with the door closed and ½ hour in the oven with the door open.  Cool at room temperature and then chill overnight. Also, do not open the door at any point so that the oven will retain heat.
Do not use light sour cream or any light ingredients. 
Some More Good Recipes