This small batch Cheesecake Bars recipe is from one of my grandmother's old organizations, The Houston Junior Forum. I am not exactly sure when she was a member – probably very long ago. And while I think she probably let her membership lapse, she kept up with the cookbooks. This recipe is based on one in a book called "Scrumptious"….which, by the way, is word I don't usually say out loud. I do like the cookbook, though.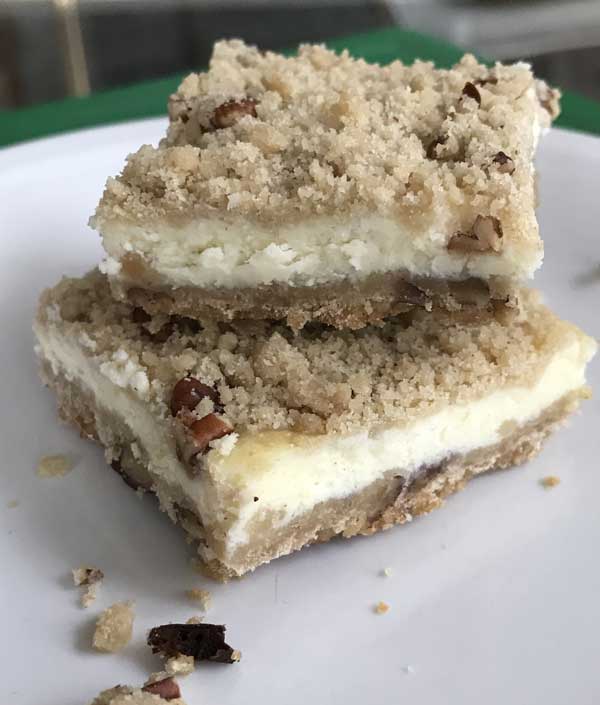 These were so good that I added the metric. A little bit, at least.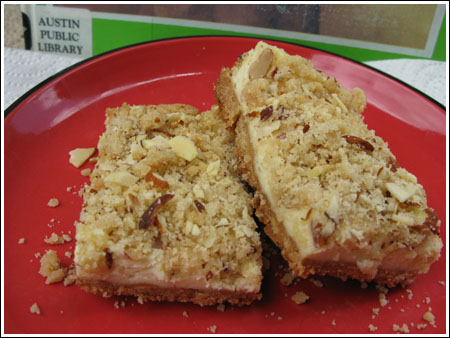 Update: I've made these several times since posting and they are super reliable and very good. Feel free to double! One thing you should know is the dough is very, very, dry. It will feel dry when you mix it and it will look dry when you take it out after the first round of baking. But don't worry. Once the cheese is poured on and the cookies have baked and set, the crust absorbs some moisture and the texture is quite nice.
Cheesecake Bars
⅓ cup unsalted butter (76 grams)
⅓ cup brown sugar (70 grams)
¼ teaspoon salt (omit if using salted butter)
1 cup all purpose flour (126 grams))
½ cup chopped, toasted nuts (pecans or almonds)
8 oz cream cheese, softened (230 grams)
¼ cup granulated sugar (50 grams)
2 teaspoons lemon juice
1 teaspoon vanilla extract
1 large egg
2 tablespoons milk
Preheat oven to 350 degrees F (180 C). Grease an 8 inch square metal pan or line with non-stick foil.
Beat butter, brown sugar and salt together until creamy. Add flour and stir until it is fully blended – batter will be thick and crumbly. Stir in the nuts. Measure out about 1 cup and set aside. Press remainder into bottom of pan. Bake crust for 15 minutes.
Beat cream cheese and granulated sugar until creamy. Beat in lemon juice and vanilla, then add egg and milk and beat just until smooth.
Pour cheese mixture over baked crust. Sprinkle reserved crumb topping over top. Return to oven and bake for 25 minutes. Let cool on a wire rack, then transfer to refrigerator and chill for at least 2 hours or until ready to serve.
Makes 12 bars