Cake Mix Cheesecake is a fun dessert for when you are out of flour.  To make it, you use part of a box of cake mix in the crust and the rest in the cream cheese filling.  Here's a picture of the one I made using Duncan Hines Signature French Vanilla cake mix.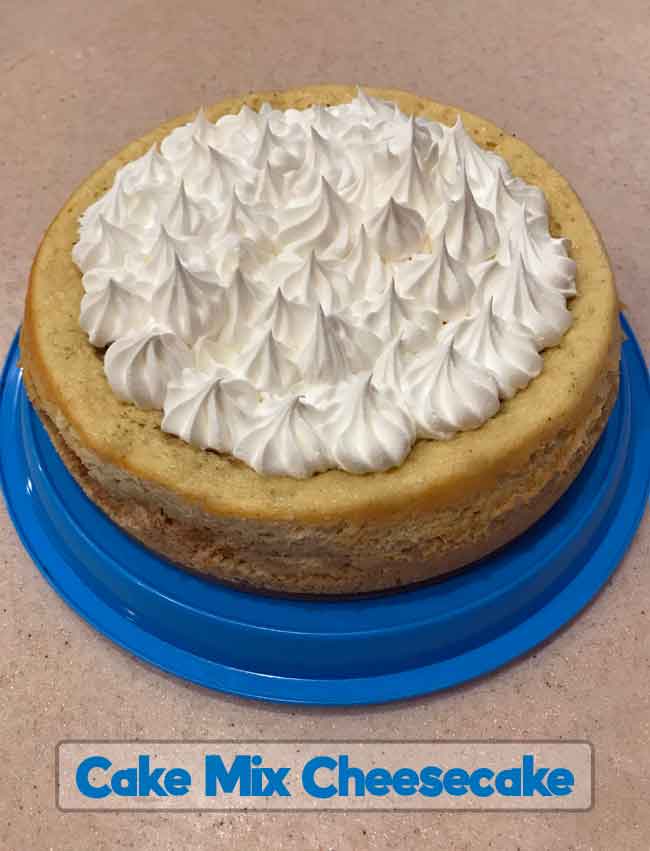 The crust is made with cake mix, an egg and a little oil. You pat it into the bottom of the pan and pour on the cream cheese filling.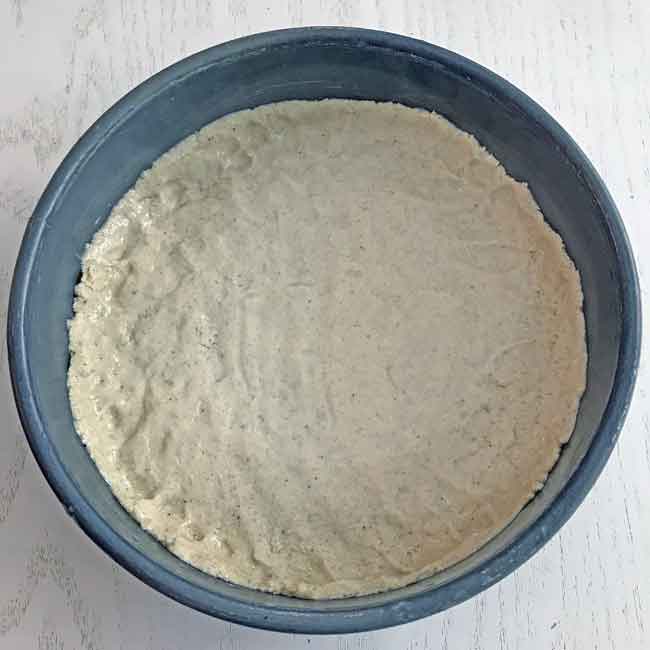 The filling is made with another cup of the cake mix, plus cream cheese and other ingredients. Here it is about 30 minutes after coming out of the oven. Once it cools, you chill it for at least 8 hours.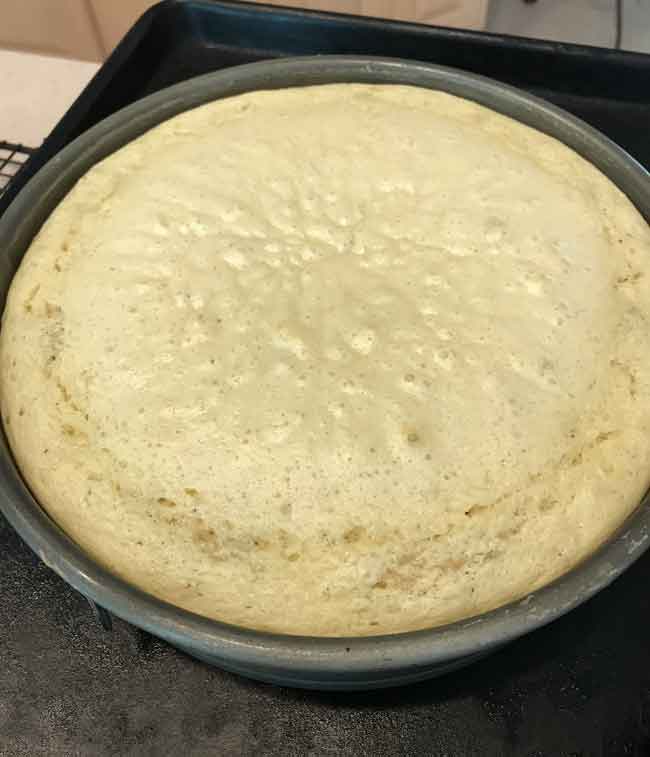 The final and most fun step is garnishing it with whipped cream and berries.  Yay!  You can use freshly whipped cream or continue on with the convenience theme and go with Cool Whip -- or the 89 cent whipped topping from Aldi in this case.  I wasn't sure this recipe would even work, so I didn't go all out with the cream.  But maybe next time I will because the cake was pretty good.  The texture of the crust was dense, cakey and sweet, while the filling was creamy and smooth.  At first glance it looks like actual cake, but when you fork into it it's quite soft.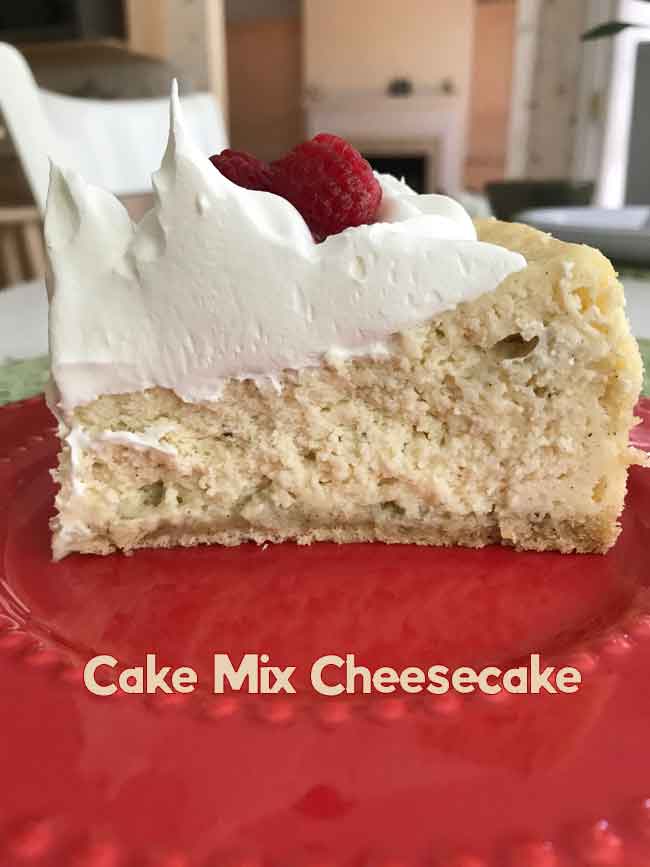 Cake Mix Cheesecake is a fun project if you are out of flour and you have a lot of people to eat it. If  you like the idea but don't want a whole cheesecake, here's a similar bar cookie recipe called Cake Mix Lemon Cheesecake Bars. The bars call for cake mix in the crust only.
Recipe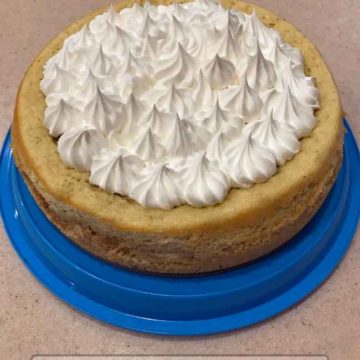 Cake Mix Cheesecake
An easy cheesecake made with cake mix and two packs of cream cheese.
Ingredients 
1

box

yellow cake mix

15.25 oz

4

large eggs

room temperature

2

tablespoons

oil

2

packages

cream cheese

softened, 16 oz total

½

cup

sugar

1 ½

cups

whole milk

2

tablespoons

fresh lemon juice

1-2

tablespoons

vanilla extract

Fresh fruit for topping
Instructions 
First bring all ingredients, especially eggs, cream cheese and milk, to room temperature. This is important because if any of the ingredients are cold, the cream cheese will lump up again in the batter.

Preheat oven to 300 degrees F. Grease a 9 inch round springform pan or spray with cooking spray.

Measure out one cup of cake mix and set aside.

Add the rest of the cake mix to the bowl of a stand mixer. Add 1 egg and 2 tablespoons of oil and stir until mixture is evenly moistened. Crumble it evenly across the bottom of the springform pan. Dampen fingers with some water and press mixture evenly across the bottom and about ½ inch up the side. Set aside.

Wipe out the mixing bowl and add the softened cream cheese and sugar. With the paddle attachment, beat on medium, then add each egg one at a time, beating until well blended. Add the cake mix and beat until blended. Using low speed gradually stir in the milk, then add the lemon juice and vanilla. Pour into the pan, covering the crust.

Set on a large rimmed baking sheet and bake at 300 degrees F. for 60 minutes. Turn off the oven and let it sit in the off-oven for 10 minutes. Remove and let cool at room temperature for about 2 hours. It will go from being extremely jiggly to just a bit jiggly. Put in in the refrigerator for 8 hours or longer.

Before serving, loosen the cake from the springform and set on a tray. Spread or pipe whipped topping all over the center and top with your favorite fruit.
Notes
For the vanilla, use 2 tablespoons if you are using a less expensive vanilla.  If you are using a double strength vanilla or vanilla bean paste, go with 1 tablespoon.  I used Baker's brand so I used 2.