Update: This is an old post from 2006, and you should know that the recipe is WAY under-rated. Or maybe I was just really hungry when I made these the first time, but they were so good and had so many different textures and flavors. I think I'd make them more often if I had Reese's Peanut Butter Cereal around. I may buy some just to update these pictures.
One of the best things about being on the Bake-Off Contest floor was walking around and sampling the other contestants' recipes. Last year I was too nervous to do that and opted to go back to the hotel room and hide under the covers. But this year, I walked around and tasted as many things as I could. One entry that really stood out was called Peanut Butter Crunch Brownies.
I love Take 5 Bars, the candy after which these brownies were modeled, and these are similar. They are sweet, a little salty, and have a bit of crunch from the Reese's cereal. The Reese's cereal, which I thought it would get soggy but which in fact stays crisp and airy and balances out the richness of the brownies.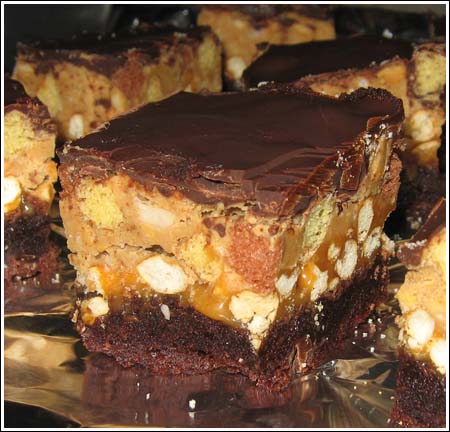 The worst part of making these was unwrapping the caramels. When will someone start packaging unwrapped blocks of caramel for baking? Maybe it's not easy to do from a packaging standpoint (I wouldn't know), but it's 2006 and you'd think we'd have come up with a way to get past having to stand there and unpeel each little caramel. Lucky for me I have a 4 year old helper. But soon she'll catch on to the fact that unwrapping caramel is not fun.  The end results were worth the trouble of unwrapping the caramels.