We're back from Houston and I'm happy to say my grandmother loved the cookies we baked for her. Her favorite were the Spiced Molasses Cookies from Epicurious. The molasses cookies were so good that I'm going to make them my "house molasses cookies". (Update: I never did that. I just kept making news ones all the time. If I do have an actual house molasses, it would be these Colossal Ginger Cookies which are thick and soft.)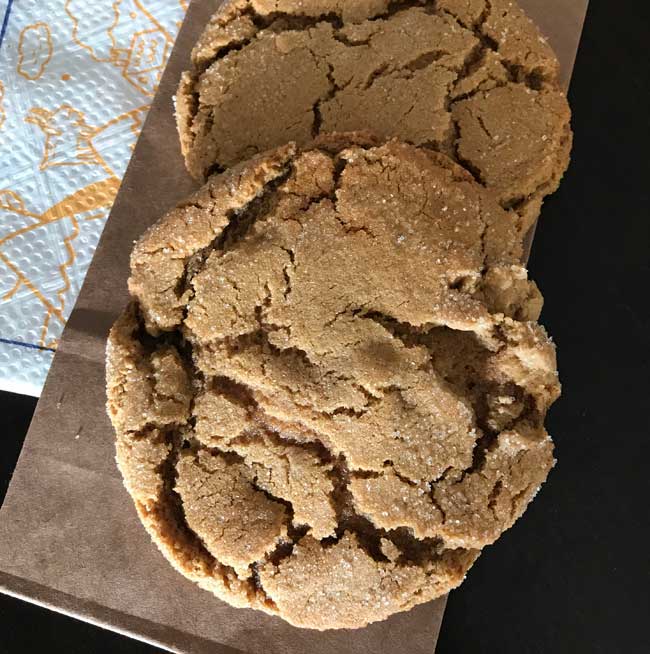 Spiced Molasses Cookies Texture
These were big, crackly, chewy on the inside and crispy on the outside. I did make one small change to the recipe, and that was to use 3 cups of granulated sugar and 1/2 cup of turbinado sugar for rolling. Rolling in turbinado was an idea I got from Cooking Light. When I roll cookies in sugar, I like for the sugar to be coarse rather than very granular. The coarse crystal sugar I buy is pretty, but expensive. Turbinado is a cheaper alternative and a good fit for the outside of a molasses cookie.
Recipe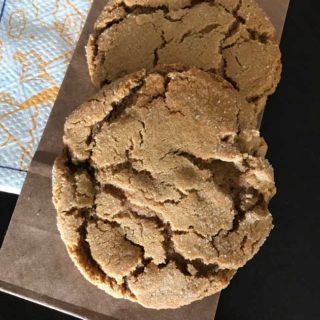 Excellent Molasses Cookies
Ingredients 
2

cups

all-purpose flour

1/4

teaspoon

salt

1 1/8

teaspoons

baking soda

1

teaspoon

ground ginger

1/2

teaspoon

ground cloves

plus a pinch

1/2

teaspoon

cinnamon

plus a pinch

4

tablespoons

unsalted butter

softened

1/4

cup

vegetable shortening

1 1/2

cups

sugar plus 1/4 for rolling

1/4

cup

unsulfured molasses

1

large eggs
Instructions 
Preheat oven to 325°F. Have ready two parchment lined baking sheets.

In a large bowl whisk together flour, salt, baking soda and spices.

In a mixing bowl, using an electric mixer, beat together softened butter, shortening, and 1 1/2 cups sugar until light and fluffy. Beat in molasses, then beat in the egg.

Gradually add flour mixture and stir until blended.

In a small shallow bowl put remaining 1/4 cup sugar. Form dough into 2-inch balls (for large cookies) or use a medium cookie scoop (about 2 tablespoons) to form smaller balls.

Roll in sugar. On baking sheets arrange balls about 4 inches apart (closer if making the smaller cookies) and flatten slightly with bottom of a glass dipped in sugar.

Bake cookies on center rack for 15 minutes, or until puffed and golden. (Cookies should be soft.) Transfer cookies with a metal spatula to racks to cool.