I love recipes that involve magic. Take for example, Impossible Pie. You dump the batter into a pie dish, bake it, then pull it out of the oven to find that it has miraculously separated into a crust with filling. There are variations – cheeseburger impossible pie, taco impossible pie, chicken enchilada impossible pie….the list goes on, but you could eat Impossible Pie for weeks and never have the same dinner twice.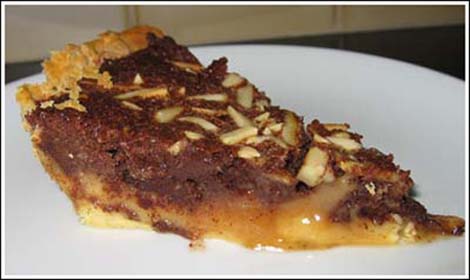 Tunnel of Fudge cake is also magic. In this case, you pour a plain batter into a bundt pan, then bake it into a cake which when cut, reveals a decadent tunnel of fudge. The Tunnel of Fudge Cake is an old Pillsbury Bake-Off recipe. I don't think it ever won anything, but it's probably one of the most popular Bake-Off recipes today. Not to mention what it did for Bundt pans.
There are other magic recipes, but it's late and I'm tired, so I'll get to the one that we tried yesterday. It's called "Vienna Chocolate Pie" and like the Tunnel of Fudge, it is an old Bake-Off recipe. The magic is that when you bake it, the pie morphs into two distinct layers. From the picture below, you'd never guess that the filling was one big bowl of chocolate batter.
This is a good pie. As we made it, I imagined a frazzled fifties housewife whose husband calls at 3:00 to say "The boss is coming for dinner." Working quickly, she could assemble this pie, throw it in the Frigidaire to chill, put dinner in the oven (probably pot roast), bathe the children, change clothes, put on some pearls and re-do her make-up. Too bad this pie wasn't invented until 1959. Maybe she's a sixties housewife.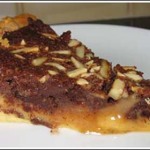 Print Recipe
Vienna Chocolate Pie
An old Pillsbury Bake-Off winner
Ingredients
1

unbaked pie crust

1 1/2

cups

sugar

3

Tbsp

all-purpose flour

3/4

tsp

instant coffee granules or instant espresso powder

1/4

tsp

ground cinnamon

Dash salt

4

eggs

1/2

cup

buttermilk

1 1/2

tsp

vanilla

1/2

cup

butter or margarine

softened

2

oz

unsweetened baking chocolate

melted

1/4

cup

slivered almonds
Instructions
Preheat oven to 400 degrees F.

Mix together the sugar, flour, instant coffee, cinnamon and salt.

In a large mixing bowl, beat eggs with electric mixer on high speed until light in color. Beat in sugar mixture. Beat in buttermilk, vanilla, butter and chocolate until well combined (filling may look curdled). Pour into crust-lined pan. Sprinkle with almonds.

Bake 25 to 30 minutes or until center is set and crust is deep golden brown. After 15 to 20 minutes of baking, cover edge of crust with strips of foil to prevent excessive browning. Cool completely, about 1 hour. Transfer to refrigerator to chill.

Note: Mine took 30 minutes. It was still jiggly when I took it out of the oven, but once it cooled it was fine. It was even better after it had chilled.