Having bits of berries around always makes me feel like I need to make a pound cake or some sort of dessert to put under them. So yesterday, after discovering I had about 5 frozen thawed strawberries sitting in the refrigerator, I made Lemon Cake Pie for the sole purpose of putting it with the leftover strawberries. Thanks for the inspiration, mushy strawberries!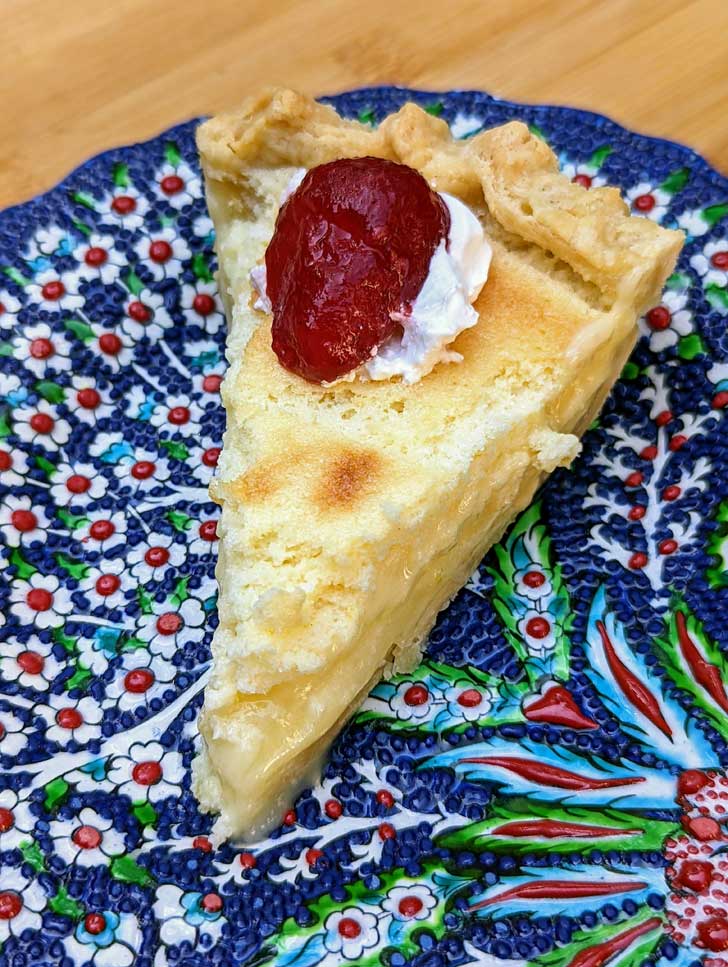 What is Lemon Cake Pie?
It's the Southern pie version of Lemon Pudding Cake! Like pudding cake, the mixture of sugar, eggs, milk and lemon "magically" separates into layers during baking. But unlike pudding cake, you get a bonus texture -- flaky pie crust. Another difference between Lemon Cake Pie and typical pudding cake is that the "cake" part of the pie is a lot thinner. The filling in Lemon Cake Pie is a very, very, very, lemony cream. The egg whites and flour rise to the top while baking to form the thin crust. Here's another shot that really shows the layers.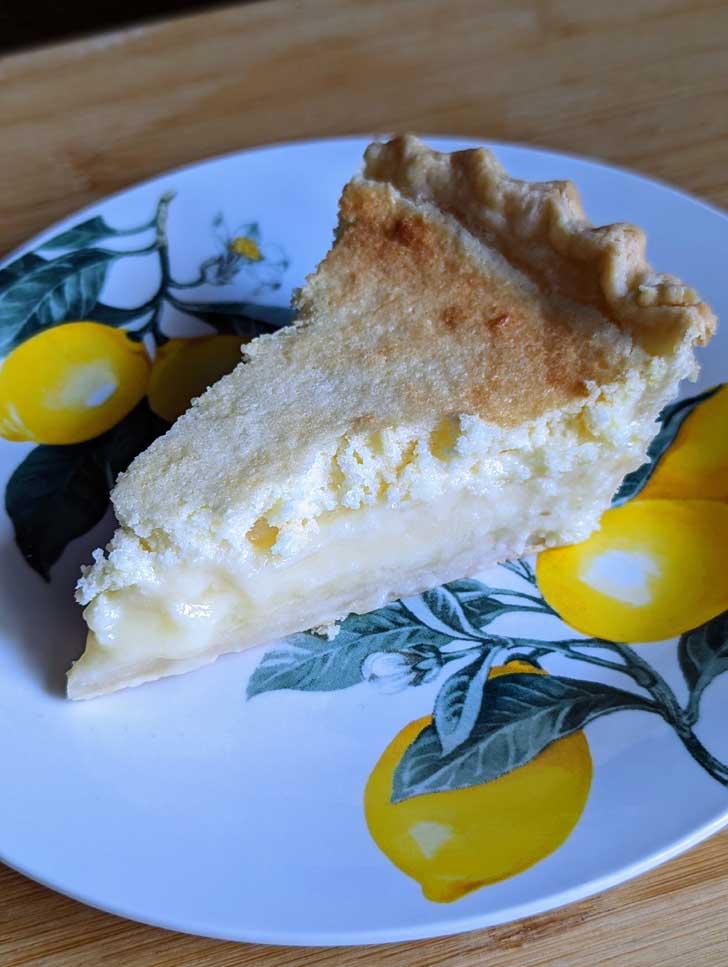 Pastry Crust
The recipe looks longer and more complicated than it is because I included a recipe for the pastry crust. Plus I used a food processor. It is not required! This pie would will work with any unbaked pastry crust or for more convenience, a refrigerated store-bought unbaked pie shell. The filling is really the star of the show here. That said, I think a graham crust might be too sweet.
Lemon Cake Pie Method
Lemon Cake Pie pretty simple because you just mix things together and dump them in a pastry shell. You will have to whip some egg whites, though. I think a hand held electric mixer is the best tool for the job because you can use a few different mixing bowls and just clean off the beaters as you go between bowls. If you use a stand mixer, you can beat the egg whites with the whisk attachment, scrape them onto a plate, then proceed with the recipe in the same stand mixer bowl without having to clean the whisk attachment.
Use Whole Milk
I don't drink milk, but I use it in baking so I always buy whole milk, and it's what I used in this pie. I doubt you'll get the same level of creaminess if you go with anything other than full fat whole dairy milk. If you do make it with 2% milk and are happy with the results, let me know!
Recipe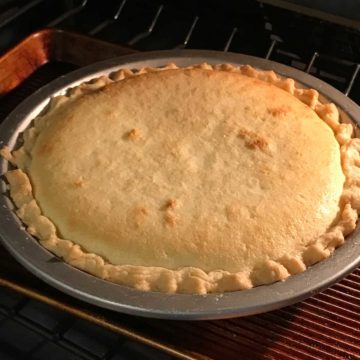 Lemon Cake Pie
An interesting and very easy summer pie for true lemon lovers. This one is tart!
Ingredients 
Single Crust Pastry Shell
1

stick

unsalted butter, cut into chunks, cold

(114 grams)

1

cup

all-purpose flour

(130 grams)

¼

teaspoon

salt

½

teaspoon

vinegar

2-4

tablespoons

milk, whole

(28 to 56 grams)
Lemon Cake Pie
3

large

eggs, you'll use only 2 of the whites and 3 yolks

1

tablespoon

lemon zest

1

cup

sugar, kind of a scant cup or 190 grams

(190 grams)

2

tablespoons

all-purpose flour

(16 grams)

1

tablespoon

butter, melted

(14 grams)

¼

teaspoon

salt

½

cup

freshly squeezed lemon juice

1

cup

whole milk -- I don't recommend 2%
Instructions 
Prepare Crust
Cut the cold butter into small chunks.

Combine flour and salt in the bowl of a food processor and pulse to mix.

Add chunks of butter and pulse until crumbly.

Add vinegar and 2 T. of the milk. Pulse. Pinch mixture together. If it holds together when you pinch, dump onto a pastry mat. If not, add more milk and pulse until it does.

Empty onto a pastry mat and press into a ball. Wrap in plastic and chill for an hour (or for as long as it takes to run to the store for lemons!).

When ready to prepare the pie, remove from the refrigeratore and let dough stand so that it's not too cold to roll. Put the ball of dough on a floured pastry mat, press down, then roll into a 12 inch circle. Fit into 9 inch metal pie dish. Cover with plastic wrap and put in the freezer while you make the filling.
Lemon Cake Pie Filling
Preheat oven to 400 degrees F.

Separate the eggs and set aside 1 egg white for another use. You'll be using 2 whites and all 3 yolks.

In one bowl, whisk together the sugar, lemon zest, flour, melted butter, salt and lemon juice.

In a mixing bowl, using an electric mixer, beat the two egg whites until stiff peaks form. Set aside.

In another bowl, beat the egg yolks, then gradually beat in the milk, beating until well mixed. Beat in the sugar mixture, then use a large scraper to fold in the egg whites. You might have to fold a little more energetically than usual to get them blended in. A few lumps here and there should be okay since everything rises to the top anyway.

Pour mixture into the crust. Set it on a rimmed baking sheet.

Bake for 10 minutes at 400 degrees F. Reduce oven temperature to 325 degrees F. and continue baking for 30 minutes or until top is lighly browned and center is just a little bit jiggly.

Let cool to room temperature and then chill until ready to serve.