Vienna Chocolate Pie is one of my favorite old Bake-Off recipes. It was created in 1958 by Dorothy Wagoner of Lufkin, Texas, who combined the flavors of cinnamon, coffee and chocolate in a pie that magically separates into three distinct layers.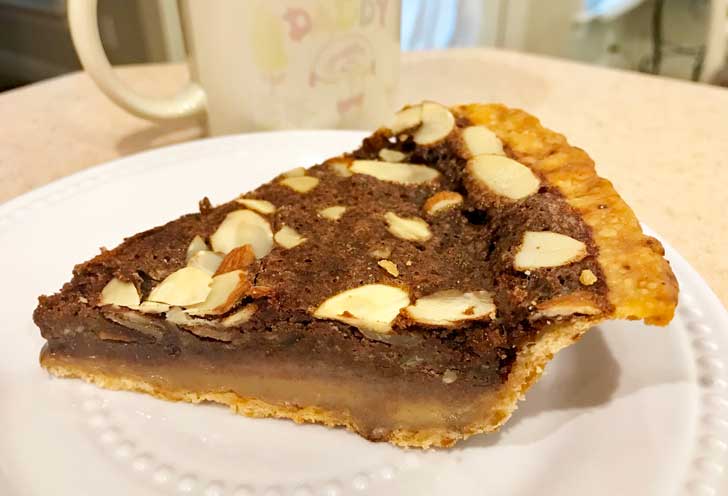 Or sometimes not so distinct. This is one of my older photos, if you can't tell. The pie in the first photo was chilled. This pie was not. I'm tempted to remove this picture, but I feel like you should see it. Sigh.
Shielding Edges of Pie Crust
The crust needs to be baked. The original recipe says to use a Pillsbury refrigerated crust and bake as directed for a filled pie. You can do this, but it's best to under-bake a little bit because the pie goes back in the oven at 400F for 25 minutes and you don't want the edges to get overbaked. So under-bake (or partially bake) and have foil on hand to shield the edges.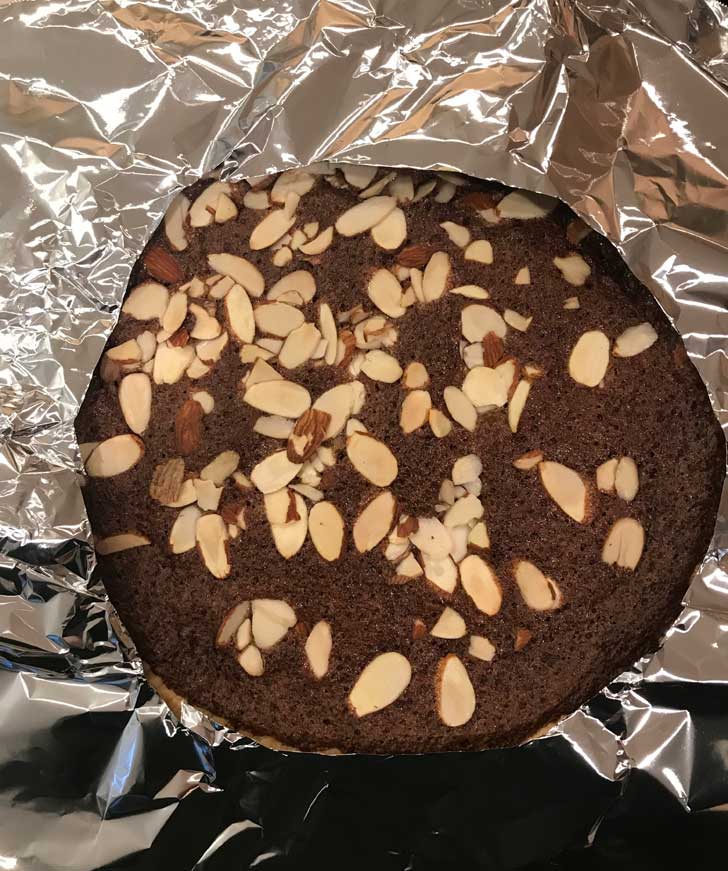 To make an edge shield, take large sheet of foil and fold it in half. Cut out a hollow circle that's about 8 ½ inches across or just enough to expose the surface of the pie and cover the edges. When it's time to shield the edges, just lay the foil over the pie. It should look something like this.
Vienna Chocolate Pie Ingredient Notes
Crust needs to be a 9 inch deep dish. I sometimes use a shallow 9 inch dish, but it never holds all the filling.
Remember to bring the eggs and buttermilk to room temperature. Cold ingredients will keep the filling from separating properly.
The original recipe uses salted butter, so I recommend using salted butter. If you only have unsalted, just add another ¼ teaspoon of salt to the filling.
Instant espresso powder works very well, so if you'd like a stronger coffee flavor you can use that instead of instant coffee.
Let the pie cool at room temperature, then chill it a few hours before serving. This will give you more prominent layers. You can even freeze it.
Recipe
Vienna Chocolate Pie
A reliable and delicious old pie recipe from Pillsbury
Ingredients 
1

9 inch

refrigerated pie crust, prepared and baked for a filled pie

See Note

1 ½

cups

sugar

(290 grams)

3

Tbsp

all-purpose flour

(25 grams)

¾

tsp

instant coffee granules or instant espresso powder

¼

tsp

ground cinnamon

1

pinch

salt

4

large

eggs

room temperature

½

cup

buttermilk

1 ½

tsp

vanilla

½

cup

butter or margarine (salted butter), softened

(114 grams)

2

oz

unsweetened baking chocolate, melted

(56 grams)

¼

cup

slivered almonds or sliced almonds
Instructions 
Prepare a 9 inch deep dish pastry crust as you would for a filled (cream) type pie. That means bake it or par-bake it. These days we usually par-bake. If using a Pillsbury crust, follow directions on box. If using a homemade crust, see note.

Preheat the oven to 400 degrees F.

In medium bowl, mix sugar, flour, instant coffee, cinnamon and salt.

In large bowl, beat eggs with electric mixer on high speed until light in color. Beat in sugar mixture. Beat in buttermilk, vanilla, butter and chocolate until well combined (filling may look curdled). Pour into crust-lined pan. Sprinkle with almonds.

Bake 25 to 30 minutes or until center is set and crust is deep golden brown. After 15 to 20 minutes of baking, cover edge of crust with strips of foil to prevent excessive browning. Cool completely, about 1 hour. Transfer to refrigerator to chill.
Notes
You can also use a homemade pie crust.  Cover a 9 inch deep dish pie pan with dough, cover dough with greased foil, press down with pie weights and bake at 425 for about 15 minutes.  This will give you a partially baked crust.  Let the partially baked crust cool before using.  If you'd prefer to fully bake the crust, remove the foil and weights and bake another 10 minutes at 375.  Again, let cool before filling.  You will also need to shield the edges during the last 15 minutes of baking.