This is a recipe I made years ago using hemp seeds. The cookies are called Hemp Chocolate Chip Cookies and they are made with hemp seeds, oats, barley flour, maple syrup, oil and a few other things. Barley flour is very hard to find now, so you'll probably need to substitute all-purpose or perhaps whole wheat pastry flour.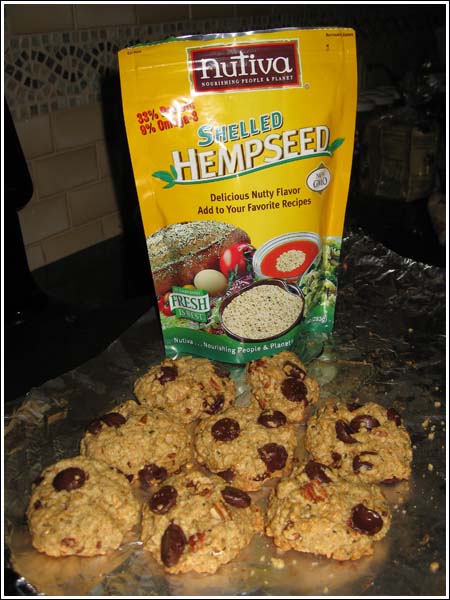 I had a lot of fun experimenting with the hemp seeds, but I only made the cookies once. I think I'll try them again soon and update the recipe a bit! I should probably change the name to Hemp Seed Chocolate Chip Cookies.
Oat, Flax & Hemp Chocolate Chip Cookies
3/4 cups rolled oats
3/4 cup barley flour
2 tablespoons granulated sugar, or for you true health nuts, evaporated cane juice crystals
1/4 teaspoon salt
1/8 teaspoon baking soda
2 tablespoons golden flax seeds
2 tablespoons hemp seeds
1/4 cup vegetable oil
1/4 cup maple syrup
2 tablespoons water
1 teaspoon vanilla extract
1/2 cup chocolate chips, vegan
2-3 tablespoons chopped nuts (pecans)
Preheat oven to 325 degrees F.
In medium bowl mix together oats, barley flour, salt, baking soda, flax and hemp seeds.
In a smaller bowl, combine the oil, maple syrup, water and vanilla extract. Add liquid mixture to dry mixture and stir only until thoroughly mixed.
Shape into 12 mounds (about an inch in size) on a parchment lined cookie sheet. Bake for 20-22 minutes. let cool on baking sheet for 5 minutes then move to rack to fully cool.
15 cookies