I hope you are having a nice Wednesday. It is Wednesday, isn't it? No, wait…it's Thursday. I am losing track of the days. The holidays are over, school hasn't yet begun, Fuzz is at camp. Things are kind of blah right now, so maybe that's why I'm focusing on unusual ingredients. So here it is, the third new and !!exciting!! ingredient of the year, hemp seeds.
I bought a bag of hemp seeds last weekend at Whole Foods and am sprinkling them on everything. They have a balanced ratio of Omega 3 fatty acids and since I don't eat fish I am really happy to have found an alternative source of Omega 3s.
Now there are issues with heat. It says on the bag that heating the hemp nuts over 325 degrees destroys enzymes. Luckily, it is really not necessary to heat them. In fact, my favorite way to eat them is sprinkled over broccoli. But this is Cookie Madness, not Broccoli Madness, so here's another way to use the hemp nuts. I don't know the exact source of the recipe but I adapted my version from Vegweb. It makes fewer cookies (in case you hate them), includes some sugar (the original didn't have any) and the cookies are baked at an enzyme preserving 325 degrees.
To be honest, I made these because I was bored and was 90% sure they would go in the trash. Thank goodness I was wrong. What's odd, is they have kind of a banana flavor….must be the hemp.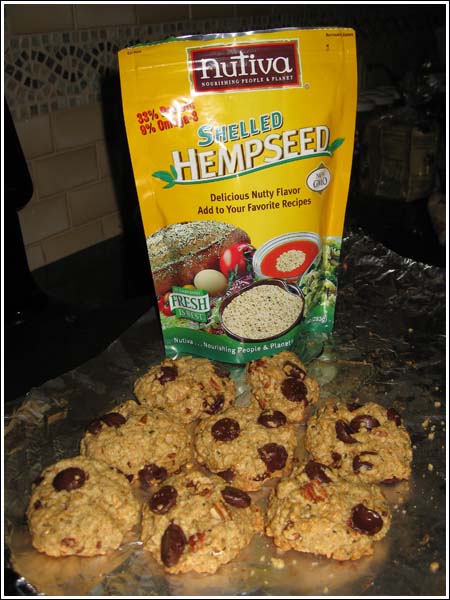 Oat, Flax & Hemp Chocolate Chip Cookies
3/4 cups rolled oats
3/4 cup barley flour
2 tablespoons granulated sugar, or for you true health nuts, evaporated cane juice crystals
1/4 teaspoon salt
1/8 teaspoon baking soda
2 tablespoons golden flax seeds
2 tablespoons hemp seeds
1/4 cup vegetable oil
1/4 cup maple syrup
2 tablespoons water
1 teaspoon vanilla extract
1/2 cup chocolate chips, vegan
2-3 tablespoons chopped nuts (pecans)
Preheat oven to 325 degrees F.
In medium bowl mix together oats, barley flour, salt, baking soda, flax and hemp seeds.
In a smaller bowl, combine the oil, maple syrup, water and vanilla extract. Add liquid mixture to dry mixture and stir only until thoroughly mixed.
Shape into 12 mounds (about an inch in size) on a parchment lined cookie sheet. Bake for 20-22 minutes. let cool on baking sheet for 5 minutes then move to rack to fully cool.
15 cookies