I made Yeast Banana Bread thinking I'd liven up my morning peanut butter toast with a little banana flavor. To go with the banana and give the bread a hint of sweetness, I also used a bit of honey -- not so much to make it a sweet bread, but enough to match the sweetness of honey whole wheat bread.
Yeast Banana Bread Texture and Flavor
This loaf hits all the marks! It rises high and the texture is light and fluffy. The 8 ½ by 4 ½ inch loaf pan I used was a tad too small, so next time I'll go with one that's 9x5 or slightly larger, but even with the too small loaf pan, the loaf still looked good and tasted great.
Because I had some hemp protein powder, I swapped ½ cup of the whole wheat flour for ½ cup of hemp powder. Feel free to skip that step and use whole wheat flour. However, if you do happen to have some hemp protein powder lying around, it works really well here.
But back to the banana. As good as the banana is and as much as I'm looking forward to making French Toast with this, I think ½ cup of mashed sweet potatoes or lentils might also be great.
Recipe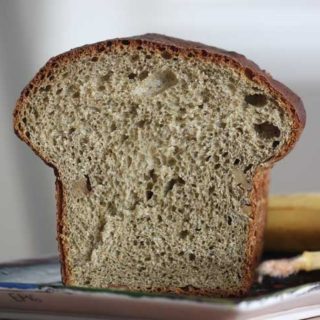 Yeast Banana Bread
Yeast Banana Bread has just a hint of banana flavor. It's perfect for peanut butter sandwiches and cinnamon toast, but it's not so banana-y that you couldn't get away with using it in something like a ham and cheese sandwich (though you would taste the banana). Also, you really need a stand mixer for his. I suppose a bread machine would work, too. The dough is too soft to knead by hand.
Ingredients 
1 ¾

cups

bread flour

8.5 oz

1 ¼

cups

whole wheat flour**

1

teaspoon

salt

1

packet Platinum quick rising yeast

½

cup

4 oz mashed ripe bananas

3

tablespoons

honey

2

large eggs

at room temperature

2

tablespoons

melted coconut oil

3 to 5

tablespoons

hot water

⅓

cup

chopped toasted walnuts
Instructions 
In the bowl of a stand mixer, combine flours, salt, and yeast. Stir well.

Add the mashed bananas, honey, eggs, and coconut oil and stir until blended.

Add water 1 tablespoon at a time until you have a very soft dough. It should be sticky and not at all dry. It would be impossible to knead this by hand.

Attach dough hook to the mixer and knead for about 8 minutes, scraping bowl once or twice, until dough is smooth and elastic. It should be sticky and won't clear the sides as it is kneaded, but it should still snap and have some elasticity when you scrape it off the sides of the bowl.

Cover the bowl and let rise right in the mixing bowl for 45 minutes to an hour or until doubled in bulk.

When dough has risen, stir walnuts into dough, punching it down as you stir.

Scrape the sticky dough into a well-greased (or foil lined) 9x5 inch pan and press down flat. Let the dough rise for another 45 minutes or until a dome forms over the top of the loaf pan. It will rise even more in the oven.

Bake at 350 for about 45 minutes (shield with foil after first 35 minutes) or until loaf sounds hollow and internal temperature registers 205 degrees F. Let cool completely.
Notes
For the loaf in the photo I used ¾ cup of whole wheat flour and ½ cup of hemp protein powder in place of the full 1 ¼ cups of flour.
If you try the Yeast Banana Bread, let me know!
I'll post any updates to the recipe as they come.