We've had a very active morning and are heading into a busy afternoon. I still wanted to bake something, so I decided to finally try an easy "starts with a mix" recipe from Betty Crocker. I've had my eye on this one for quite sometime and now I wish I'd made it sooner.
Here's a link to the recipe.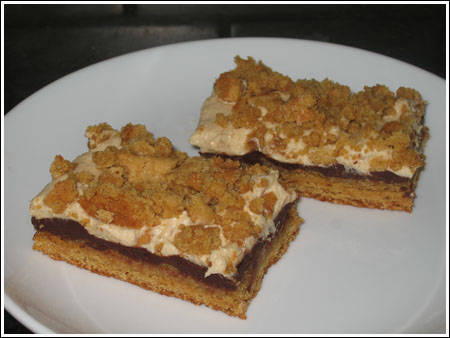 After you've formed the six cookie dough balls, you'll have just the right amount of dough left to spread across the bottom of the pan. Don't make your cookies too bit, or you won't! Also, spreading the dough can be tricky. I always wet my hands a little and that seems to help.
I followed the recipe for this one, but added a splash of vanilla to the peanut butter mixture. I think if I'd had some extra chopped peanuts on hand, I would have sprinkled them on top too.
If you bake a lot, you might be used to using unsalted butter. The chocolate/butter layer of these calls for "butter" and not unsalted. If you use unsalted, you might want to add 1/8 teaspoon of salt to the chocolate mixture just to make up for the salt not in the butter. If you are using salted butter, no worries!
And one last thing. This was another recipe where the mix worked beautifully, so I recommend starting with the mix if you can find it. However, if you live in a place where they don't sell peanut butter cookie mix, you might try making these with home made peanut butter cookie dough.