Today's recipe was supposed to be for Father's Day, but we couldn't wait and cut into it early. It's an ice cream pie – a type of dessert I don't make very often.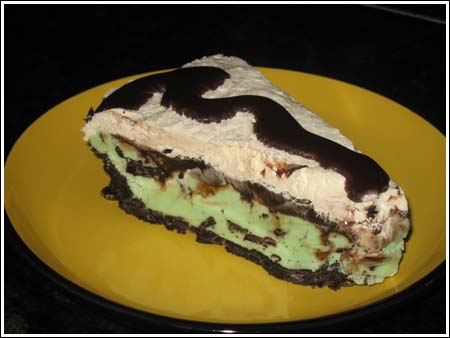 My feeling is that ice cream's texture, temperature and taste make it a fulfilling sensory experience with no need for embellishment. However, there's something to be said for transforming it into pie. The whipped cream and crust add a new level of textural interest, and the fact that you've gone to the trouble of building a thematic structure of flavors shows people you care enough to build them something which enhances the whole social aspect of whatever it is you're celebrating.
For this pie, I used an Oreo crust, a Dreyer's mint chip ice cream filling and a layer of homemade chocolate fudge sauce topped with whipped cream. Usually we take our ice cream and eat it in separate rooms or in front of various media, but this time we all sat and ate it together at the table….because it was shaped like pie and meant to be special.
Ice cream is not easy to photograph, but here's a picture anyway. Don't let my photo scare you away from making a delicious ice cream pie for your own family. Oh, and use whatever flavor ice cream you like. I used mint, because Todd and Fuzz like it and it goes well with chocolate. Next time, I plan on using coffee flavor.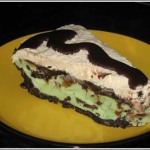 Print Recipe
Ice Cream Pie
Ice Cream Pie
Ingredients
Crust:
15

Oreos

crushed

3 1/2

tablespoons

butter

melted
Ice Cream:
4-5

cups

store-bought coffee or mint chocolate chip ice cream

softened (or whatever other flavor you like)
Fudge Sauce (adapted from Gourmet Magazine)
1/4

cup

Dutch Process cocoa powder

1/3

cup

brown sugar

1/2

cup

brown sugar flavored corn syrup or light corn syrup

2/3

cup

heavy cream

1/4

teaspoons

salt

6

oz

cut up bittersweet chocolate

2

tablespoons

butter

cut up

1

teaspoon

vanilla

Topping:

1

cup

whipping cream sweetened with 2-3 tablespoons powdered sugar and whipped or 3 cups Cool Whip.
Instructions
Prepare crust. Stir together crushed Oreos and butter. Press mixture into a greased 9 inch deep dish glass pie dish. Cover and place in freezer for about a half hour or until frozen.

Spoon softened ice cream into pie dish and spread evenly over crust. Cover with foil (preferably non-stick) and freeze for another few hours or until ice cream is firm. Prepare sauce.

In a 1 1/2 to 2 quart saucepan, stir together cocoa powder, brown sugar, syrup, cream, salt and half of the chocolate. Set the pan over medium heat and cook, stirring constantly, until chocolate melts and mixture begins to boil (bubbles will appear around side). Allow mixture to come to a low boil and cook for 5 minutes, stirring often. Remove from heat and stir in butter, remaining chocolate and vanilla. Let cool completely (takes a few hours). When fudge sauce is cool, spread a little over half of it (save the rest) evenly over ice cream in pie plate.

Spread the whipped cream or Cool Whip over the fudge sauce. Return the entire pie to the freezer for 4 hours or overnight. Cover with non-stick foil or plastic wrap to avoid freezer burn.