My Chocolate Chip Cookie category is a mess. I spent 10 minutes searching for a post and picture of my favorite chocolate chip cookies from Gourmet, then realized it wasn't there so I had to go pull it off Epicurious again..
This is a great cookie recipe and another example of why you shouldn't always pay attention to the fork ratings on Epicurious without reading the reviews. It seems that the fork ratings were brought down by people who 1) don't like sweet things 2) were expecting fluffy cookies or 3) didn't think to chill the dough.
There is a crazy step in this recipe and that is using 2 eggs plus 1 ¾ tablespoon of the third egg. It may sound weird, but it works. Also, the recipe doesn't tell you to chill the dough, but if you don't, the cookies tend to spread too much. Also, the cookies are big, so cooking them evenly is tricky. You might want to play around with cook times and cookie sizes and figure out what you like best.
Here's what the cookies look like when made with a generous 1/4 cup dough. I baked these at 350 for about 15 minutes and they came out very evenly cooked — almost too evenly. Cooking at the higher temperature made for crispier edges and gooier centers, so unless your oven is running too hot, cook at 375 as directed.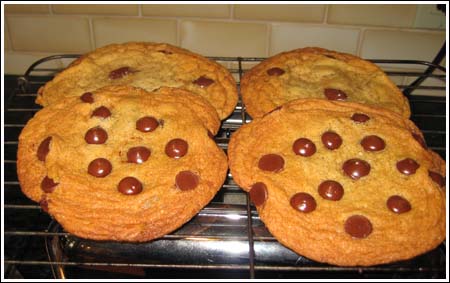 I made a few more cookies using a generous 2 tablespoon scoop (half a 1/4 cup) and baked them at 375 for about 12 minutes. These baked more along the edges and had more contrast. If you do them this way, make sure you take them out of the oven when they're still moist looking in the center. They cook internally as they sit — like this little guy. He still look a little pale, but won't once he's cooled down. Never underestimate the importance of standing time.
Here are the tips again.
#1. Chill the dough.
#2. If you find your cookies are too brown on the edges, set your oven to 350 instead of 375 and maybe shave a minute off the cook-time. Your oven may be running a little hot. Even if your oven is not running hot, you have to really watch the cook time because these are big cookies and it's trickier to cook big cookies evenly.
#3. If you don't want huge cookies, make the cookies half the size and don't flatten them quite as much – just gently press the top down. Bake for a shorter time – like 12 minutes.
#4. Make sure you take them out early and let them cook internally. Don't wait until they look too dry.
#5. Try using European style butter such as Plugra. A few reviewers did that and had great results.