I'll take pretty much any kind of chocolate chip cookies -- thin, flat, chewy, cakey or crunchy. Chewy is my favorite, but some cookies categorized as chewy aren't chewy enough. What I consider chewy are the ones that you buy at grocery store bakeries. They have a little give to them with every bite. This recipe was my attempt to get the chewiest cookies. The key to this recipe is a lot of sugar, a little cornstarch, an extra-large egg (more on that later), and a combination of melted butter and oil.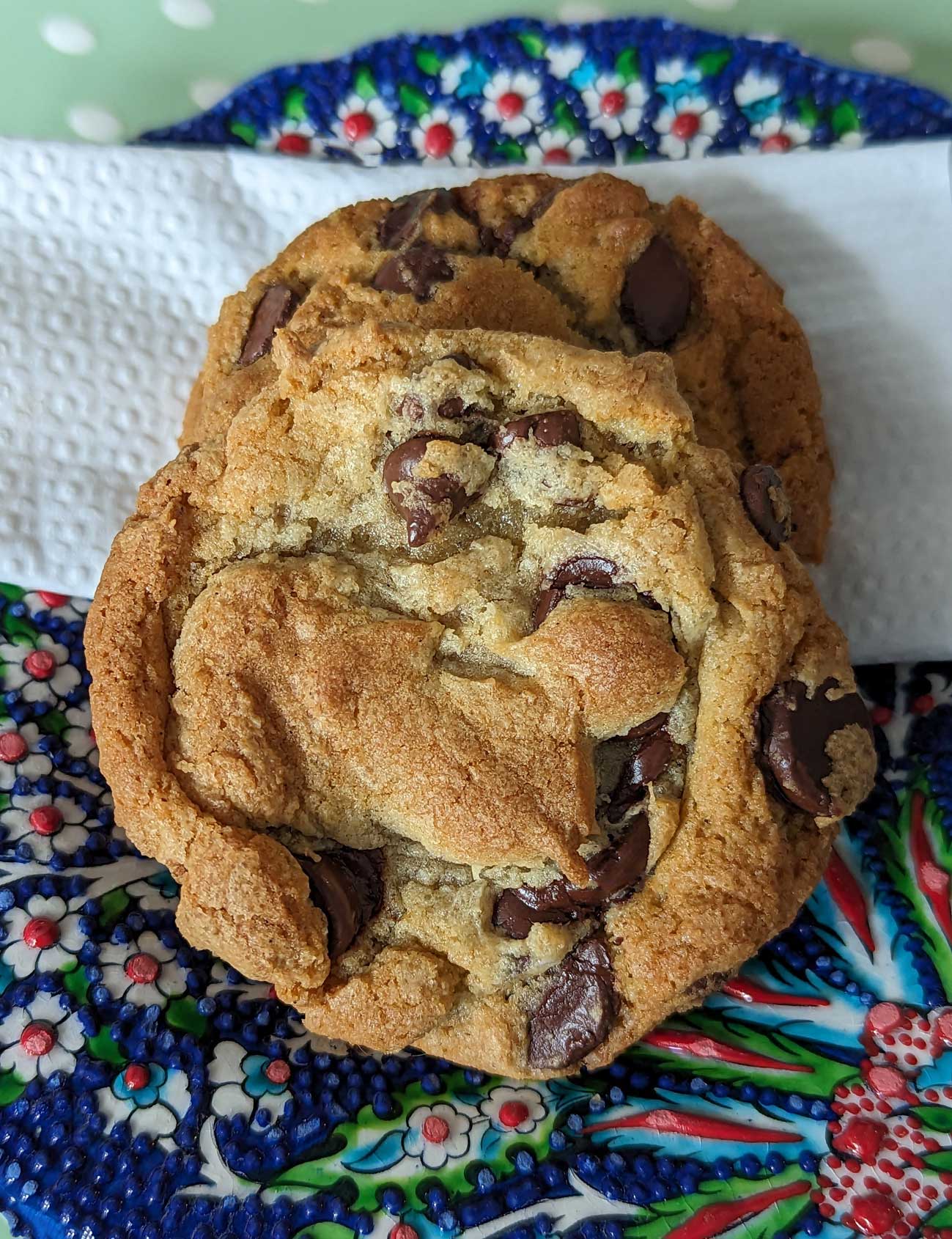 Recipe Origin
This recipe is a spin-off of one I've used for many years, originally from Gourmet. That one was (still is) a favorite, but it didn't always work for people. Sometimes the cookies would come out really flat, and sometimes they'd be perfect. I think with the extra notes on this recipe and the one I've linked to, the recipe should work for everyone.
Extra-Large Egg
I almost always buy large eggs and only buy "extra-large" if I've on an Ina Garten kick. So many of her recipes call for them. Since these cookies call for just slightly more egg, it makes sense to just use an extra-large. That said, if you don't have any extra-large eggs, you can always crack 2 eggs, whisk and weigh out the appropriate amount. Or just buy extra-large and make Ina Garten recipes all week.
Cookie Size
These work best as large cookies that start with a quarter cup or packed large cookie scoop of dough. Because they have so much flour and sugar, they're not quite as buttery and can hold a good deal of really rich, melt-y chocolate without being greasy. They're also good when made as medium size cookies using a medium size scoop and adding plenty of good quality chocolate chips.
Gooey or Set
If you like gooey chocolate chip cookies, you can serve them warm. I think the texture improves after a few hours when they've completely cooled and the insides plus the chocolate chips have set. To speed things up, I sometimes freeze them and thaw them again. I've accidentally overbaked these and found that they get hard, then soften up again later.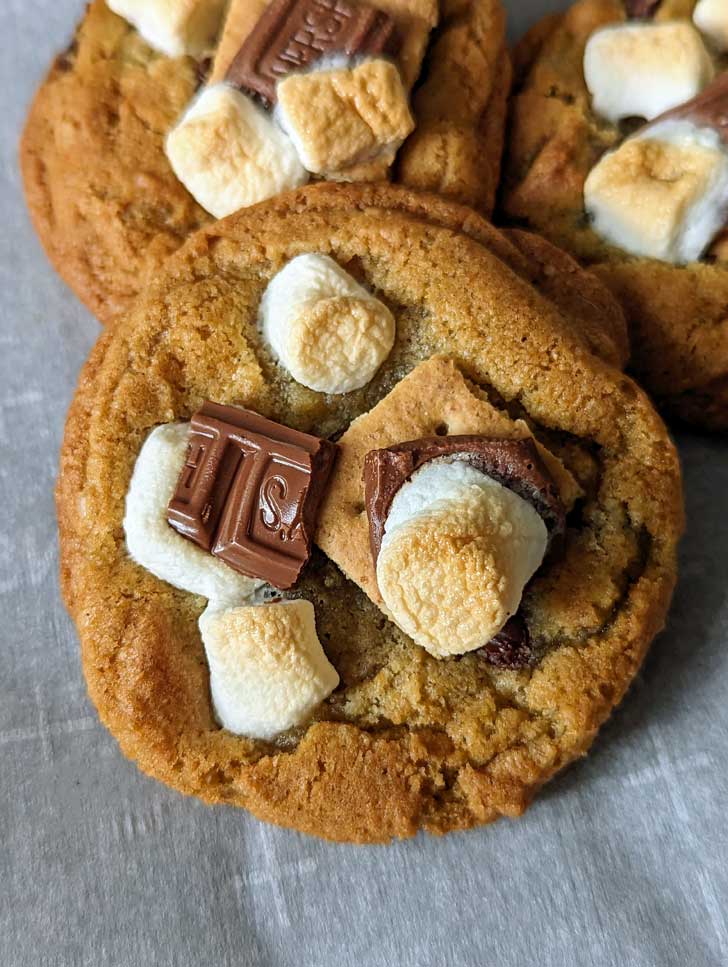 Chewiest Chocolate Chip Cookies Ingredient Notes
The butter should be cool so that it will whip better. If you're in a hurry, melt 4 tablespoons, the chop up the remaining 2 and stir the colder butter into the hot butter to cool it down. But the best way is just to melt using a low setting on the microwave.
Oil -- Grapeseed oil makes particularly chewy cookies, but I also like using a really buttery tasting olive oil which adds extra flavor. We buy the "natural butter" flavor from the local gourmet olive oil store. It's great for baking. I listed oil next to the butter in the ingredient list, but I hold off on adding it until after I've whipped the sugar/butter and eggs.
Beat the butter/sugar/egg mixture with an electric mixer. Even though you are using melted butter and could just stir, the beating dissolves the sugar quicker so you get more caramelization without having to wait.
Add 1 teaspoon cornstarch to the flour mixture. This helps make the cookies chewy. If you forget it, the cookies will still be good.
If you can, use at least two different kinds of chips. I use a mixture of Kirkland, Ghirardelli and stick milk chocolate pieces on top.
Scoop the dough balls and chill pre-formed scoops until ready to bake. The cookies are always better when baked on Day 2. However, you can still bake them (or at least a few) right after scooping. But waiting 24 hours or even longer gives you browner, chewier, more flavorful cookies.
Chewiest Chocolate Chip Small Batch Measurements
Do you want to make a very small batch? Here are the measurements.
¾ cup all-purpose flour (103 grams) ½ teaspoon cornstarch ⅜ teaspoon baking soda ¼ teaspoon salt plus a pinch 3 tablespoons melted and cooled unsalted butter 1 T. grapeseed oil or any other oil. ¼ cup plus 2 tablespoons brown sugar (75 grams) ¼ cup granulated sugar (50 grams) 32 grams beaten egg (mix it in a little cup and weigh it) ½ teaspoon vanilla or vanilla bean paste ½ cup assorted chocolate chips.
Chilling Dough Balls
Chilling the balls of dough overnight gives you browner, chewier and more flavorful cookies. However, the cookies are still good when baked right away. I usually bake a couple immediately and then chill the balls of dough for at least 24 hours. The cookies just get better and better! I've chilled the dough for
Recipe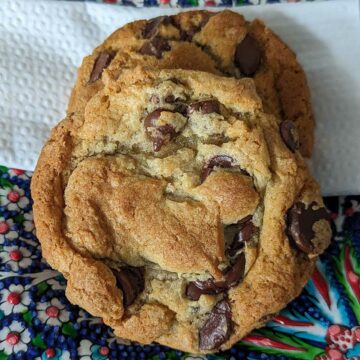 Chewiest Chocolate Chip Cookies
Ingredients 
1 ½

cups

all-purpose flour (Gold Medal or KA)

(200 grams)

1

teaspoon

cornstarch (optional)

¾

teaspoon

baking soda

½

teaspoon

salt plus a pinch (or a scant ¾ teaspoon)**

6

tablespoons

unsalted butter, melted and cooled

(84 grams)

2

tablespoons

neutral oil or grapeseed oil or buttery olive oil**

¾

cup

packed light brown sugar

(150 grams)

½

cup

granulated sugar

(100 grams)

1

extra-large

egg (63-67 grams with shell, without it's more like 60-62)

1

teaspoon

vanilla or vanilla paste

1 ½ to 2

cups

semisweet chocolate chips plus some bittersweet or other flavored chips
Instructions 
Melt the butter first (if you haven't already) and give it time to cool.

Weigh your flour and mix together flour, cornstarch, baking soda and salt. Set aside.

Beat together cool melted butter, (hold off on the oil) and sugars in a large bowl with an electric mixer for about 1 minute.

Add egg and beat with mixer until mixture lightens in color. Beat in oil and vanilla. By hand, stir in the flour mixture just until blended, then stir in chips.

Scoop dough with a large cookie scoop or quarter cup measures onto a plate or small tray lined with plastic wrap. For smaller cookies, use a medium size cookie scoop. Press the tops down slightly so the cookies will bake more evenly.

Cover dough with plastic wrap and chill overnight.

Preheat oven to 375°F. Line 2 large baking sheets with parchment or wax paper or skip this step until after you have chilled the dough.

Bake, 1 sheet at a time, until golden, 12 to 15 minutes (less time if making them small). Transfer cookies to a rack to cool and continue making cookies in same manner using cooled baking sheets.
Notes
**If using a fine quality extra virgin olive oil, consider adding it after you've thoroughly beaten the egg and sugar. Sometimes over-blending or over-beating olive oil can make it bitter. It definitely happens if you add olive oil to something like hummus and process the oil with the hummus, so it makes sense not to overbeat it in things like cookies as well.
**If using salted butter, you can reduce the salt to ½ teaspoon