Did you know today was National Butterscotch Day?
It's not. I just made that up, but if it were, these Butterscotch Oat Bars would be a good cookie to make. These bars (or squares, it's up to you) are probably the best cookies I've made all week. Okay, so it's only Tuesday and I didn't bake cookies yesterday, but really - these are terrific.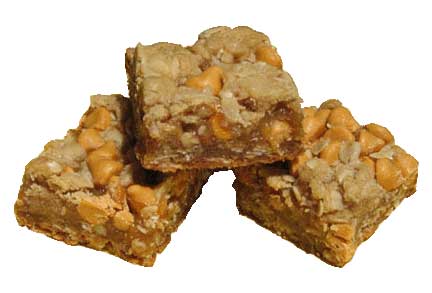 Butterscotch Oat Bars
Crust:
10 tablespoons unsalted butter, slightly softened
¾ cup brown sugar, packed
½ teaspoon baking soda
¼ teaspoon salt
1 cup all purpose flour
1 cup old fashioned oats
⅔ cup butterscotch morsels (more if you want)
Filling:
½ cup chopped, toasted pecans
½ cup caramel ice cream topping
1 ½ tablespoons all purpose flour
Preheat oven to 350 degrees F. Line an 8 inch pan with parchment paper or Release foil. Alternatively, you may just spray the pan directly.
Cream the butter and brown sugar. Beat in the baking soda and salt, scraping sides of bowl. Add flour and stir until incorporated. Stir in oats. Do not add butterscotch morsels quite yet. Press half of oat mixture into bottom of pan and bake for 10 minutes. Let cool for 2-3 minutes.
Sprinkle toasted pecans across crust. Stir together caramel topping and flour, then drizzle over pecans.
Crumble remaining oatmeal mixture with butterscotch chips. Sprinkle mixture over caramel and nuts. Bake for 18 minutes. Let cool on a wire rack for about 2 hours then chill for about an hour. Grasp foil and lift from pan, then cut into 16 squares.
Makes 16
Note: to toast a small amount of pecans, I recommend laying them on a piece of paper towel and toasting them in the microwave on high for about 2 ½ minutes. Cool completely before chopping. I use whole pecan halves and then chop them myself.