Chocolate Peanut Butter Everything Cookies were created for my imaginary daydream bakery. I have similar versions, but this one's winning the friend and family taste tests. What makes these special is melted dark chocolate and a bit of maple syrup in the batter. You can't taste the maple syrup, but it helps hold in moisture and mitigates drying out from the cocoa powder (which there is a lot of!).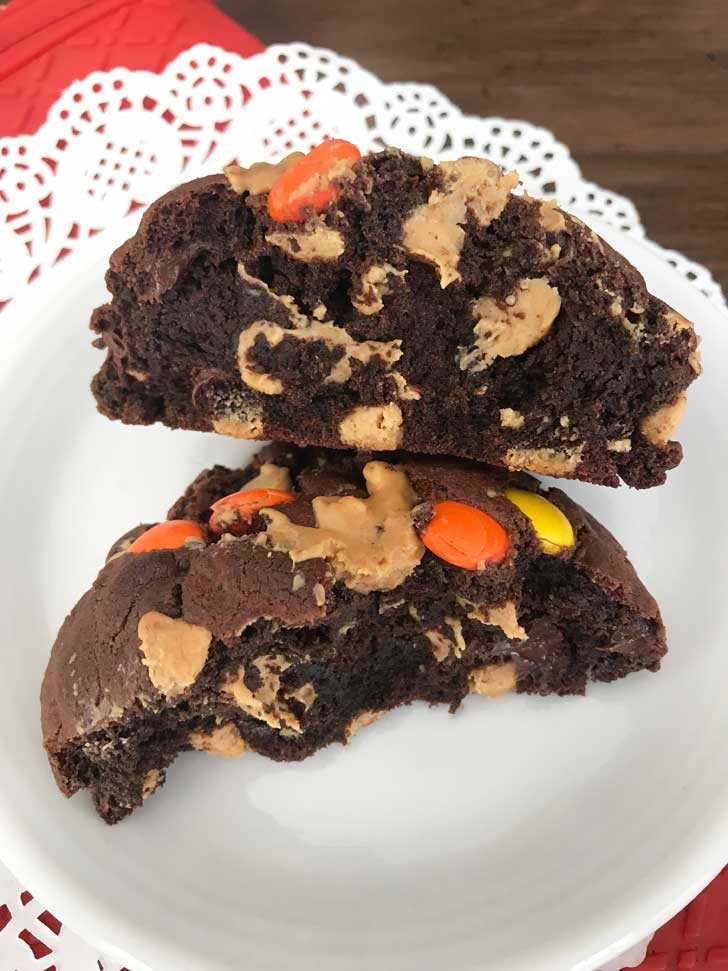 Levain Inspired
The inspiration for these came from the big Levain Double Chocolate Peanut Butter Chip, which I always liked even more than their Chocolate Chip. These are similar, but instead of just chips you add whatever peanut butter flavored thing you can find. I use peanut butter chips, Nutter Butter Minis (if I'm not doing a gluten-free version), Mini Reese's, Reese's Thins and Reese's pieces. I'd like to somehow incorporate Little Debbie Nutty Bars, but I haven't gotten there yet. Maybe just set one top? Just be sure to add lots of sweet candies to the cookies because the cookies themselves aren't terribly sweet. The candies and add-ins balance it.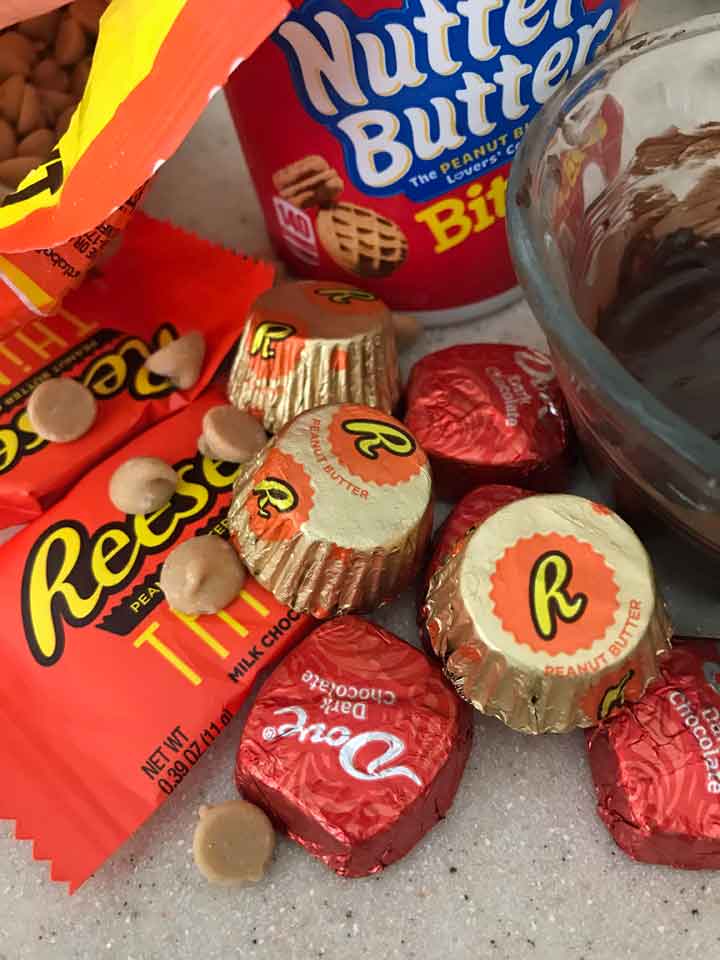 More Everything Cookies Baking Notes
The most important thing is not to over-bake. Maybe err on the side of under-baking rather than over in this case. For the chocolate, I've been using 12 Dove Dark squares. Other brands of dark chocolate should work, but for this recipe I recommend starting with the Dove chocolates before testing with other brands.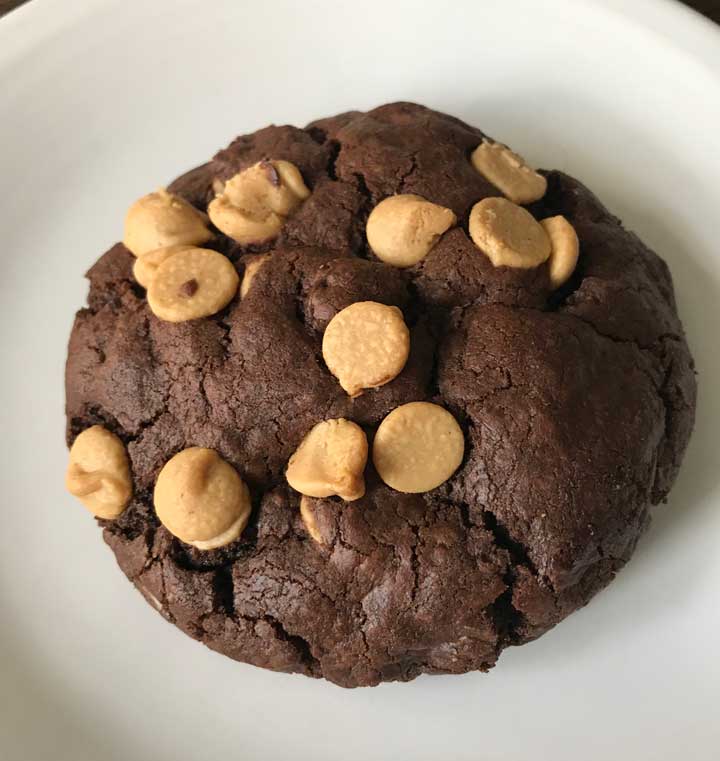 Gluten-Free Cookies
The recipe works well with a 1:1 gluten-free flour blend. I've tested with King Arthur Measure-for-Measure using a weight of 150 grams. In this case, that would be about 1 cup or slightly less since the gluten-free blend usually weighs a little more per cup.
Recipe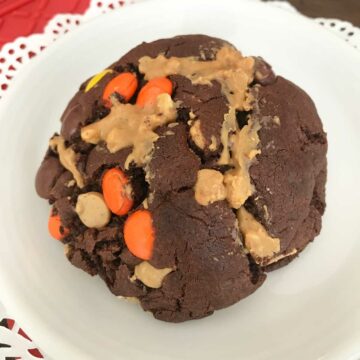 Dark Chocolate Peanut Butter Everything Cookies
Dove Dark Chocolates are melted and added to double chocolate cookie batter to make giant double chocolate cookies that are not dry.
Ingredients 
3.2

oz

dark chocolate, chopped

(90 grams)

1

cup plus 2 tablespoons

all-purpose flour or 150 grams gluten-free 1:1

(150 grams)

½

cup

unsweetened cocoa powder, natural

(40 grams)

1

teaspoon

baking soda

½

scant

scant teaspoon salt

8

tablespoons

unsalted butter, softened

(114 grams)

⅓

cup

light brown sugar, rightly packed

(70 grams)

¼

cup

granulated sugar

(50 grams)

½

tablespoon

maple syrup

(10-12 grams)

1

large

egg, room temperature

(52 grams)

1

cup

peanut butter chips

½

cup

dark chocolate chips

½

cup

Reese's Pieces or any other chocolate peanut butter candy you like!

Peanut Butter for topping (optional)
Instructions 
Melt the chocolate in a small microwave-safe bowl and set aside to cool slightly.

Weigh the flour and mix it with the cocoa powder, baking soda and salt until blended. Set aside.

Put the softened butter, both sugars, egg, maple syrup and vanilla in a mixing bowl. Beat with an electric mixer just until blended. You could also do this by hand if you don't have a mixer.

Stir in the melted chocolate.

Add the flour mixture and stir until fully blended, then stir in all the chips.

Empty onto a large clean surface or onto a pastry mat and gently knead until dough comes together in a big ball. Divide that into 6 balls and chill balls thoroughly (on a dinner plate covered with plastic or in a freezer bag). Alternatively, you can roll it into a cylinder, chill the cylinder and cut into 6 pieces.

When ready to bake, set dough balls on a parchment lined tray and bake in a preheated oven at 375 for about 13-15 minutes. A probe thermometer should top out at about 178 degrees F when inserted in the baked cookie (fresh out of the oven). Allow the cookie to cool for at least an hour.

If cookies are overbaked they will taste good but will be dryer and slightly more crumbly. With these it's best to err on the side of underbaking vs. over, so you may want to bake one test cookie before baking the rest.

Optional step: Spoon little bits of peanut butter over the cracks of the cookies while warm and let cool.