Cookie Madness has a new look! The blogroll is still a work in progress, but it's getting there. Along with the new layout, I've cleaned up the categories and added a Top 10 Cookies category. I have a hard time with "Top 10" lists because my tastes are changing with age. However, I selected the 10 recipes which have been or will be repeats for various reasons. All of them are fairly easy and have been made and approved by others. Below is a quick rundown. If you've had a cookie failure with any of these recipes, let me know so we can troubleshoot. I'm always curious to hear how others do with recipes and what problems and issues people encounter along the way.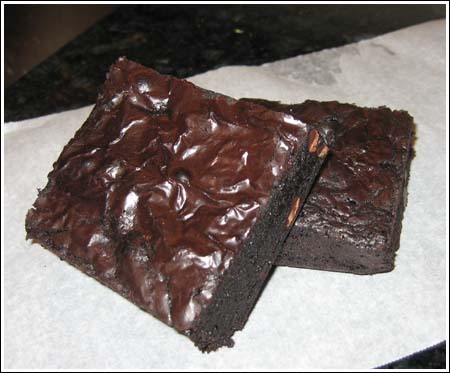 Cookie Madness Top 10 
Jacques Torres Chocolate Chip Cookie Recipe – Crunchy edges, tender centers, lots of nooks & crannies and plenty of chocolate. These are the perfect chocolate chip cookies. Your friends will think you bought them at a bakery. Don't make any substitutions. Really.
Julie Hasson's Apricot Almond Bars – As a chocoholic, I have to be careful with Top 10's because I'd easily pick 10 chocolate recipes. These bars are an exception. When I think "Top 10" these bars come to mind.
Crunchy Hearty Oatmeal Cookies – Oatmeal cookies are satisfying in many forms. But if you like crunchy, very flavorful, satisfying cookies, try this recipe.
Dorie Greenspan Peanut Butter Fudge Brownies – What can I say? Dorie Greenspan plus a chocolate peanut butter combo? Easy pick.
Masterpiece White Chocolate Macadamia Cookies – I was impressed the day I first tried this recipe, then received many emails from people who also loved the recipe.
Gourmet Magazine Double Chocolate Biscotti – When you are in the mood for biscotti, this recipe will satisfy. Along with having a deep chocolate flavor, it has a very crunchy and kind of hard (but not tooth breaking) texture. Perfect for dunking or eating alone.
Basic Criss-Cross Peanut Butter Cookies – There are flashier peanut butter cookies, but these will remind you of the ones you ate as a kid. Make sure to use part shortening to get the right texture.
King Arthur's Best Fudge Brownies (made with Hershey's Dark Cocoa) – When I first made these, I thought they were pretty. I liked Nancy Baggett's Supreme Fudge brownies a little better, but these weren't bad so I served them at a Teachers' luncheon. For months after, people talked about the brownies. I think they liked the dramatic appearance from the dark cocoa and the shiny tops. At any rate, they received so much attention I had to include this recipe in the top 10.
Sweet, Salty, Frito Candy – I put this here because it is also one of my most requested recipes. It sounds weird, but that makes it all the more fun! So far, no one has made it and said they hate it. The pleasure it's given me in both eating it and serving it, has made it worthy of Top 10 status.