If you have trouble sleeping and are tired of counting sheep, try coming up with a type of apple for every letter of the alphabet -- Ambrosia, Braeburn, Cameo, Delicious, Zzzzzzzzz. It will either help you sleep or make you hungry for apples, which is what happened to me. It was also a reminder to post a Top 10 Apple Recipes list, so here are 10 recipes. There are way more than 10 apple recipes on Cookie Madness, but these are ones I particularly love.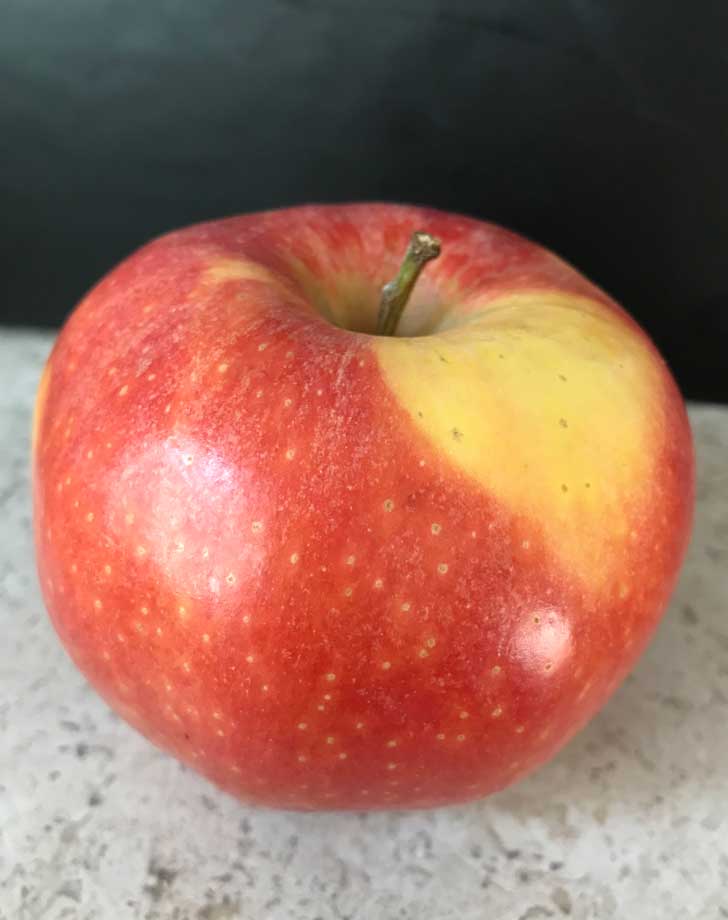 Applesauce Chocolate Chip Cake
The apple and chocolate combo can be hit or miss, but Applesauce Chocolate Chip Cake with apple, chocolate and cardamom is a hit. Originally from Food & Wine, the flavors in this cake come together in a surprisingly fantastic way. Plus this a great recipe for chocolate lovers because you get spice cake and a chocolate fix at the same time.
Cinnamon Apple Cider Bread
This scent of Cinnamon Apple Cider Bread baking will give your home some holiday hygge on snowy days! I have happy memories of baking it in my Chicago kitchen, listening to Christmas music and watching the holiday el train go by in the snow.
Upside Down Apple Pie
Upside Down Apple Pie is a much-loved multiple contest winning recipe that employs the convenience of store bought roll-and-bake pie crusts. The original recipe calls for two crusts, but you can make a smaller (6 inch version) with 1. So if you buy a double roll of pie dough and only use one, consider a small sized Upside Down Apple Pie for the other.
Swedish Apple Cake
Marcus Samuelsson's Swedish Apple Cake is the Red Rooster chef's version of the apple cake of his childhood. A couple of friends have raved about this one, so I feel very comfortable recommending it.
Roasting Pan Apple Pie
Formerly known as Broiled Apple Pie, I changed the name to Roasting Pan Apple Pie because it sounds more appealing. You put sliced apples in a roasting pan, toss with sugar and spices, then broil the apples before putting them in the pie shell. The broiler intensifies the flavor a bit.
Cindy's Mom's Dutch Apple Pie
Cindy shared this recipe years ago and it's as good as ever. The filling is simple with only apples, sugar and (optional) cinnamon. I just made it yesterday with a combination of Granny Smiths and Macoun (another letter M apple).
Joe's Pear Apple Pie with Cranberry Topping
Joe's Pear Apple Cranberry Pie is an apple pie with a lot going on! It's a Dutch type apple pie with only one crust and a crumb topping that includes Gingersnaps. Thanks to Taneka and her massage therapist's husband, Joe, for this recipe.
Apple Crumb Bars
Apple Crumb Bars are basically apple pie in bar form. The recipe is a lifetime member of my top 10 list because so many people have said nice things about it over the years. Erin even included it in her book, 101 Greatest Cookies on the Planet . The recipe calls for an 8 inch square pan, so it makes a fairly small batch.
Applesauce Cake with Caramel Frosting
This is an easy loaf pan apple cake with a rich caramel frosting. I feel like it got lost in the shuffle because I really loved it for a time, then forgot about it. Such is life.
Applesauce Granola
Applesauce Granola is my take on Nigella Lawson's recipe for Andy's Fairfield Granola. If you really want to ramp up the apple flavor, throw in some apple chips. They are becoming easier to find in supermarkets. I like the Seneca ones.
Bonus Recipe! Apple Streusel Bread
This recipe is probably not for everyone, but I have a thing for recipes that elevate convenience products so it's going on this list for now. It's an apple bread made with canned apple pie filling and biscuit mix. The original recipe is from Lucky Leaf and calls for a full can of apple pie filling and makes 2 loaves.
Happy Baking!
Have fun baking with apples and good luck sleeping. And if you need a cheat sheet...