Last night, while reading the October issue of Food & Wine, I came across an interview with Alexis Swanson Traina of Swanson Vineyards. After pausing for a second to think about fine wine and TV dinner pairings, I continued on with the article. Alexis, who seems like a neat person, says that some of her friends keep "prop closets". That is, rooms where they store all their party gear. Suddenly, the idea of buying a few new seasonal plates to use for Cookie Madness photos didn't seem too extravagant. So here's a photo of today's cookie on one of the new plates I purchased specifically for Fallish cookie photos. Oh, and I'm turning my former junk room into a prop closet.
Along with pumpkin, Pumpkin Cheesecake Spice Bars contain a few other special ingredients – pecans, cream cheese and brown sugar. They taste pretty good at room temperature, but REALLY good after they've chilled for 2 hours.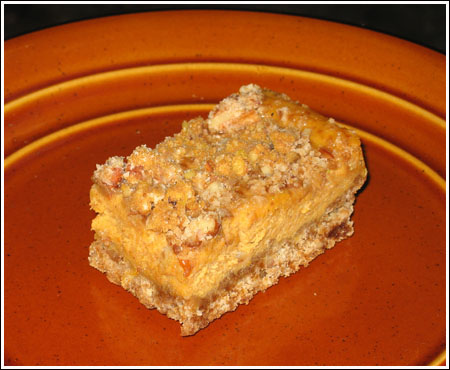 Pumpkin Cheesecake Spice Bars
Crust & Topping:
1 cup all purpose flour
⅓ cup brown sugar, packed
Slightly rounded ⅛ teaspoon salt (omit if using salted butter)
5 tablespoons cold unsalted butter
½ cup finely chopped, toasted pecans
Filling:
8 ounces cream cheese, softened
¾ cup granulated sugar
½ cup canned pumpkin
1 ½ teaspoons ground cinnamon
1 teaspoon allspice
1 teaspoon vanilla extract
2 lightly beaten eggs
Preheat oven to 350 degrees F. Line an 8 inch square metal pan with non-stick foil.
In a mixing bowl or food processor, combine flour, brown sugar and salt. Add butter and cut or pulse until mixture is very crumbly. Stir in pecans. Measure out ¾ cup mixture for topping, then press remaining mixture into bottom of pan. Bake for 13-15 minutes. You'll know it's time to take it out because it will smell really good.
In a large bowl, beat together cream cheese, granulated sugar, pumpkin, cinnamon, allspice, and vanilla; Stir, do not beat, in the eggs. Pour over crust and sprinkle with reserved topping. Bake an additional 30 minutes or until top is brown.
.
Cool completely on a wire rack. Lift from pan by grasping foil. Lay on a cutting board and score into bars.
These may be served room temperature or chilled
Yield: 8 inch pan
With such a small amount of pecans, you might want to toast them in the microwave. Spread pecan halves on a paper towel and microwave chopped pecans for 2 minutes or until they start to shine and release their oils. Let them cool, then chop.