Adapted from Food Writer's Favorite cookies, Chocolate Carrot Brownies are better than they sound.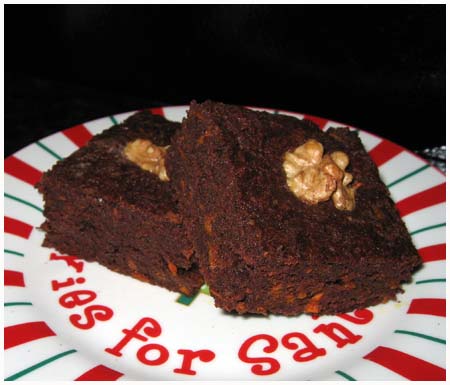 Chocolate Carrot Brownies
8 ounces bittersweet chocolate, cut up
1 stick (4 ounces) unsalted butter
¾ cup flour
½ cup granulated sugar
1 teaspoon salt
3 large eggs
1 teaspoon vanilla extract
1 cup finely shredded carrots
⅓ cup gold or dark raisins
¾ cup finely chopped toasted pecans or walnuts
2 teaspoons orange zest
⅓ cup dark chocolate chips (optional)
Preheat oven to 350 degrees F. Line an 8 inch square metal baking pan with non-stick foil or parchment paper.
In a microwave-safe bowl or in a heavy saucepan set over low heat, melt the chocolate and butter. Set aside to cool slightly.
In a large mixing bowl, thoroughly stir together the flour, sugar and salt.
Using a rubber scraper, scrape the slightly cooled chocolate into a second mixing bowl. With a wooden spoon, beat in the eggs, one egg at a time. Pour the chocolate/egg mixture into the flour mixture and stir until well-blended. Stir in the vanilla, carrots, raisins, nuts and orange zest. Add extra chocolate chips if using. Spread mixture in lined pan and bake for 28-30 minutes.
Let cool completely in pan set on a rack. Lift from pan and cut into squares.