This recipe for Chocolate Double Crunch Sandwich Cookies was adapted from an old Taste of Home Halloween magazine. The cookies are very crunchy.  They're also great for shipping, as they are sturdy and neither gooey nor soft and fragile.   
The original recipe uses 1 cup of crushed cornflakes and no pecans, so if you aren't a nut fan, you can omit the pecans and increase the cornflakes. Also, if you use unsalted butter rather than salted, you may want to increase the salt a tiny bit. Maybe use a more generous ¼ teaspoon. I think this recipe was developed with salted butter.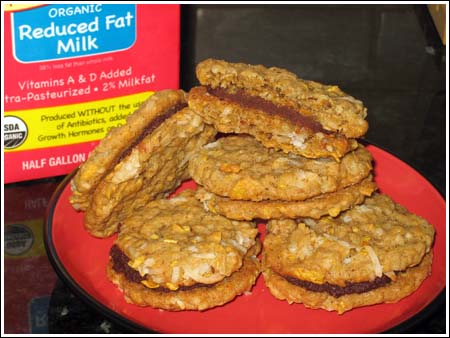 Chocolate Double Crunch Sandwich Cookies
1 cup all purpose flour (130 grams)
½ teaspoon baking soda
¼ teaspoon salt
4 ounces butter, softened (115 grams)
½ cup granulated sugar (100 grams)
½ cup light brown sugar (100 grams)
1 large egg
¾ teaspoon vanilla
1 cup quick cooking oats (not instant)
¾ cup crushed Cornflakes
¼ cup finely chopped toasted pecans (or just use extra Cornflakes)
½ cup shredded sweetened coconut
Chocolate Filling:
6 ounces cream cheese, softened
1 ½ cups powdered sugar
2 cups (12 ounces) semi-sweet chocolate chips
Preheat oven to 350 degrees F.
Thoroughly stir together flour, baking soda and salt; Set aside.
In a mixing bowl, cream butter and both sugars until light and fluffy. Add egg and beat on medium speed for 1 minute. Beat in vanilla.
By hand, stir in flour mixture. When flour mixture is almost absorbed, stir in oats, cornflakes, pecans and coconut.
Form dough into 1 inch balls and press down slightly to form discs. Bake for 10-12 minutes. Cool on cookie sheet for 2 minutes, then transfer to cooling rack to cool and crisp. When cool, prepare filling.
Beat cream cheese and sugar until smooth. Mix in melted chocolate. Spread about 1 tablespoon of chocolate mixture on half of the cookies. Top with another cookie.
Makes about 2 dozen.