Santa brought me a sleigh full of cookbooks, two of which are by Pati Jinich.  She is my go-to source for Mexican cuisine these days, and if you like Mexican food and reading cookbooks, you must buy Pati's Mexican Table.  You will love it.  Anyhow, I generally go to her for savory dishes and was surprised to find she had a great little cookie in the book called Scribble Cookies.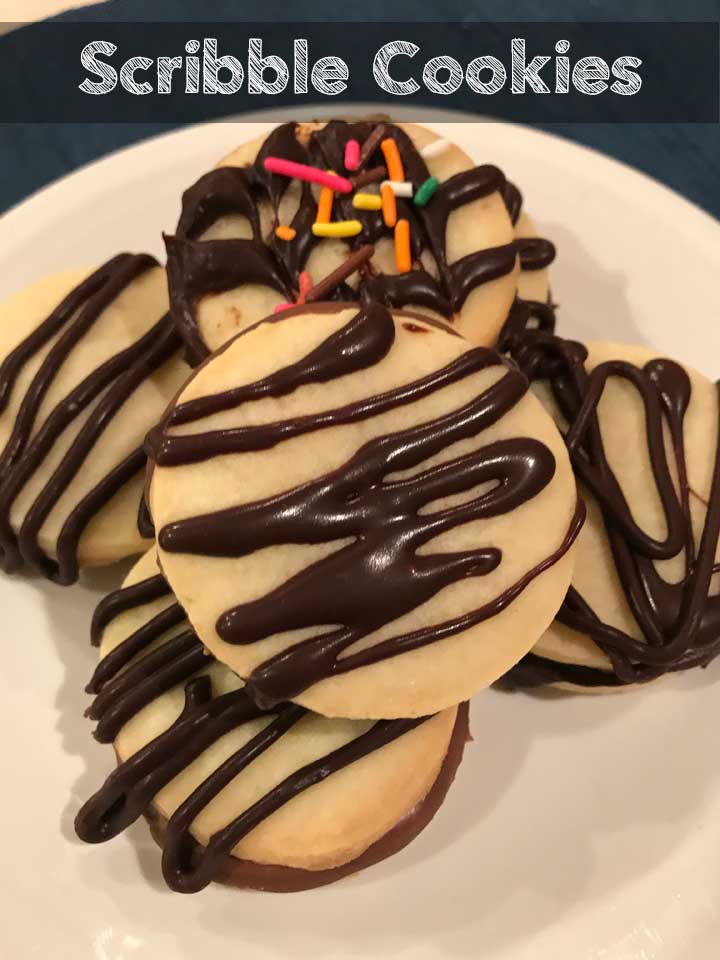 As Pati explains in Pati's Mexican Table, Scribble Cookies are sold in Mexico City at D'Elvis Bakery.  I don't really know much about it, but judging from the photos it does appear to be Elvis themed.  They are white cookies filled with chocolate ganache and a scribble of chocolate on top.  They're fun to make, and perfect if you have little helpers who might want to do some scribbling. Pati has a recipe in her book, but I wanted to do something a little different and changed things up.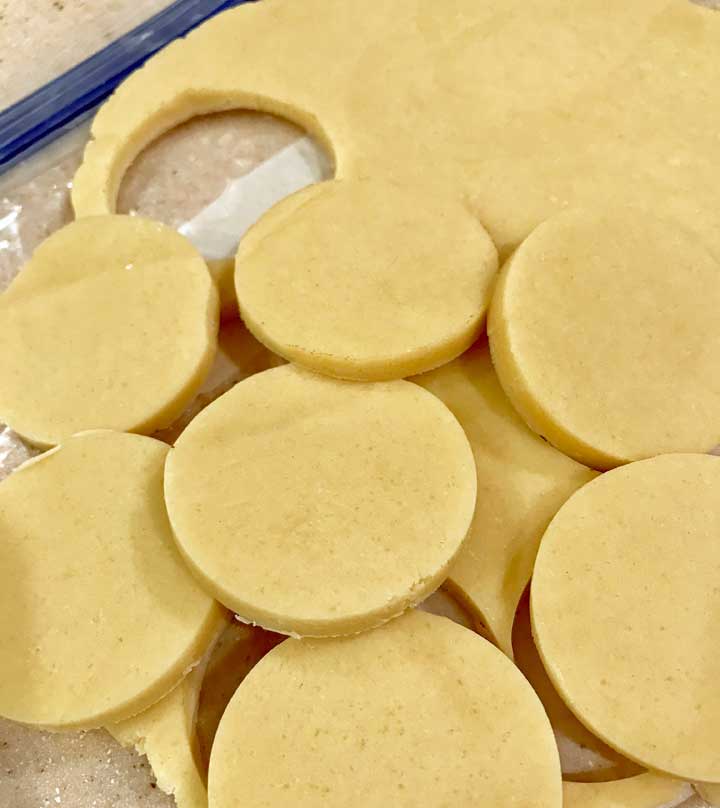 The dough is easy to work with. After mixing, you roll it out in a freezer bag, freeze until firm, and just punch the cookie dough right out of the cold dough. The ganache is easy too, but what is NOT easy is waiting for both the cookies and the ganache to cool.  Definitely let everything cool before assembling.
Recipe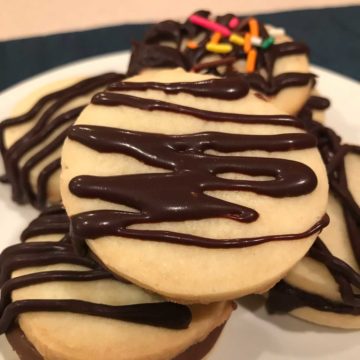 Scribble Cookies
Buttery cookies filled and topped with chocolate ganache.
Ingredients 
1

cup

softened unsalted butter

cut into chunks (230 grams)

¼

teaspoon

salt plus a pinch

omit if using salted butter**

1

teaspoon

Mexican vanilla

⅔

cup

confectioners' sugar

1 ½

tablespoons

granulated sugar

2

cups

all-purpose flour 250 grams

lightly spooned or weighed

Ganache

6

oz

bittersweet chocolate

chopped

¾

cup

heavy cream

4

teaspoons

granulated sugar
Instructions 
Put the butter in the bowl of a stand mixer. Using the whisk attachment, beat for about 3 minutes or until light and fluffy. Reduce speed to medium low. Beat in the salt and vanilla, then beat in both sugars, scraping the sides of the bowl often.

Add flour about ⅔ cup at a time. Stir by hand, or switch to the paddle and beat on medium speed until you have a cohesive dough. It will seem quite dry at first, but will all come together.

Shape dough into two large balls. Put each ball in a gallon size freezer bag. Flatten inside the bag, then roll to about ¼ inch. Repeat with second bag and put both bags of rolled dough in the refrigerator. Chill for one hour or until very firm.

Preheat oven to 325 and have a ready a parchment lined baking sheet.

Take one section of dough out of the refrigerator. Take the slab of firm dough out of the bag and set it on top of the bag or a piece of parchment paper. Using a 2-inch round cutter, cut into about 20 circles. Arrange the circles on the baking sheet and bake at 325 for about 15 minutes. While the cookies bake, repeat with the second section of dough.

Allow the cookies to cool while you make the ganache.

In a small saucepan, heat the cream and the chocolate, stirring until mixture is melted and smooth. Remove from heat and stir in the sugar. Let mixture cool and thicken slightly, then transfer to a pastry bag fitted with a narrow round tip. Alternatively, if you've reserved one of the freezer bags used for the dough and it is still clean, you can use that and snip off the tip.

Turn half of the cookies upside down and add a dot of ganache. If the ganache is runny, put the cookies ganache side up on a plate in the freezer to set. If you've cooled the ganache you shouldn't have to do this right away. Once you've put ganache on each cookie, cap it with a second cookie and freeze until firm. When firm, take the cookies out of the freezer and make scribbles on top of each with the remaining ganache.
Notes
I actually used ½ teaspoon of salt because I like cookies a little sweet & salty.  Its probably best to start with ¼ teaspoon plus a pinch (unless you know you love salt). 
---
For the chocolate, I used chopped up Dove Dark because that's what I had on hand.