Cookies may not be the first thing you associate with South American food, but if cookies do come to mind chances are they're Alfajores, shortbread sandwich cookies filled with dulce de leche, manjar blanco, canela or honey.  Fillings vary by region, as do the cookies.  And while one day I'll go to South America and eat Alfajores, for now I'll just keep baking them at home.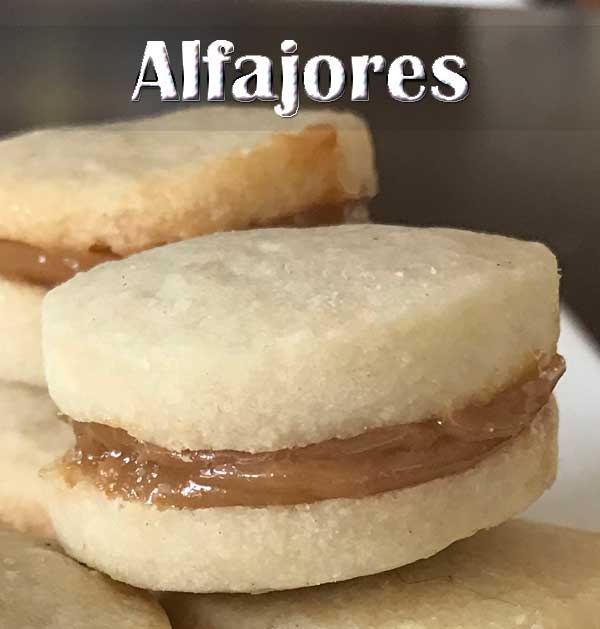 In the past I've used a variation of this recipe, but I wanted to try out a few others and spent Sunday morning trying a few other Alfajores recipes.  In the process I nailed down some favorites and figured out what I don't like (egg yolk).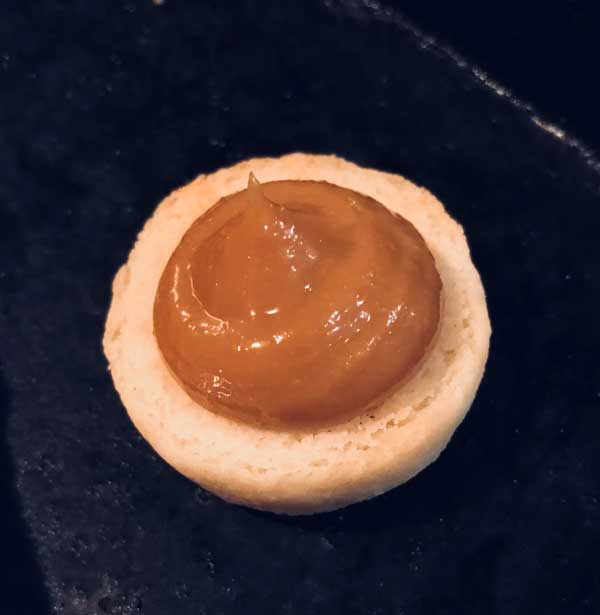 Alfajores Recipe Comparisons
First up were "Dulce de Leche Sandwiches" from Good Housekeeping. These cookies had a nice texture and structure (even though I made them too thick), but the flavor of the egg yolks was pretty strong.  If you don't mind the flavor of egg yolks, the recipe is certainly worth a try.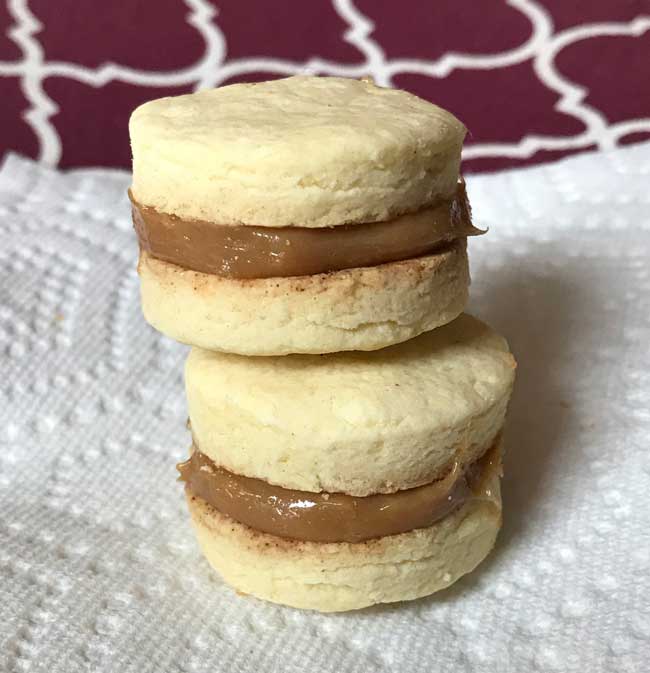 The second recipe was from Chow and calls for fewer egg yolks.   The cookies were solid and not too crumbly and the egg yolk flavor wasn't too strong. I'd definitely make these again, but maybe with a little cinnamon thrown in.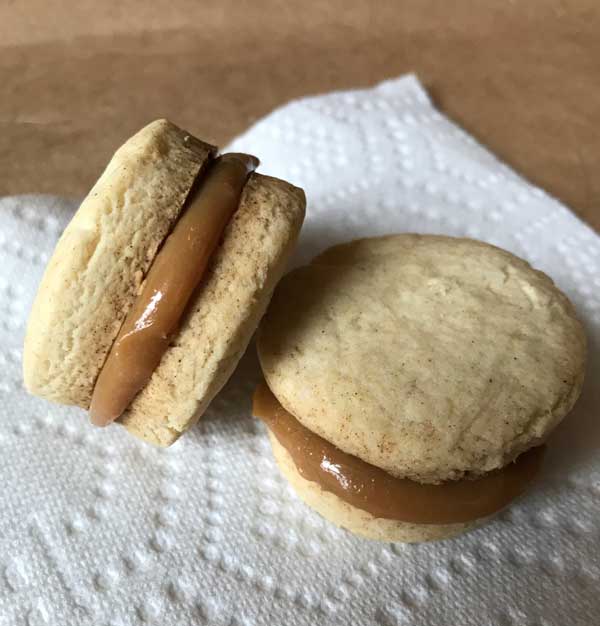 The third was an egg-free recipe from Ingrid Hoffman.  These were completely different, as they were made with just flour, butter, salt and confectioners' sugar.  My daughter and I took one bite and agreed they were the best! Without the filling the cookies are not too sweet, but with the filling and the extra confectioners' sugar, they are perfect. They look a little messy compared to some other recipes and the dough was kind of rough to work with.  But taste-wise, they were like eating snowball cookies filled with dulce de leche.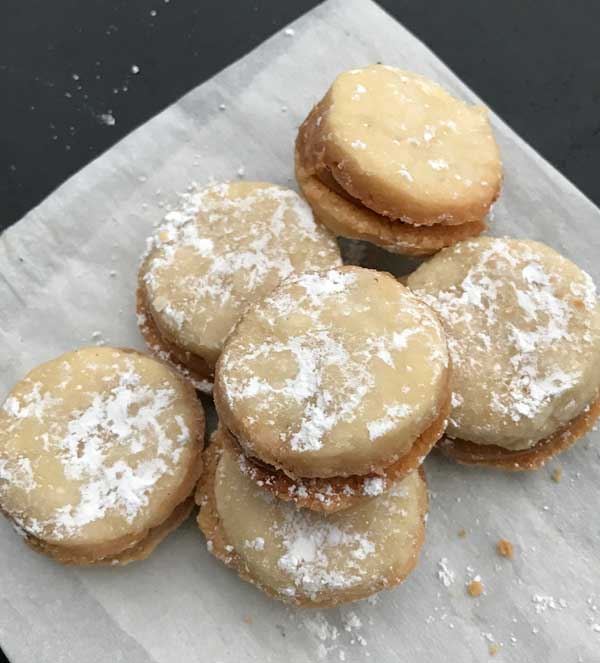 Of all the cookies, our favorite was the Ingrid Hoffman recipe. At one point I tried incorporating cornstarch and had good results, but in the interest of using fewer ingredients I've reverted back to the original recipe with just flour.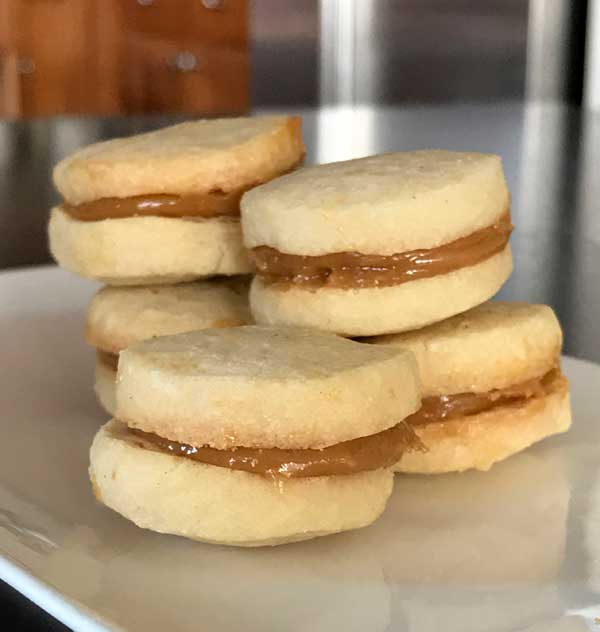 Instant Pot Dulce de Leche
In the notes I have my usual way of making dulce de leche, but now I have an Instant Pot and it makes the job so much easier! Method: Remove label and top from a 14 oz can of condensed milk. Wrap the can with foil. I usually just put it over the top and down the sides, pressing tightly against to keep out water. Put the trivet in a 6 quart Instant Pot. Set the foil covered can on the trivet, then add about 8 cups of water (it should come almost halfway up the sides of the can). Close pot, close vent and set timer for 35 minutes. When time is up, you can do a quick or natural release. Carefully, using tongs or a mitt, remove the can and stir. You can then dump it into a bowl and stir in about a teaspoon of vanilla. Let cool and store in the refrigerator.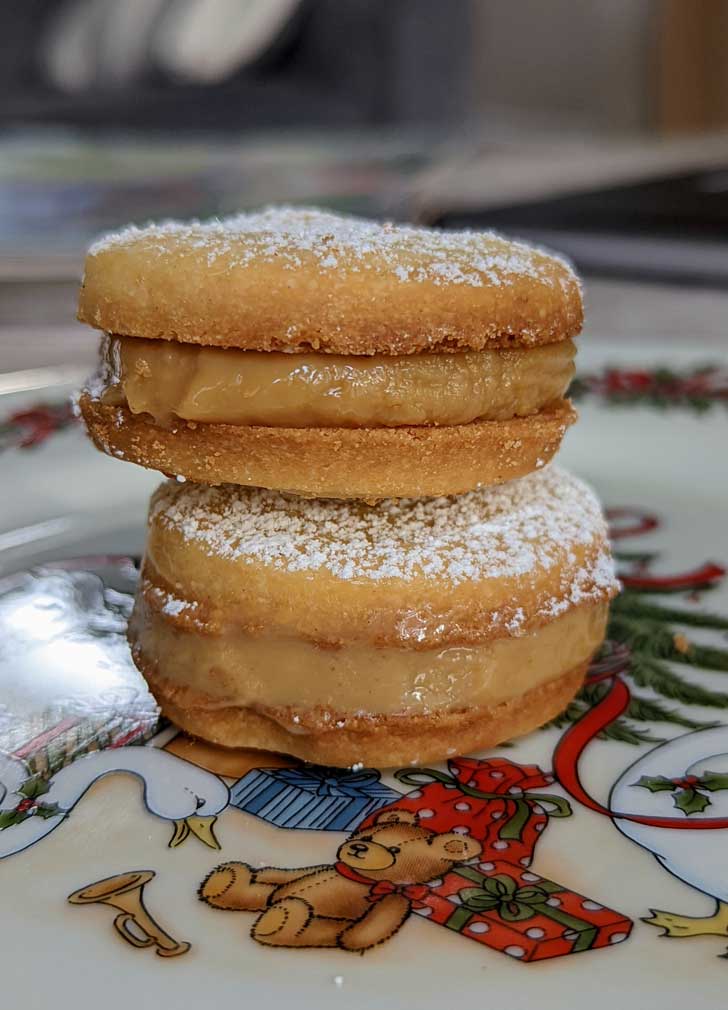 Recipe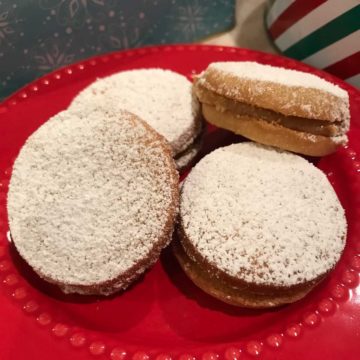 Alfajores
Alfajores dough that comes together quickly in the food processor. These cookies are small, rich and dissolve in your mouth.
Ingredients 
1

cup

softened unsalted butter, cut into chunks

(230 grams)

½

teaspoon

salt

omit if using salted butter

½

cup

confectioners' sugar

70 grams

2

cups

sifted all-purpose flour

260 grams

Dulce de leche made with a 14 oz can of condensed milk

see note
Instructions 
Put the softened butter, salt and confectioners' sugar in a food processor and process until creamy. Add flour and pulse until mixture holds together.

Turn the dough out onto a large sheet of parchment or plastic wrap and press into a slab that's about ⅛ of an inch thick. Alternatively, you can empty it into a large (gallon size) freezer bag, close the bag and roll it in the bag.

Chill the dough for about an hour or until firm. If you used a bag, cut away the bag.

Using a round cookie cutter (I use a 1 ½ inch size) cut out circles. Transfer to parchment lined baking sheets and bake for 12-13 minutes. Alternatively, you can make 2 inch rounds in which case you might need to bake a few minutes longer.

To assemble the cookies, put your dulce de leche in a freezer bag or a pastry bag. Snip off the corner and pipe onto bottom of cookies before sandwiching with the rest.
Notes
Pour 1 can of condensed milk into a glass pie plate. Cover the pie plate tightly with foil and set in a roasting pan. Fill the roasting pan with water so that it comes halfway up the side of the pie plate.
Bake for 1 hour at 425, then remove pan from water, lift foil and stir well.
Cover with foil again, return to roasting pan and add more water to replace whatever evaporated. Continue baking for another 1 ½ hours, Checking after an hour. Stir well. It may look a little lumpy when you first, but it will smooth out as you stir.