I thought about postponing this recipe until after Halloween, but couldn't wait. I love the flavor of Butterfinger and had to give these "Chewy Butterfinger Bar Cookies" a try. Great results! They are rich and sweet and have a strong Butterfinger flavor that becomes more pronounced as the bars sit.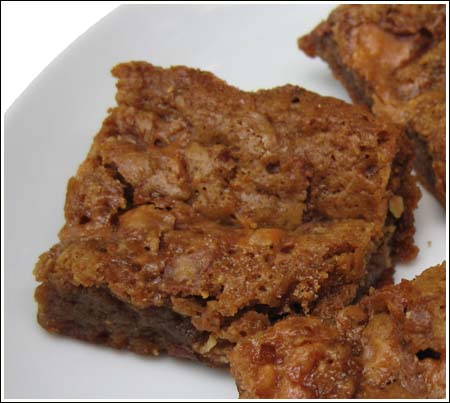 The bars, which are like rich, brown sugary blondies, are made in a 13x9 inch pan, but you can halve the recipe and make it in an 8 inch pan if you like. The bars cut easily and are easy to wrap and carry, so if you have all the ingredients, you might want to just make the whole batch and share.
Chewy Butterfinger Bar Cookies
2 ¼ cups all purpose flour
1 teaspoon baking powder
½ teaspoon salt (if using salted butter, reduce to ¼ tsp)
¾ cup unsalted butter, room temp
2 ½ cups light brown sugar, packed
3 large eggs
1 ½ teaspoon vanilla
4 regular size (a little over 2 oz) Butterfingers, chopped
Preheat oven to 350 degrees F. Spray a 13x9 inch metal pan with baking spray or line with non-stick foil. Or line with regular foil and spray foil.
In a mixing bowl, whisk together flour, baking powder and salt. Set aside.
In a second mixing bowl, beat butter and brown sugar until light and fluffy. Reduce mixer speed to medium and beat in eggs and vanilla, mixing only until eggs are incorporated.
Fold in flour mixture followed by 1 cup of the butterfingers. Pour into pan and spread to edges. Sprinkle remaining chopped butterfinger over top and bake for 28-30 minutes. If you are making a half batch, set timer for 25 minutes.
Let cool completely, then cut into bars. I liked how they taste after being chilled, but they are very good at room temperature as well.
Makes 32