White Pizza is adapted from Ann Hodgman's book, One Bite Won't Kill You: More than 200 Recipes to Tempt Even the Pickiest Kids on Earth
, which I highly recommend to anyone with kids or without. It's full of fun recipes, but even if you never make one you'll enjoy Hodgman's humor.
I filed this particular White Pizza under "Appetizers: because given the make-up of the dish, it's the kind of pizza I like to cut into thin slices and serve at parties. It holds together well and unlike messier pizza, makes good finger food. However, because Fuzz likes it so much, I serve it to her as a lunch or entrée. The flavor is similar to garlic bread, but with less bread and more cheese. The quickest way to make this is with a pre-made extra-thin pizza crust such as Mama Mary's or (if you live in Austin) H.E.B.'s pre-made. But you could also use a homemade crust or canned pizza dough.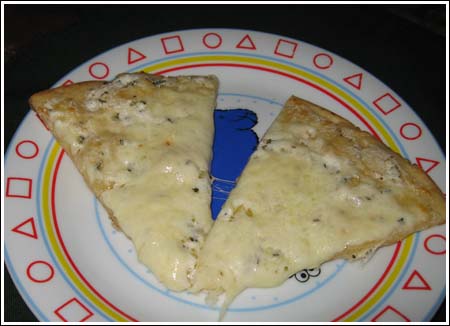 Fuzz's White Pizza
1 (12 inch) pre-made pizza crust, thin type
4 tablespoons unsalted butter, softened
1 tablespoons mayonnaise (light works very well)
1 clove garlic, mashed, or ½ teaspoon garlic powder
¼ teaspoon dried basil
¼ teaspoon oregano
2 tablespoons grated Parmesan cheese
2 cups shredded "Pizza Blend" or "Italian Blend" cheese or provolone
Preheat oven to heat given on prepared pizza crust directions.
In a small bowl, stir together butter, mayonnaise, garlic, basil, oregano and Parmesan cheese. Spread the butter mixture across the pizza crust. Sprinkle the shredded Pizza Blend cheese over the butter mixture.
Reduce oven heat to 425 degrees or as instructed on pizza crust wrapper. Bake for 8-10 minutes or until cheese is hot and bubbly.
Makes 8 servings