The original version of "Oven Fries" was created by Julia Davison for Cooks Illustrated and you can find it, along with scientific explanations for why things are done the way they are, in the Jan-Feb 2004 issue.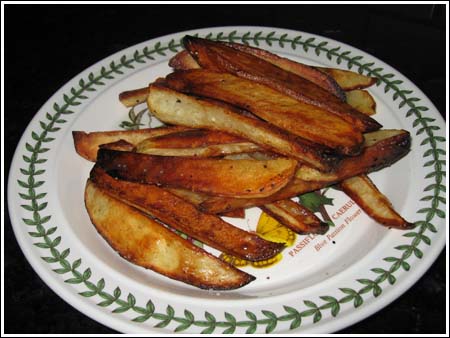 Best Oven Fries
3 (8 oz) Russett potatoes, peeled
5 tablespoons vegetable oil or peanut oil
Salt and ground black pepper
Adjust oven rack to lowest position. Preheat oven to 475 degrees F.
Cut each potato into about 10-12 equal size wedges. Soak potato wedges in a large bowl of hot tap water for 10 minutes.
Pour 4 tablespoons of the oil into a 12x18 inch heavy duty rimmed baking sheet.
Sprinkle ¾ teaspoon salt and ¼ teaspoon pepper over the oil; swirl it around. Salted oil helps keep the potatoes from sticking quite so much.
Drain the potato wedges and pat them dry on a layer of paper towels. Remove as much moisture as possible.
Wipe out the bowl you used for soaking and return potato slices to bowl. Toss potatoes with remaining 1 tablespoon of oil. Lay potatoes in pan with salted oil.
Cover pan tightly with aluminum foil and bake for 5 minutes. Remove foil and continue to bake until golden – 15-20 minutes (check at 15). Rotate pan halfway through.
Using a spatula, scrape potato wedges up off pan and flip them over. Bake another 5 to 15 minutes or until potatoes or golden brown all over.
Lay fries on a big stack of paper towels to drain. Add extra salt if desired.
Makes about 3 servings (or 4 small servings)