Inspiration for this recipe came from the half-bag of baby carrots hanging out in the refrigerator. I'd been meaning to share it for a while, but other recipes just kept jumping in its way. Plus it's a soup and I always feel a little guilty posting soup recipes because it's Cookie Madness not Soup Madness. So I promise to follow-up with a cookie recipe soon, but I think you'll like this one too. It's called Maple Roasted Carrot Soup.
Jump to Recipe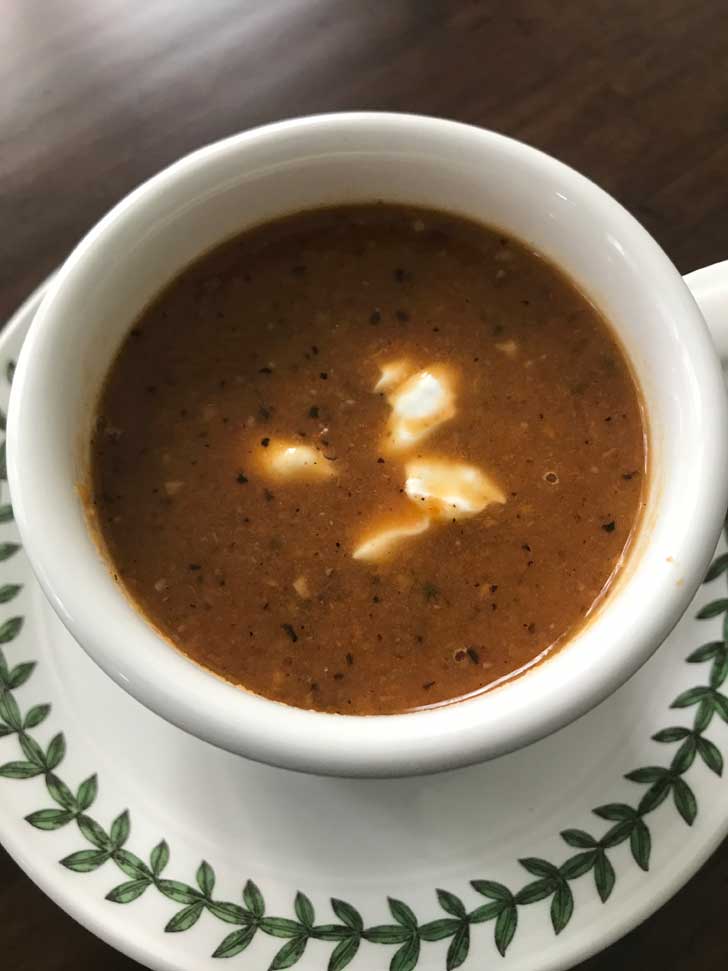 Roasted Baby Carrots, Onions, Garlic and Ginger
One of this recipe's perks is that it involves very little chopping. All of the vegetables are just roasted togther with the olive oil, pureed with broth and heated. You can use a food processor, a blender or an immersion blender, which is what I used for my last batch, which happened to be a half batch. The soup scales well.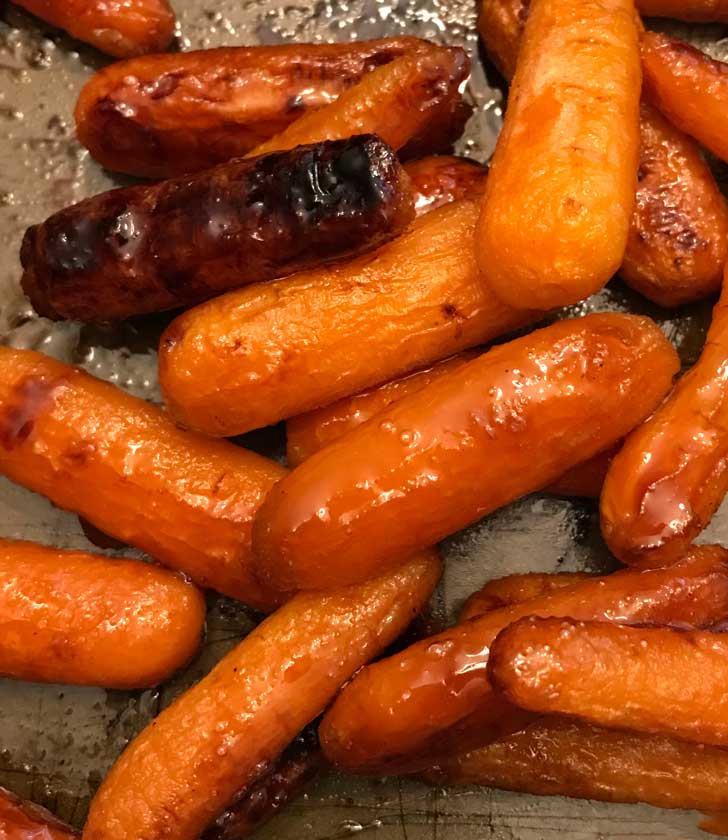 I guess the downside to this recipe is that while preparation is minimal, there's some passive time due to roasting the vegetables. That could work in your favor, though. You can get things done while the vegetables roast and make the house smell extremely wonderful. I forgot just how much until I made the recipe this afternoon. I plan on freezing it for when Todd gets home from Spain. That's another reason for fewer recipes this month. I don't have any tasters
Modern Maple
Anyhow, I almost forgot the source of this recipe because I've memorized it and make it by heart so often. It's adapted from Modern Maple by Teresa Marrone. If you like cooking with maple syrup or eating anything maple flavored, you will absolutely love this book (seriously) which has so many other maple-touched recipes including Maple Scones and Maple Ice Cream. I've posted a few of the sweeter ones, but there are so many more, plus tons of interesting historical information on how we use and cook with maple.
Roasted Maple Ginger Carrot Soup Ingredients
Carrots -- I always use baby carrots, but any carrots should work.
Olive Oil -- Any kind. It adds richness to the soup, so don't leave it out.
Salt -- ¼ teaspoon is a start. Add salt to taste before serving.
Broth -- Chicken and vegetable broth work equally well. I use reduced salt or fully salted based on what I have, then adjust salt to taste.
Butter -- Can be salted or unsalted. You can also leave it out and just increase the olive oil.
Garlic -- Fresh cloves
Ginger -- 1 inch piece, but use less if you don't like ginger. Ginger from a tube also works. Start with a teaspoon and increase or decrease to taste.
Recipe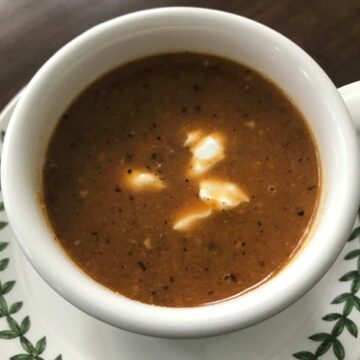 Maple Roasted Carrot Soup
Roasted carrots add depth to the flavor of this thick and slightly sweet carrot soup.
Ingredients 
1

pound

baby carrots

⅓

cup

chopped onions

2

cloves

garlic

1

inch

piece of peeled ginger, roughly chopped

or ginger from tube

1

tablespoon

olive oil

¼

teaspoon

salt, plus more to taste

3

tablespoons

maple syrup

4

cups

chicken or vegetable broth

1

tablespoon

butter (or omit and use olive oil)

black pepper to taste

red pepper or ground Szechuan pepper to taste

Greek Yogurt (optional)
Instructions 
Preheat oven to 425 degrees F.

Spread carrots, onions, garlic and fresh ginger in a large pan or on a rimmed baking sheet. Sprinkle with salt and drizzle with olive oil. Roast for 20 minutes. Remove from pan, drizzle with maple syrup and roast for another 18 to 25 minutes. Toss vegetables with butter.

Add about half of the broth to the blender, then add roasted vegetables. If you are using ginger from a tube or anything other than fresh ginger, add it as well. Also, be sure to let the mixture cool a little before you puree it. If your vegetables are hot and your broth is room temperature, this should only take about 5 minutes.

Puree soup. Transfer to a large pot and heat.

To serve, spoon into bowl and serve as is, or add a spoonful of Greek yogurt to each bowl for a little protein.
Immersion Blender Method
To make with an immersion blender, follow the directions as written, but empty roasted vegetables and broth into a large pot. Use the immersion blender to puree, then heat.