Our usual tortilla soup recipe is thickened with chopped corn tortillas, but I wanted to change things a bit by serving the tortillas with the soup instead of in it. This is the new version. I can't say it's new and improved because both versions are good, but I'm leaning toward the "tortillas-on-the-side" version.
Since the soup doesn't have tortillas in it, you have to serve it with some kind of tortilla chips to keep it true to its name. Traditionally, you cut them into strips and fry them in oil, but air-frying and baking are great alternatives I cut a stack of tortillas into ⅛s, lay on an air fryer basket, spray with cooking spray and air fry at 375 until they start to crisp. They're usually done in less than 12 minutes, but it varies by air fryer so you have to watch them.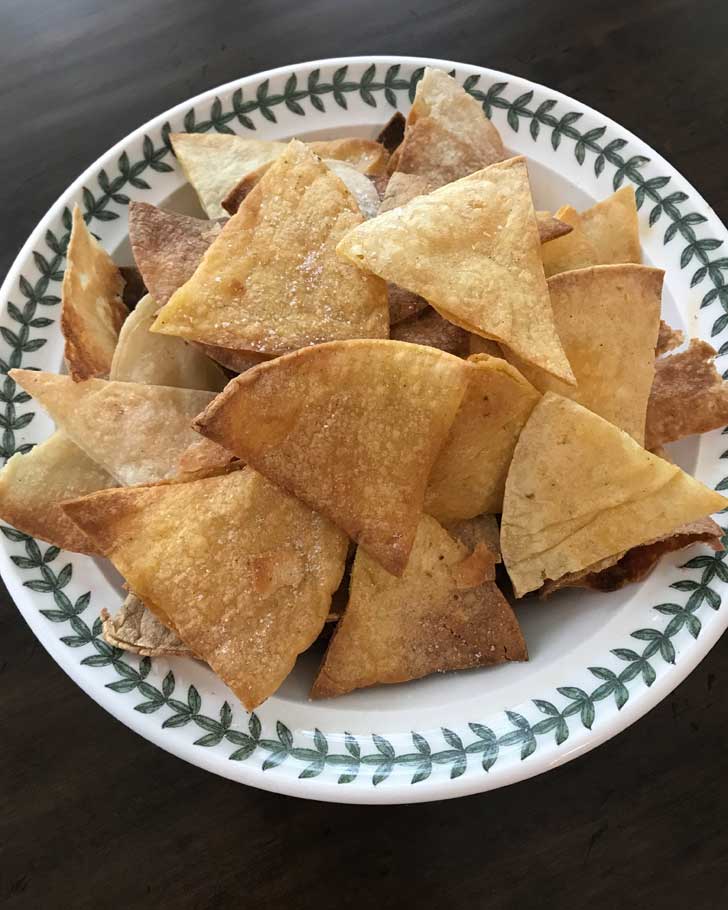 Smoked Paprika
My usual recipe is flavored mostly with chili powder and cumin, but the bold flavor in this recipe is from smoked paprika. I've been using this brand, which Todd brought home from a work trip to Spain. He likes the Picante while I prefer the Dulce.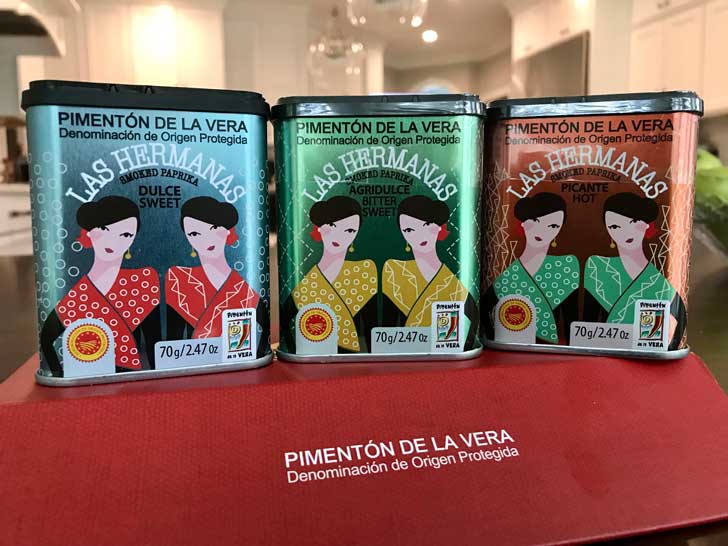 Chicken Tortilla Soup or Vegetarian Tortilla Soup
Chicken Tortilla Soup is one of the easiest soups to vegetarianize. For a vegetarian soup, use vegetable broth and add a can of drained black beans instead of chicken. I do think that this version makes a better vegetarian version than my old soup because of all the corn. Just know it thickens up overnight, so expect your leftovers to be more like chili, in which case you can thin with a little extra broth, V8 or tomato juice. Or you can embrace the thickened soup and turn it into chili.
Tortilla Soup Ingredient Notes
Olive Oil -- 2 tablespoons makes a great tasting soup. You can reduce it to one tablespoon, but the full 2 tablespoons rounds out the flavor.
Onions -- 1 cup or about 1 large.
Garlic -- I've developed a garlic sensitivity and have had to start dialing back how much I use. And guess what? Most things taste just as good! So if you are one of those cooks who always triples the garlic, feel free to do that.
Cumin -- You can use ground cumin or toast whole cumin in a dry skillet and grind it with a mortal and pestle. For Austin-style tortilla soup, sing the cumin song while using.
Chicken Broth -- I've been making this with full-sodium broth, basically whatever is on sale, and haven't needed to add extra salt. If you use anything other than salted broth, and I expect you will because it's fun to experiment, be sure to add extra salt. But as it's written, the recipe gets salt from the broth and from the chili powder.
Chili Powder -- My go-to back in Texas was Gebhardt, but now I use McCormick organic chili powder. Like Gebhardt, it's a blend of chile, organic spices (??) and salt. Again, the salt in the chili powder is another source of salt in this recipe, so if you use something like ground ancho or another pure ground chile pepper, you may need more salt.
Diced Tomatoes with Peppers -- I used a drained 10 oz can of Casa Mamita brand from Aldi for this latest batch, but any brand should work. Rotel is always good. Be sure to save the drained juice. You can mix it with broth and thin out any leftovers.
Tomato Sauce -- The basic salted kind.
Dark Brown Sugar -- Light okay too. You can use a half tablespoon if you prefer less sweetness to the soup. I would definitely add at least one teaspoon, but then I have a blog called Cookie Madness and love sugar.
Smoked Paprika -- The best you can find! Or whatever you can find. I really liked the Las Hermanas and am looking forward to trying it with one of the spicier smoked paprikas.
Italian Seasoning -- Good & Gather brand from Target is surprisingly good.
Frozen Corn -- Frozen, straight out of the bag. The fulll 12 oz works, but you can use less if you want to.
Tortillas -- In Austin there were about 10 different brands to choose from. Here in Raleigh I use La Banderita yellow or white.
Chicken -- I freeze any and all leftover chicken and throw it in the soup at the end. With forethought, you can cook your chicken fresh and use the broth for the soup. With slightly less forethought, you can make the soup as written and just cook up some fresh chicken. But really just about any kind of chicken works in this soup including well-drained canned chicken breast.
Recipe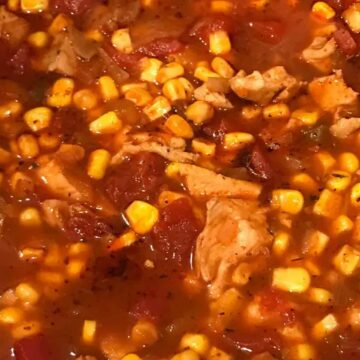 Tortilla Soup
This soup is served in Mexico, but it's also quite popular all over Central and South Texas, and everyone has their own spin. My version is a twist on one from The Austin Junior League. It's convenient and doesn't involve toasting and grinding chile peppers. You don't even have to cook your own chicken! Just use chicken leftover from another meal or chopped and thawed frozen pre-cooked chicken.
Ingredients 
2

tablespoons

olive oil or vegetable oil

(You can use 1 to 1 ½ T, but it tastes better with 2)

1

cup

chopped onions

1

clove

garlic, chopped (use more if desired)

1

tablespoon

chopped jalapeno

(optional)

1

teaspoon

ground cumin or whole cumin seeds

10

ounce

can of diced tomatoes with chiles

drained, OR A can of undrained Rotel for spiciness

8

ounces

tomato sauce

1

tablespoon

dark brown sugar

2

teaspoons

chili powder

1

teaspoon

Italian seasoning

1 ¼

teaspoons

smoked paprika

4

cups

chicken broth (salted)

plus more if desired

12

oz

frozen corn

1 ½

cups

shredded chicken breast

Use more or less depending on your tastes

Black pepper and salt to taste

if necessary

6

large

corn tortillas
Instructions 
In a Dutch oven or large pot, heat the oil over medium for about 40 seconds. Add the onions and sauté for 3-5 minutes.

Add the garlic, cumin (and jalapeno, if using) and sauté for another 2 minutes, scraping bottom of pot with a spoon.

Add the tomatoes, tomato sauce, brown sugar, chili powder, Italian seasoning and smoked paprika, then stir in the broth. If you are using anything other than full-sodium broth, you'll need to taste test and add more salt to taste.

Simmer uncovered for 30 minutes. Stir in the corn and simmer for another 10-15 minutes. It will start to thicken after you add the corn.

Add salt and black pepper to taste. About 5 minutes before serving, add the chicken. Alternatively, you can put a big stack of chicken in a bowl, top it with avocados and cheese, then pour the soup around it.
Air-Fried Tortilla Chips
Heat air fryer or oven to 375 degrees F.

Stack the tortilla and cut the stack into 6 triangles so that you have 36 chips.

Lay flat in an air fryer basket or on a baking sheet which you've sprayed with olive oil or avocado cooking spray. Spray the chips with the olive oil cooking spray.

Air Fry or bake for about 10 to 15 minutes or until they start to brown. Keep an eye on them! Luckily, the burnt ones taste good too.
Notes
This version uses regular salted chicken broth so you should only need to add extra salt to taste. If using homemade, no-salt or reduced-salt broth you will need to add at least 1 teaspoon of salt.