This weekend I discovered a great new small batch brownie recipe in the new book, Small Batch Baking for Chocolate Lovers. The original recipe from the book was Espresso Brownies with White Chocolate Cappuccino Ganache, but I ventured off on my own and tried making a small batch variety of one of my favorite treats, Chocolate Peanut Butter Krispies Topped Brownies. While they were a little taller than usual, they definitely satisfied a craving!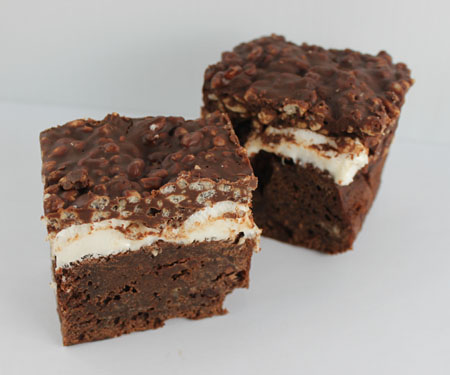 Here's the recipe, which is a spin on the brownie recipe from Debbie Maugins.
Peanut Butter & Rice Krispies Topped Brownies
Brownies:
1 oz unsweetened chocolate
2 tablespoons unsalted butter
¼ cup plus 2 tablespoons sugar
1 large egg plus 2 teaspoons of egg from another egg
1 teaspoon vanilla extract
⅛ teaspoon salt
3 tablespoons all-purpose flour
Topping:
4 large marshmallows, split
2 ounces semi-sweet chocolate chips (⅓ cup)
¼ cup creamy peanut butter
2 ½ teaspoons butter
½ cup Rice Krispies
Prepare brownies. Preheat oven to 350 degrees F. Line a petite loaf pan (2 cup capacity, 5.3 inches) with non-stick aluminum foil or use regular aluminum and very lightly butter the foil or spray with flour-added cooking spray.
Place chocolate and butter in a microwave-safe bowl -- I just used a 2 cup Pyrex measuring cup. Microwave on medium power until chocolate is soft and butter is melted, 1 to 1 ½ minutes. Stir until smooth. Stir in sugar until blended, then stir in egg, vanilla and salt.  Mix in the flour just until incorporated.
Spread batter evenly in pan. Bake about 26 to 28 minutes or until a toothpick inserted in center comes out with a few moist crumbs. Lay split marshmallows over top and return to oven for exactly 2 minutes or until marshmallows puff up. Remove from oven and let cool.
In a microwave-safe bowl, mix together the chocolate chips, peanut butter and butter. Microwave at 50% power for 1 minute, stopping to stir every 30 seconds, until chips are melted and mixture is smooth. Stir in cereal and spread across top of marshmallow topped brownies. Let cool at room temperature for about 20 minutes, then transfer to refrigerator to cool completely and set. When set, lift from pan by grasping foil lined loaf. Set on a cutting board and cut into 2, 3, or 4 large, tall, brownies.