This Maple Pumpkin Pie recipe is based on one from an old issue of Gourmet, and 100% of reviewers claimed they'd make it again. As for me, I'm not so sure. It was very creamy and smooth, but not very firm.
I'm not sure what happened, but I think it might have to do with the discrepancy in the original directions. The recipe says to boil to soft ball stage of 210 degree F. Soft ball stage is actually 235-240. Some of the reviewers used 210, others used 240. I used 210 and am wondering if the pie would have been firmer if I'd boiled the maple syrup to 240. If we liked pumpkin pie more, I'd make it again and boil to 240, but I'm going to have a hard enough time getting rid of this one.
About the maple syrup. Grade B is richer and more flavorful than Grade A. It's also more expensive. I splurged and bought a 12 ounce bottle for $10.99. While it was good, I'd probably go ahead and use a good brand of Grade A…..at least until I figured out the issue with the maple syrup!
Given my opinion and the fact that others gave it such high reviews, I'm interested in hearing from anyone who makes this. Or maybe I'll make another one for the neighbors…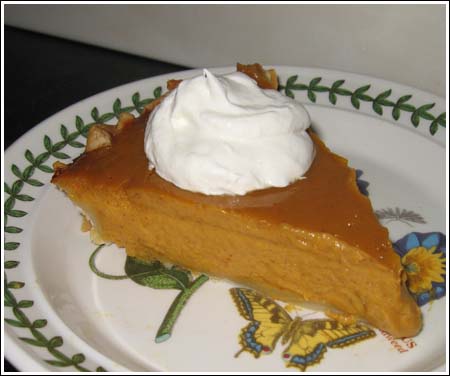 Recipe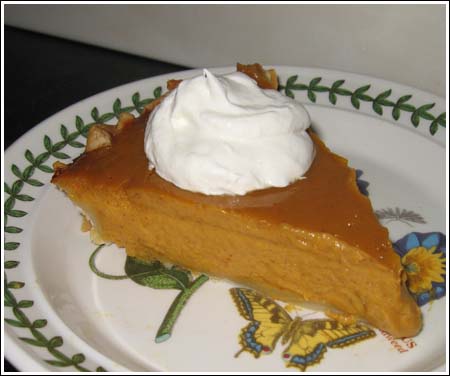 Maple Pumpkin Pie
Maple Pumpkin Pie
Ingredients 
9

inch

pie crust

unbaked

1

cup

maple syrup

grade B

15

oz

solid-pack pumpkin

1

teaspoon

cinnamon

1

teaspoon

ground ginger

½

teaspoon

salt

1

cup

heavy cream

⅔

cup

milk

whole

2

large eggs
Instructions 
In a heavy, medium size saucepan, gently boil maple syrup to 210° F or 240 degrees F. Use a candy thermometer to measure. Let cool slightly.

In a bowl, whisk together pumpkin, cinnamon, ginger, salt, cream, milk, and eggs; whisk in maple syrup. Pour pie into crust and bake in middle of oven 1 hour, or until filling is set but center still shakes slightly. (Filling will continue to set as pie cools.) Transfer pie to a rack to cool completely.