Delta Air made Biscoff cookies famous. I remember first trying a Biscoff on a Delta flight and thinking it was a really, really good cookie. I forgot the name, but later I started seeing other people refer to "that airline cookie" and knew I wasn't alone.
Sometime thereafter, Biscoff cookies started to appear in the grocery store, only to be snapped up by people who recognized them as the elusive airplane cookie. I even heard a rumor from one mom that another was buying them at the store and selling them on eBay, but I'm not sure it was true. At any rate, that's old hat because the cookies are pretty easy to find now. They're always in stock and if the store's out, you can order them from Biscoff's website.
What I'm leading up to here is the fact that Biscoff recently one-upped themselves by creating something new -- a smooth and creamy spread made with the cookies.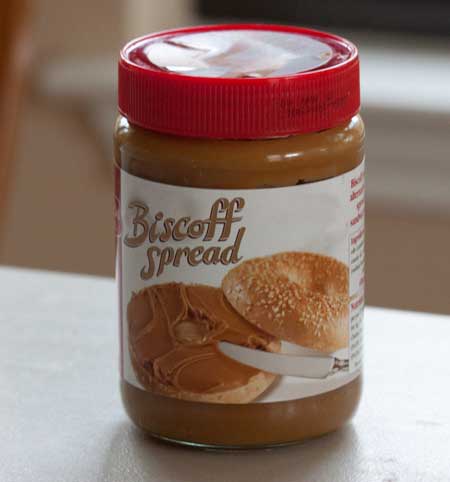 It sounded odd when I heard about it. How could you make a spread with mashed cookies? Wouldn't it be lumpy or grainy? But people kept reporting back on how they'd found the spread made of cookies and how good it was. There were enough positive reviews to motivate me to finally get in my car, drive all the way to Central Market and buy one ($6.00) jar.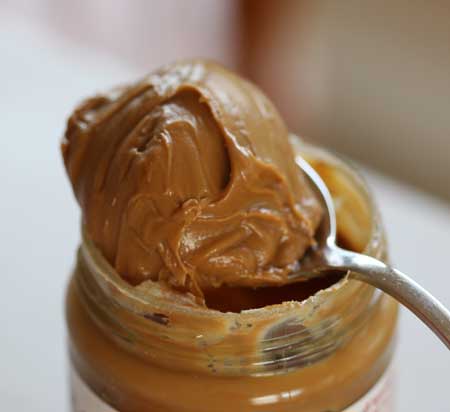 The best way I can describe this is something like a spice cookie flavored Nutella.   The texture is smooth and slick  and the flavor is definitely that of speculoos. The whole family, including the two people here who don't really like peanut butter, love it, and I'm having fun trying to think of ways to use it.
Here's the first thing I've made. Biscoff actually has quite a few ideas on their website and one was a pumpkin pie where Biscoff stands in for some of the sugar. Rather than commit to a whole pie, I decided to try the idea in bar form. What I ended up with were pumpkin pie squares that were a little stiffer than usual, creamier, and flavorful -- though I will say the speculoos flavor is not that prominent. In this case, I think it mainly helps the texture.  I also made some really good scones and will post those tomorrow.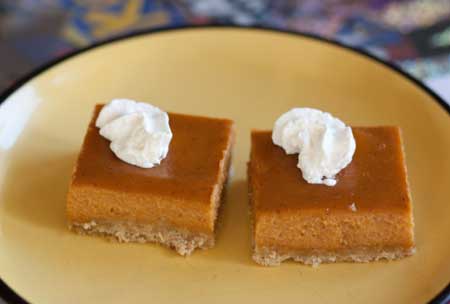 Recipe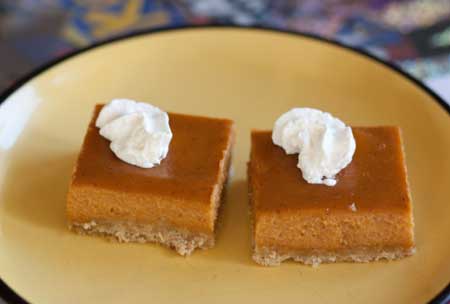 Biscoff Cookie Butter Pumpkin Pie Squares
Pumpkin Pie squares with Biscoff spread in the filling
Ingredients 
Crust:

½

cup

2.25 oz all-purpose flour

¼

cup

oats

quick or old fashioned

¼

cup

packed brown sugar

Pinch

of salt

4

tablespoons

unsalted butter

softened

Filling:

¼

cup

granulated sugar

¼

cup

Biscoff Spread

7 ½

oz

canned pumpkin

about 1 cup

¾

cup

evaporated milk

1

large egg

½

teaspoon

cinnamon

½

teaspoon

pumpkin pie spice

optional

½

teaspoon

vanilla extract
Instructions 
Preheat oven to 350° F. Line an 8 inch square metal pan with non-stick foil.

Combine the flour, oats, brown sugar and salt in a large bowl and mix well. Add the softened butter and stir until incorporated. Press in bottom of lined pan and bake for 12 minutes. Let cool.

In a mixing bowl (I used the same one I used for the crust, but wiped away crumbs), mix beat the granulated sugar, Biscoff spread, pumpkin, evaporated milk, egg, cinnamon and vanilla with a hand-held mixer until creamy. Pour over the baked crust and bake for about 30 minutes or until top appears set. Let cool completely, then chill thoroughly before serving.