Yesterday I made two pies for a school event -- one was pecan and the other was a sweet potato pie. The pies were to be turned in today, but I had a meeting and couldn't drop them off myself. Todd had to do it for me, which means I don't know if they were any good -- especially the sweet potato because I used a recipe I'd never made, which in hindsight was kind of a dumb thing to do. The recipe is from Epicurious.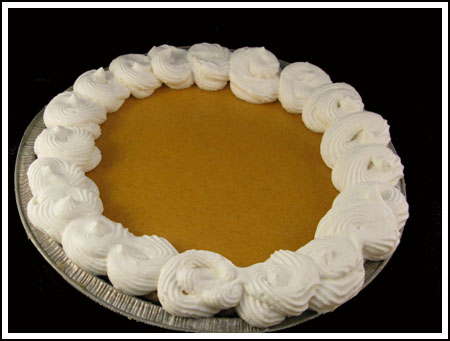 So without having tasted the pie, I can tell you it baked up very smooth, didn't call for much sugar (a problem with some sweet potato pie recipes) and had some melted butter in the filling to round everything out. And finally, the source of the recipe is Ruth Reichl's book Comfort me with Apples which in itself is comforting since all of RR's recipes are good.
And here's another tip I got from Louise. If you ever need to top a pie with whipped cream and you know this pie will be sitting out for a while, there's a stabilizer you can buy called "Whip it". I finally got to use my "Whip it" today and it worked perfectly. Or at least I think it did. It didn't add any odd flavors to the whipped cream.