I didn't think I'd be able to make anything new today, but as I was cleaning the kitchen and moving boxes around, I noticed this recipe on the side of a Fiber One box for Fiber One Crunchy Fudge Cookies. It sounded interesting and since I'm hosting a Brownie meeting later, I figured I'd test it out on a group of six year old girls. But first, I tried a cookie myself.
Hmm, I don't know. I think I'd rather eat a bowl of plain Fiber One. However, if you can't deal with fiber cereal straight up and want to hide it in brownie flavored cookies, you might like these.
Before I posted this, I looked to see if anyone else had tried these recipes. Here are a few reviews from another site. Other people liked them more than I do. I'll let you know what the kids think…..luckily I have a back-up cookie.
UPDATE:  5 hours later these cookies taste really good, so I guess they improve with age.  I gave some to a friend and she asked for the recipe.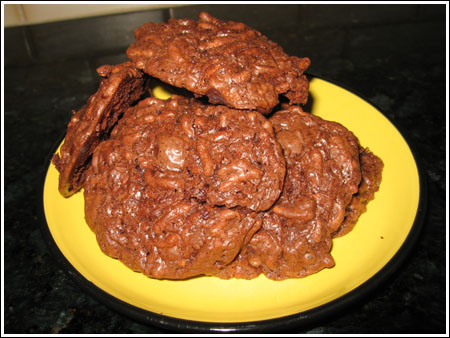 The only change I made was to leave out the cinnamon and use regular size chocolate chips.
Fiber One Crunchy Fudge Cookies
1 box brownie mix (1 pound 3.5 oz) – Betty Crocker
2 cups Fiber One cereal
2 tablespoons miniature chocolate chips
1/8 teaspoon cinnamon
1/3 cup water
1 large egg
1 tablespoon vegetable oil
2 teaspoons vanilla
Preheat oven to 350 degree F. Line cookie sheets with parchment or spray with cooking spray. The cookies are kind of sticky at first.
Mix ingredients together. Drop by rounded tablespoonfuls onto cookie sheets. Bake for 10-12 minutes. Transfer to cooling rack and let cool for at least 30 minutes. Don't try these before they cool! The cereal needs time to regain its crunchiness.
Makes 3 dozen