It's National Bundt Cake day, but I realized it too late and made scones. These are supposed to taste like Great Harvest scones, but I've never had a scone from Great Harvest so I can't really attest to that.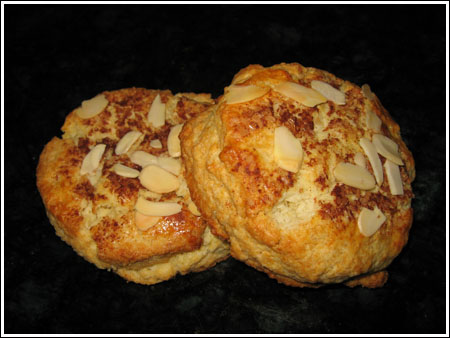 I changed the recipe a bit by adding vanilla and increasing the heat to 400 degrees. The original recipe said to bake the scones at 350 degrees, but I think scones have a better crust when baked at slightly higher temperatures. If you don't need quite so many scones, you can halve this recipe and use 2 tablespoons of lightly beaten egg, which is what I did. I also cut mine into circles rather than baking them as triangles. The topping is a mixture of cinnamon and sugar, but that is completely optional….as are the chocolate chips.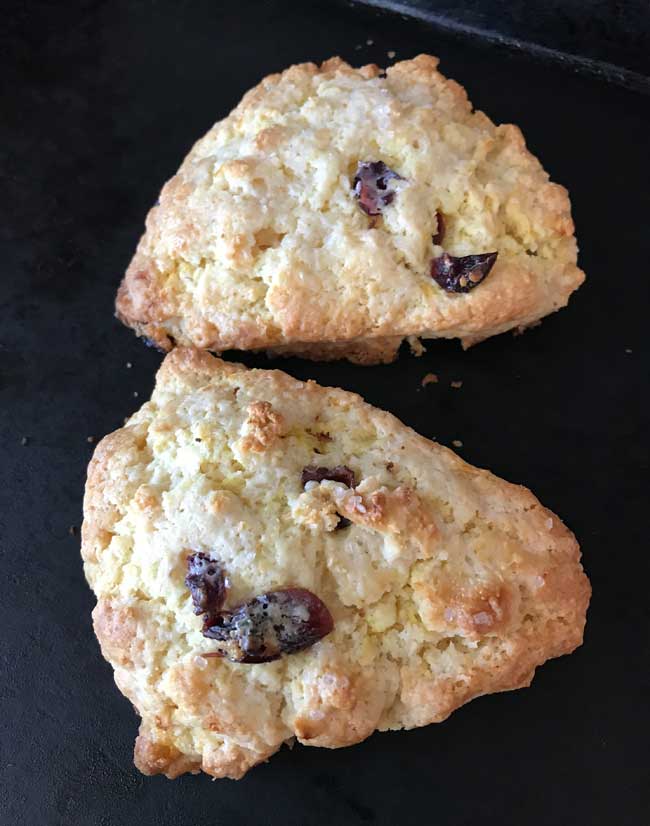 Update: I made these again and cut them into triangles. They tend to spread a bit, so I recommend making them as circles. I also recommend using a food processor rather than trying to make this dough by hand. Also, as good as these are, I think the Sour Cream Chocolate Chip Scones are a little better.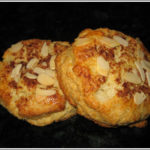 Print Recipe
Similar to Great Harvest Scones
This is a fairly large batch recipe for scones that are supposed to be similar to the ones served at Great Harvest. You can make them with vanilla extract and chocolate chips or lemon zest and dried fruit.
Ingredients
1

cup

sour cream

1

teaspoon

baking soda

1

egg

3/4

teaspoon

vanilla OR 2 tablespoons lemon zest

4

cups

500 grams all-purpose flour (stir and fluff or weigh before measuring)

1

cup

200 grams white sugar

2

teaspoons

baking powder

1/4

teaspoon

cream of tartar

1

teaspoon

salt

8

ounces

of cold unsalted butter

cut into chunks

1

cup

chocolate chips

or dried cranberries, or frozen blueberries, etc.

Topping: 1 part Egg yolk mixed with 1 part milk or cream or use only cream
Instructions
Preheat oven to 400 degrees F.

In a large mixing bowl, whisk together the sour cream, baking soda, egg and vanilla.

In a food processor, mix or pulse the flour, sugar, baking powder, cream of tartar, and salt. Cut or process in the butter until mixture is coarse.

Dump the flour mixture into the bowl with the sour cream/egg mixture and stir until moist. Stir in the chocolate chips (or other add-ins). If dough is too moist, add more flour. If it is too dry, add a little milk or cream.

Turn dough out onto a lightly floured surface, and knead briefly. Roll or pat dough into two 6 inch (approximately) rounds. Cut each into 6 wedges (8 wedges for smaller scones), and place them 2 inches apart on the prepared baking sheet. Brush with topping.

Alternatively, pat dough into an inch thick slab and cut out 2 1/2 (or whatever size you want) rounds.

Bake 18 minutes in the preheated oven, until golden brown and cooked through.

Let the scones cool for at least 10 minutes before serving.