These Blackberry Cream Cheese Scones were inspired by the Blueberry Cream Cheese Scones from Great Harvest Bread Company. If you've ever tried Great Harvest's scones, you know they are soft, sweet and have flecks of cream cheese throughout. They also have a soft crust, and in some ways are more like muffins baked in the shape of scones than biscuit-y, flaky scones.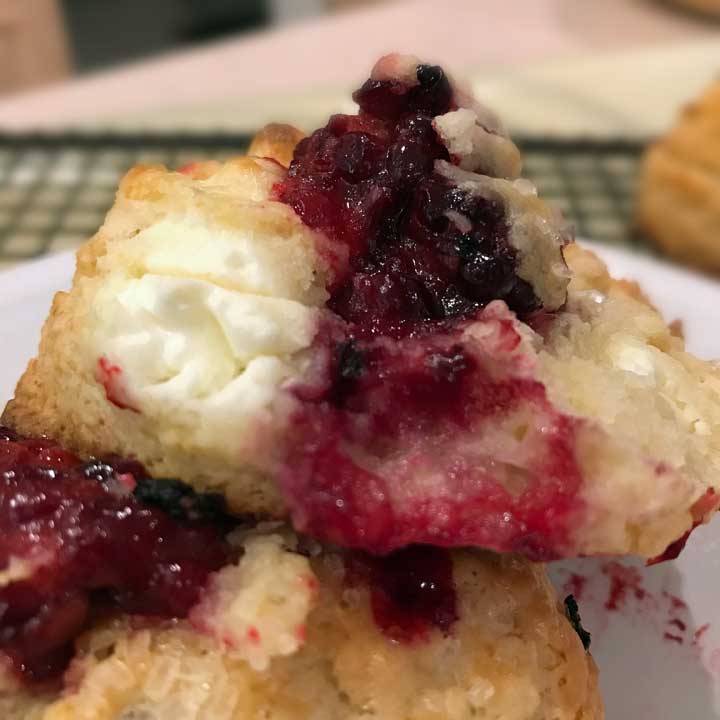 These cream cheese scones are are soft and moist and have a flaky crust, and my family likes them a little better than the Great Harvest scones. If you're interested in trying the recipe and drawing your own conclusion, it makes a small batch so you've nothing to lose. You can use blueberries or blackberries (or any other fruit) and you can make them as triangles or rounds. I punched out these cream cheese scones with a round cutter.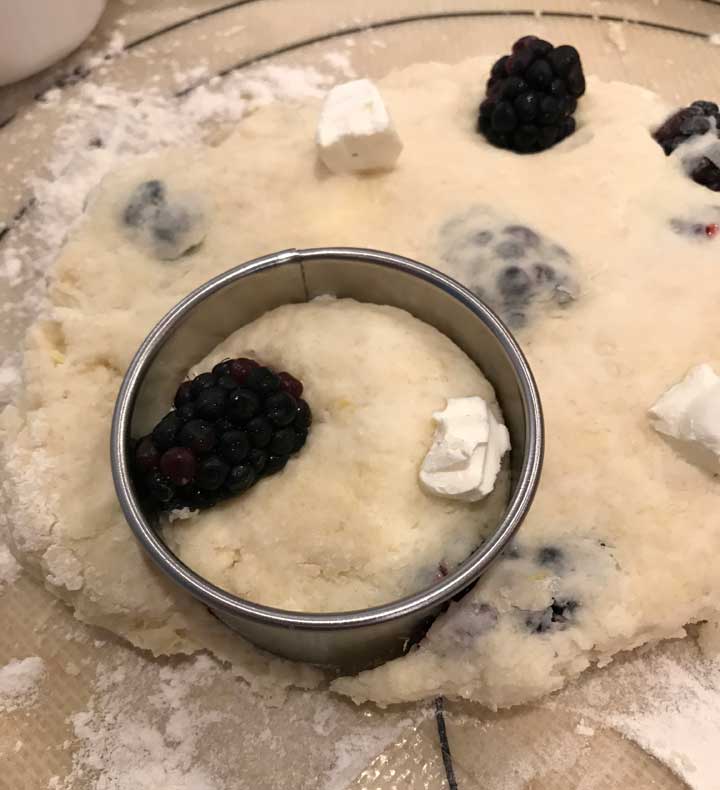 Cream Cheese Scones Dough
The key with scone making is to add the milk gradually rather than all at once so that your dough is neither too moist nor too dry. The cream cheese bits and fresh berries are pressed into the dough after you roll it out, then you gently fold the dough over them. The dough is super easy and doesn't require a food processor. It does help to have a grater, though! In my opinion, grating cold or frozen butter into scone (or pie) dough is the best way to incorporate it....and fun, too!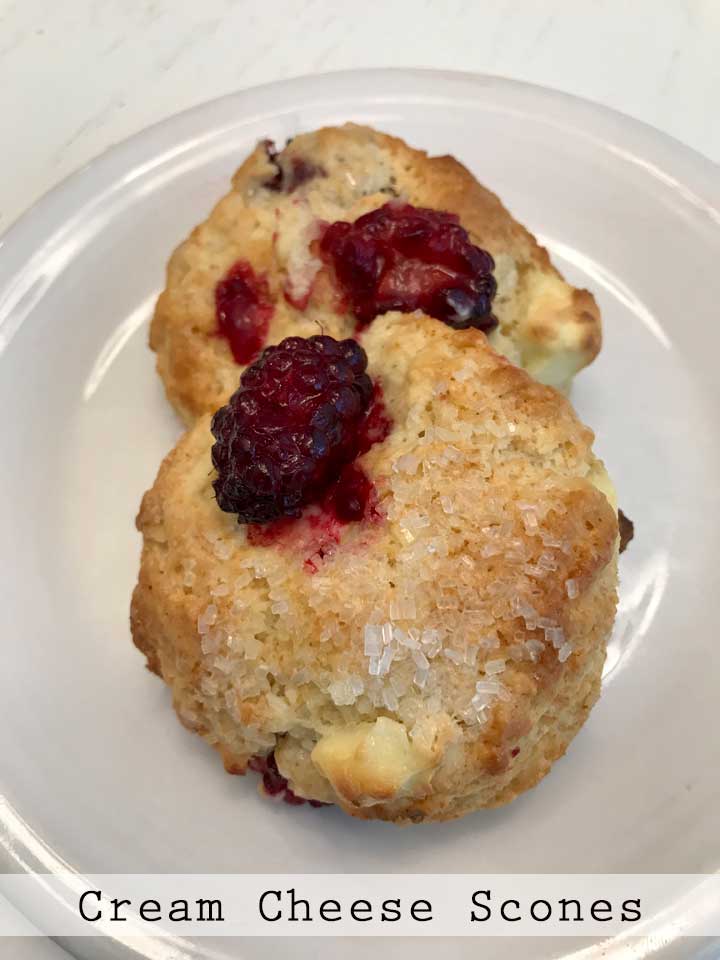 Frozen Grated Butter Tip
If you make scones or pie dough pretty regularly, here's a tip. One day when you have some extra time, grate 2 to 4 sticks of very cold or frozen butter onto a couple of large plates lined with plastic wrap or wax paper. If you have a chest freezer with room for a baking sheet, you could grate it all onto a lined baking sheet. Freeze grated butter until solid, then put all your frozen grated butter in a freezer bag and store it until needed. When it's time to make your scones or pie dough, just weigh out the frozen grated butter and scatter the bits throughout the dry mixture.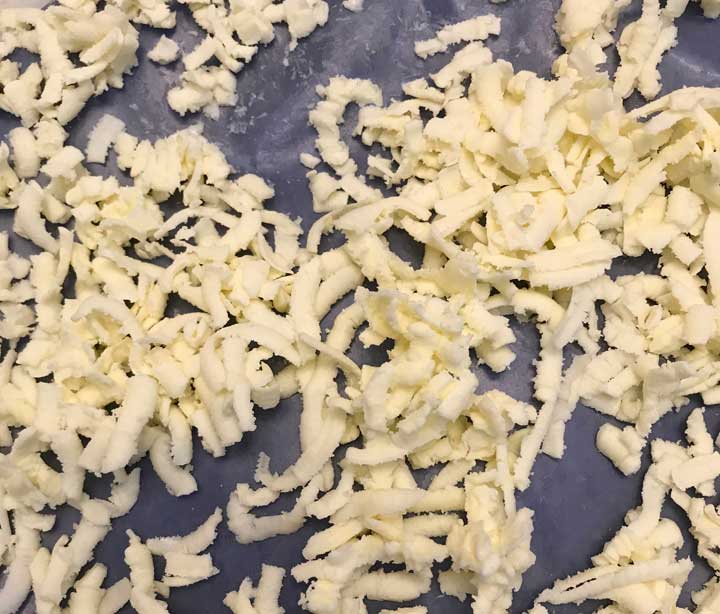 Blueberry Cream Cheese Scones
Here's a picture of the blueberry variety. My daughter triple tested the recipe at an AirBB house, so it should work!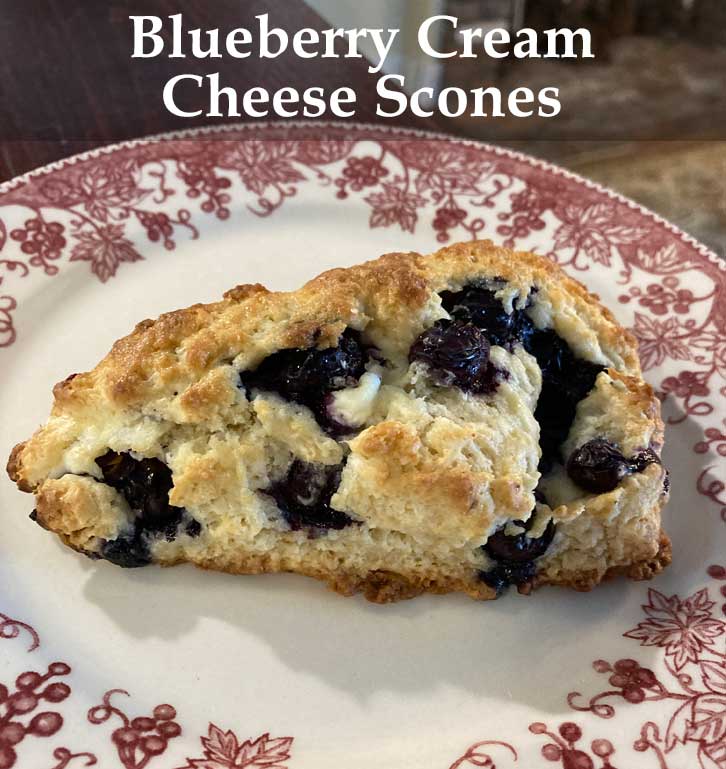 Recipe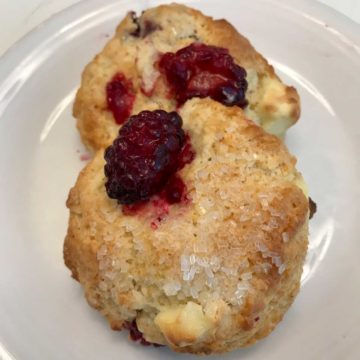 Small Batch Blueberry or Blackberry Cream Cheese Scones
Keeping the ingredients cold makes for very flaky scones. European style butter is also a nice touch, but not absolutely necessary. This recipe doubles well if you need more than 5 scones. Also, don't forget to reduce the oven's heat after the first 10 minutes! You start the scones at 425 and do the last 10-15 minutes of baking at 375. If you are positive your oven runs hot or have issues with burning, you can start the scones at 400.
Ingredients 
5

tablespoons

cold unsalted butter

(70 grams)

¼

cup

milk

cold (buttermilk okay) (56 grams)

¼

cup

sour cream

cold (56 grams)

½

teaspoon

vanilla extract

1

cup

plus 2 tablespoons flour

all-purpose flour, plus more for work surface (140 grams)

¼

cup

sugar

(50 grams)

1

teaspoon

baking powder

⅛

teaspoon

baking soda

¼

teaspoon

grated lemon zest

optional

½

teaspoon

salt

¾

cup

fresh or frozen blueberries or blackberries

amount is approximate

1 ½

oz

very cold cream cheese, cut into ¼ inch chunks

40 grams
Instructions 
Preheat oven to 425 degrees. Have ready a parchment lined baking sheet.

Whisk together the sour cream and JUST HALF OF the milk.

Mix the flour, sugar, baking powder, baking soda, and salt in a large bowl. Grate the cold butter into the flour mixture and toss to distribute it evenly. If using lemon zest, add that too.

Add the sour cream/milk mixture to the dry ingredients along with the vanilla and stir until it just comes together. Add remaining milk, plus more if needed to make a soft dough. Transfer the dough to a pastry mat. If dough is very sticky, flour the mat. If it is dry, you won't need flour yet. Press into a rectangle, then fold the dough into thirds. Press down again and fold into thirds.

Press down into a large rectangle (about ½ inch thick). Dot rectangle with berries and cubes of cream cheese, then carefully fold the dough over on itself, being careful not to squash the berries. Use flour as needed to prevent sticking.

Using a 2 ½ inch round cutter, cut as many scones as you can. Gently shape the scraps into flat slab and cut remaining circles. You should get about 5,

Arrange scones on a parchment lined baking sheet. Brush with heavy cream and sprinkle with some more sugar or coarse sugar if you have it.

Bake the scones at 425 for about 10 minutes, then reduce heat to 375 and continue baking for another 10 to 15 minutes or until scones are golden and cooked through. If you used unfrozen berries or a different fruit, the scones might be done sooner.

Let the scones cool before serving. The texture actually improves as the scones cool.