A few months ago, I found a really swell cookie recipe that seemed perfect for the holidays. As usual, I forgot about it. Yesterday's mention of pistachios must have jogged my memory, so I went back to the recipe today. It's called White Chocolate Peppermint Pistachio Bars and it was submitted to Better Recipes by Roxanne Chan.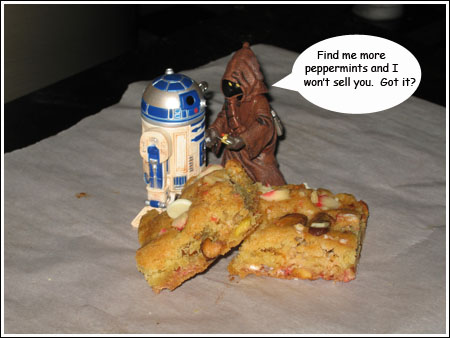 I guess my hero today is Roxanne because I had exactly ½ teaspoon peppermint extract and 1 cup of pistachios I needed to use. The peppermints were another story, but  knew I could make it work. First, I checked the Christmas tree to see if maybe someone had hung a candy cane on it. Nope. Next -- Todd's dresser, where I found about 6. There were two in Fuzz's old plastic pumpkin bucket, a couple in Todd's junk drawer and one under the bed.
I couldn't find quite enough peppermints to make a full cup, so I made half the recipe and baked it in an 8 inch square pan for about 23 minutes. These are awesome! Peppermint, white chocolate and pistachios are a smashing combo. The bars come out of the oven soft, but they crisp up quite a bit as they sit. Whatever you do, don't leave out the peppermint. It gives the bars extra crunch and doesn't overpower the other ingredients…..and this is coming from someone who doesn't really like peppermint.
Recipe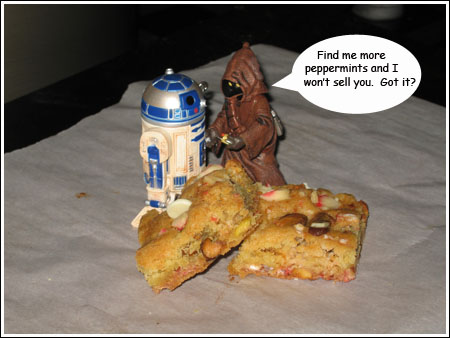 White Chocolate Peppermint Pistachio Bars
White Chocolate Peppermint Pistachio Bars are bar cookies with mints, nuts and white chocolate.
Ingredients 
½

cup

shortening

½

cup

4 oz salted butter, softened

1 ½

cups

granulated sugar

½

teaspoon

baking soda

½

teaspoon

peppermint extract

2

large eggs

2½

cups

All-purpose Flour

1

cup

white chocolate chips

1

cup

coarsely chopped peppermint candies

1

cup

coarsely chopped pistachios
Instructions 
Preheat oven to 375 degrees F. Grease a 9x13 inch metal pan.

Beat the shortening, butter and sugar with an electric mixer until ight and fluffy.

Add the baking soda, extract, and eggs and beat until well blended.

Stir in the flour, white chocolate, crushed candies and nuts.

Spread the dough evenly in the pan an bake for 25 minutes or until golden brown and tests done. Cool to room temperature then cut into bars.