My mother-in-law in Connecticut has an interesting collection of cookbooks. She doesn't like to cook, so her books are from a period when she had to. Every once in a while, she'll pull an old book out her stash and give it to me. In this case the book was "Julia Waldbaum Has a Recipe for Holiday Cooking" and it is where I found Festive Eggnog Cake.
Unlike our beloved Aunt Ann, Julia Waldbaum was a real person who helped run her family's grocery chain for many years. She was so real in fact, that according to her obituary, she kept her telephone number published so that customers could call her if they had any complaints. She died in 1996 at the age of 99.
But back to the cake. This particular recipe is geared for convenience, but also towards people who have basic cooking skills. It seems pretty easy -- dump everything in a bowl, blend well and bake, but I added a little more detail. The icing (frosting, not sure why I keep calling frosting icing) is tricky if you are not use to the technique, so you may want to have a back-up. However, I recommend you give this icing a try because it's delicious – kind of like eggnog flavored Ho Ho/Ding Dong filling. Hopefully, you'll find the notes at the bottom helpful.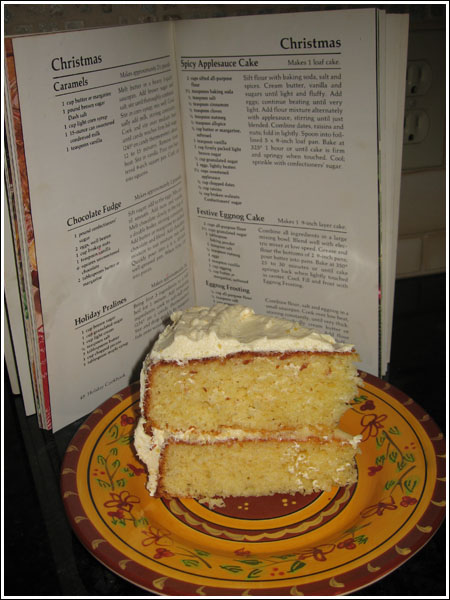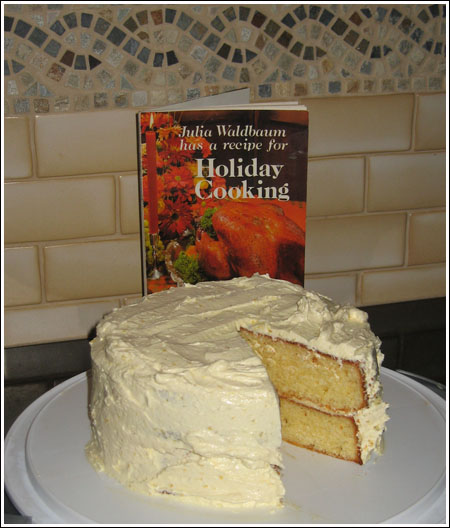 Julia Waldbaum's Festive Eggnog Cake
2 cups all purpose flour or (if you have it) 9 ounces/250 grams (weight) of White Lily flour or another allpurpose such as Gold Medal. Best to weigh
1 ½ cups granulated sugar (300 grams)
1 tablespoon baking powder
1 teaspoon salt
¼ teaspoon fresh nutmeg, please use fresh - definitely worth it
4 ounces unsalted butter, softened (114 grams)
3 large eggs
1 teaspoon vanilla extract
1 cup eggnog (must be real, full-fat eggnog)
Frosting (read notes at bottom)
¼ cup flour
¼ teaspoon salt
1 cup eggnog
⅔ cup butter, soft
1 cup granulated sugar
1 teaspoon vanilla
Preheat oven to 350 degrees F. Spray two 8 or 9 inch round metal cake pans with flour-added cooking spray. I used 8 inch pans.
In a large mixing bowl, stir together flour, sugar, baking powder, salt and nutmeg. Add softened butter and stir it in, mashing it into the dry ingredients and coating them with butter. When the mixture is moist with butter, add the eggs, vanilla and eggnog. With a spoon or lowest speed of electric mixer, beat until mixed. Turn speed to medium high and blend for about a minute. Pour batter into cake pans, dividing evenly. Bake for 28 to 30 minutes or until cake springs back when lightly touched.
Cool layers in pan on rack for 10 minutes. Flip and cool completely.
Eggnog Frosting
In a heavy saucepan, whisk together flour and salt and about ¼ cup of the eggnog. Cook over low heat, whisking constantly and adding remaining eggnog slowly, until mixture thickens. Set aside and let cool completely. If you notice lumps, strain it before it cools.
In a mixing bowl, beat butter and sugar until creamy. Add flour mixture and continue beating on high with an electric mixer for about 8 minutes or until the sugar is dissolved and the icing isn't grainy. Beat in the vanilla. Ice the cake.
Icing Notes
Note: This icing uses the technique wherein you make a gravy-like mixture, let it cool, then add the cooled "gravy" mixture to the butter/sugar mixture. The things that can go wrong are lumps. I cooked mine over medium heat and ended up with a few lumps, so remember to keep the heat low. If you do get lumps, you can strain the gravy before cooling. Even if you do have lumps, the icing is still hella good.
The other thing to note is that this icing requires about 7-10 minutes of beating. If you have a stand mixer, you can turn it on and let it go while you do other things. If you use a hand mixer, plan on standing there for a while! The mixture will go from curdled to smooth