I think Cake Roll season begins in November, but I got an early start with a Hot Cocoa Cake Roll. The Hot Cocoa Cake Roll recipe originally appeared in Food Network magazine, and while I made it right away, I never posted it because we were in the middle of a move. But I liked it enough to keep the recipe and am sharing it now! This one is really good. It's like a giant snack cake Swiss Cake Roll, but better.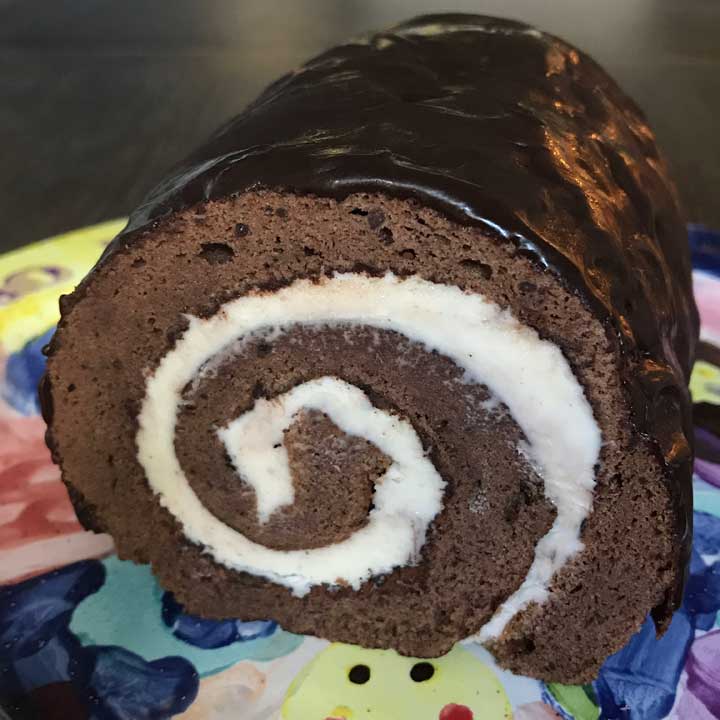 Rimmed Pans and Tea Towels
The recipe is pretty easy, but you'll need three things — an 11×7 inch pan, a cotton tea towel (not terry cloth!) and an electric mixer. For me, the hardest part about making a cake roll was having all three of those things at once. It seemed I never had the right size pan or the right fabric of tea towel. Now I have an 11×7 inch pan which I pretty much use only for roll cakes and a collection of cotton tea towels. Hopefully you have all three things.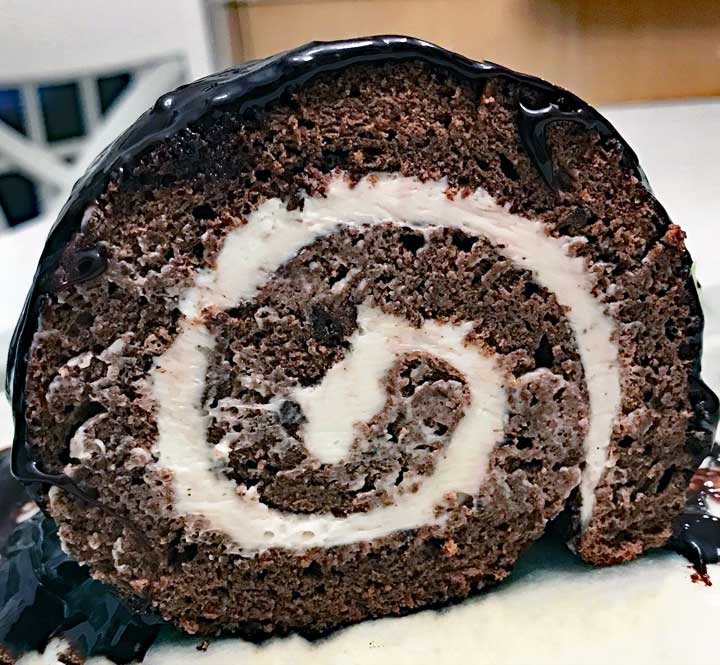 Food Network Hot Cocoa Cake Roll Recipe Notes
Once you've gathered all the equipment and ingredients, the cake comes together really quickly and bakes in12 minutes. This one has a particularly soft texture and is easy to roll. The filling is not the whipped cream type, but rather a buttercream style that calls for marshmallow cream. It looks a little curdled after mixing, but glides over the cake smoothly and has a slick texture. It will firm up in the refrigerator, so you'll probably want to bring this cake to room temperature to soften the filling.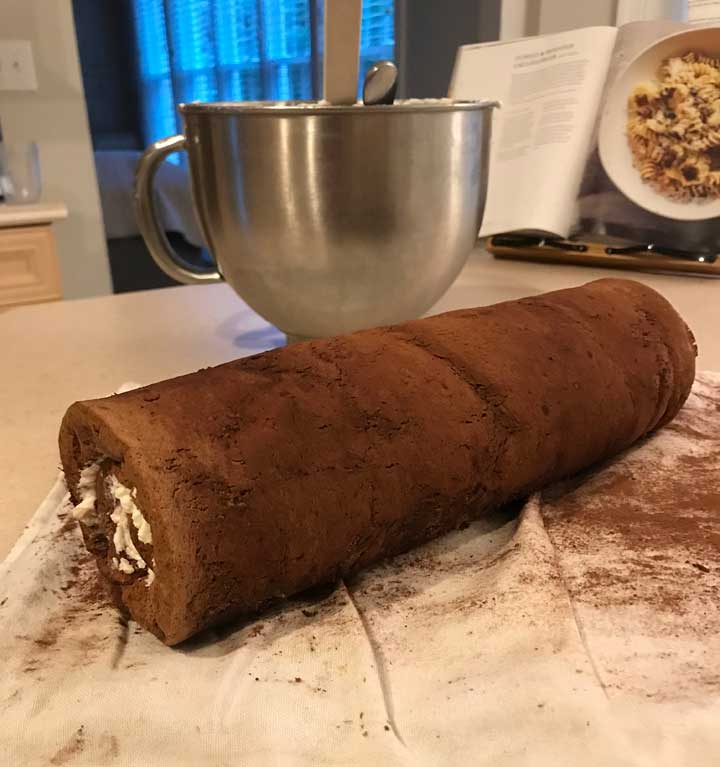 Hot Cocoa Cake Roll is a long one, but no worries because it freezes well. After making this log, I cut it into two logs, froze both and put the glaze on only the half I was using. Cake rolls freeze so well that it might be fun to make them ahead of time in a lot of different flavors, cut in half, freeze and serve an assortment at the same time.
More Recipes
Recipe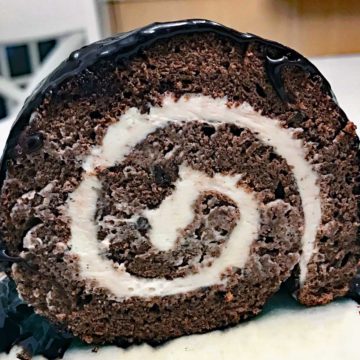 Hot Cocoa Cake Roll
Chocolate Cake Roll
Ingredients 
6

large eggs

3/4

cup

all-purpose flour

105 grams

1/4

cup

unsweetened Dutch-process cocoa powder, plus 2 T. more for dusting

20 grams

1/2

teaspoon

baking powder

1/4

teaspoon

salt

1/4

teaspoon

cream of tartar

3/4

cup

granulated sugar, divided use

150 grams

1/4

cup

vegetable oil

1/4

cup

whole milk

1

teaspoon

pure vanilla extract

1/2

teaspoon

instant espresso powder

optional
Filling and Glaze
12

tablespoons

unsalted butter

room temperature or slightly softened

Pinch

salt

7

oz

marshmallow cream

I use one whole 7 oz jar

3/4

teaspoon

vanilla extract

1/2

cup

confectioners' sugar

2

tablespoons

whole milk

6

ounces

semisweet chocolate or dark chocolate

chopped

1/2

cup

heavy cream
Instructions 
About an hour before you are ready to start, separate the cold eggs and put the whites in the bowl of a stand mixer. Put the yolks in a second large mixing bowl. Allow them to come to room temperature.

Preheat the oven to 375 degrees F. Spray an 11-by-17-inch rimmed baking sheet with cooking spray; line the bottom with parchment paper and spray the parchment.

Put the flour, cocoa powder, baking powder and salt in a medium size bowl and whisk for about 2 minutes. Set aside.

With the whisk attachment, beat the egg whites and cream of tartar on medium speed until soft peaks form. Gradually beat in 1/4 cup granulated sugar. Increase the speed to medium high; beat until stiff peaks form.

Meanwhile, whisk the egg yolks with the remaining 1/2 cup granulated sugar, the oil, milk, vanilla and espresso powder. Add the flour mixture to the egg mixture and stir until well blended.

With a heavy duty scraper, stir one-third of the egg whites into the batter, then gently fold in the remaining whites in two batches. Spread the batter in the prepared pan; bake until the cake springs back when gently pressed, 10 to 12 minutes. Let cool 5 minutes.

Sift reserved 2 tablespoons cocoa powder over the top of the warm cake and loosen the edges with a knife; lay a clean kitchen towel (not terry cloth) over the cake. Place another baking sheet over the towel and flip the cake with the baking sheets to invert it onto the towel. Remove the top baking sheet and parchment, then dust the cake with cocoa powder. Starting at a short end, roll up the cake and the towel together into a spiral. Transfer seam-side down to a rack and let cool completely.

Meanwhile, make the filling: Beat the butter and salt in a large bowl with a mixer on medium speed until creamy, 2 minutes. Add marshmallow cream and the vanilla; increase the speed to medium high and beat until fluffy, 2 minutes. Reduce the speed to low. Beat in the confectioners' sugar, then the milk, then increase the speed to medium and beat until thick and spreadable.

Gently unroll the cake. Spread the filling over the cake about 1/4 inch from the edges; reroll (without the towel). Trim the ends with a serrated knife, then transfer to a rack set on a baking sheet.

Make the glaze: Microwave the chocolate with the heavy cream in a microwave-safe bowl, stirring every 30 seconds, until smooth. Pour over the cake; spread to coat. Transfer to a platter and refrigerate 15 minutes.