If you like meringue-type cookies, here's a recipe to add to your collection. Chewy Chai Meringue Cookies were created by Alison Campbell of Austin. The full recipe makes 24, but you can easily make half if you don't need so many. After 30 minutes, these cookies will be crispy on the outside and chewy on the inside. If you want them to be a little bit drier, you can turn off the oven after 30 minutes and let them sit there for another 10. I prefer them chewy. They are out of this world when made with macadamias, but I made a batch with pecans this morning and those worked very well too.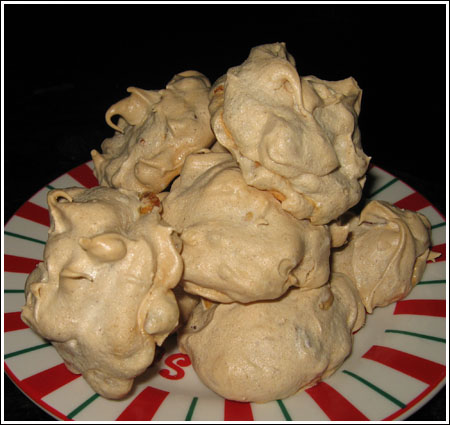 Chewy Chai Meringue Cookies
¾ cup powdered sugar
1 tsp. cinnamon
½ tsp. cloves
1 tsp. ground ginger
2 tsp. cornstarch
4 egg whites
½ cup granulated sugar
¼ tsp. cream of tartar
Pinch of salt
1 tsp. white or rice vinegar
1 cup white chocolate chips
¾ cup chopped nuts, lightly toasted (Macadamia or pecans)
Preheat oven to 300 degrees and line 2 baking sheets with parchment paper.
Sift together powdered sugar, cinnamon, cloves, ginger and cornstarch and set aside.
In a double boiler or a metal bowl set over a pot of boiling water, whisk together egg whites and granulated sugar until mixture is warm and sugar has dissolved. Be careful not to overheat, as egg whites will cook and congeal. You only need to do this until the mixture is warm (doesn't take long)
Remove from heat, add cream of tartar and salt and beat with electric mixer until egg whites hold stiff peaks, about 3 minutes. Add vinegar and mix just until incorporated.
Gently fold in reserved powdered sugar mixture, white chocolate chips and nuts.
Drop by large tablespoonfuls onto parchment-lined baking sheets and bake for 30 minutes. Remove from oven and let cool on a rack.
Makes about 24 cookies which are crusty on the outside and chewy in the middle.