Pistachio Jumbles with White Chocolate and Peppermint are cookies created by Roxanne Chan, a cooking contest legend. Everything I've tried from Roxanne has been perfect, as are these cookies.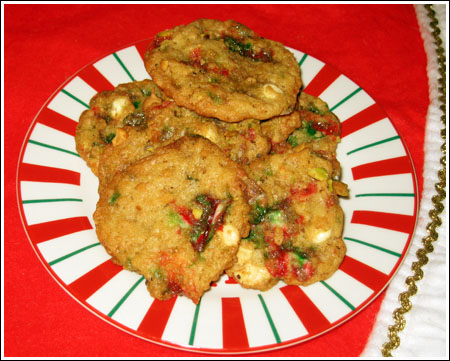 Well, my picture is not perfect, but Pistachio Jumbles are. The candy melts into the cookies then re-solidifies to make them crunchy. Since it was Christmas time I made the cookies in the photo with the green, red and white colored peppermints. I have mixed feelings about the green in the cookies. The green from the pistachios is fine, but the green from the peppermint candies looks weird.
Pistachio Jumbles with White Chocolate and Peppermint
1 ¼ cups flour
½ teaspoon baking soda
¼ teaspoon salt
4 ounces unsalted butter, room temp
¾ cup sugar
¼ cup brown sugar
1 egg
1 teaspoon vanilla
2 cups crispy rice cereal (Rice Krispies) 2 cups white chips ( use more or less if you feel like it)
⅔ cup roasted pistachio kernels, chopped (mine were lightly salted)
5 or 6 red, green & white candy canes, unwrapped and crushed
Preheat oven to 350 degrees. Thoroughly stir together the flour, baking soda and salt; set aside.
Cream butter and sugar for 3 minutes. Add egg and vanilla and beat for about 30 seconds. Stir in the flour mixture; stir in the cereal, white chips, pistachios and crushed candy canes.
Drop by well-rounded teaspoonfuls on a lightly greased baking sheet; bake until golden, about 11-12 minutes. Transfer to a wire rack to cool. Cookies will crisp as they cool.
About 4 dozen